Archive for the 'fiber art' Category

Like so many of you, I am a regular reader of Robert Genn's Twice Weekly Letter. This latest one looked at the traditional master-apprentice role in the arts, and I was particularly taken with some of the thoughts, especially since marbling has always followed this road. Apprentices worked with masters for years, learning and absorbing every trick and skills through watching – and later on by doing.
This made me think of how we get our own art educations, a topic near and dear for so many of us. I'm self-taught in virtually everything I have done artistically. I would hazard a guess that this is true for most of us baby boomer women. We were encouraged to go into paths that would support us or provide for families, with little thought as to what would make our hearts sing. As we've gotten older we have become more expressive.
Self taught. It seems to be fine in so many fields to say you are self-taught – tutored in life. But not in art. At least for me, I still feel intimidated when I see in a CV of someone in an art show all their schooling and formal coursework in the arts. My own art education early on consisted of a few art projects in elementary school and then a "class" as an elective in high school where we churned out particular projects. But nothing in creativity. Which ties in to a recent article in Newsweek on the dearth of creativity in modern classrooms and education.
I'm rambling, I know. But I've had to learn how to be creative, to break through the "OMG, what will it look like?" phase of making art. Would working with a master have helped this? I don't know, but it probably wouldn't have hurt any.
Who are our masters in the arts today? From whom do we study and learn? Enter the Internet, the cheap equalizer to getting an art education. The joke in our family always was that if my dad wanted to learn how to do something new, he would read a book. Well, I got that gene. I read everything I can get my hands on if it's something I am really interested in. But that can get to be expensive, although still cheaper than a formal education or coursework.
The internet has opened up huge resources for us. I started on TV with Sewing with Nancy and Eleanor Burns and Kaye Woods. I picked up all kinds of hints – and reasons why something I was already doing (through guesswork) wasn't working. Like many of us, I have taken workshops when I can afford it. Jennie Rayment and her muslin creations still stick in my mind – such possibilities for texture!
The first professional workshop on marbling was with Galen Berry (over a year ago) and it was wonderful – lots of questions answered, problems solved, and energy renewed. We started to zoom ahead in our skills.
Then I went to the School of Threadology with Superior Threads. Yes, I know I rave about their threads, but the professional education I received over the three days with Bob and Heather Purcell was priceless. My work has taken a dramatic turn for the better – and I don't break thread anymore….
Now I've discovered Interweave and their dvds on quilting and other artistic endeavors. Better than a book because I can see things actually being done.
I watched a leaf tutorial by Heidi Lund and already picked up a bunch of hints to try something totally new for my bamboo piece. Carol Taylor's video on her Arc-i-Texture techniques had me making a new quilt last night to try out the ideas…and I must say I'm loving it! And Susan Brubaker Knapp's video on machine quilting corrected a whole bunch of errors I have puzzled over.
And of course we can't forget YouTube. I have been devouring and studying very closely the wealth of marbling videos on line.
So my question to you is: What's the best professional development you've ever attended – the one that has changed how you do your art? I want to know!
PS – all of these recommendations are unsolicited – they're just stuff I have learned from and appreciate – nothing comes to me as a result of you checking these out! (OK, FCC – happy?)
I have to say, I have been busy. I originally was thinking nothing was going to happen art-wise in July because of so much work on the business. I was wrong…the last week has been incredibly productive. Last Wednesday I wrote about my lava piece just telling me it really wasn't finished. Here's last week: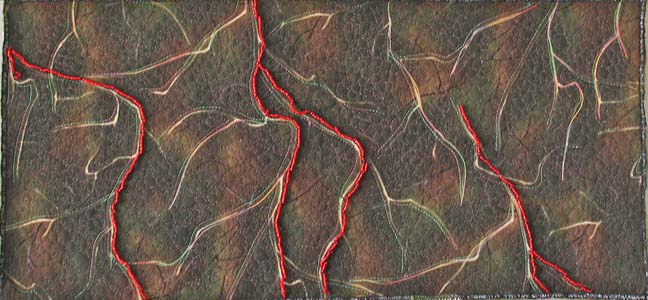 And here it is now, since it told me it was "finished:"
Turns out it needed actual lava – those little round pieces are actual chunks of lava I collected over a couple of visits to the Tucson Gem Show each February. I also added more lava flows, and nothing really interferes with the quote on the back. This is going to go up in the newly-developing Etsy store.
My "purse" didn't make it as a purse…I loved the play of the fabrics together, but I couldn't get handles to work the way I wanted them to…so now it's a nice new basket for collecting fabric scraps.
If you were reading on Sunday, you saw the finished "Desert Heat" quilt, now on the wall in our bedroom.
Now I am working on my "bamboo" quilt, started about 5 years ago with a piece of marbled fabric in the chevron pattern. One of the things I like about this quilting is that it is very zen-like, in that you can just follow the lines of the patterns. You can see the original piece of fabric here. You'll see what I mean about the lines of the pattern.
As I was quilting yesterday, it occurred to me to take pictures of the process, and then that led me to think about putting together a tutorial on quilting marbled fabric. There is an interesting story behind the quilting. Years ago I pretty much just put marbled fabrics with blacks, as I wasn't sure at all about my color sense. I did slowly branch out, but it was Quilt artist Ellen Kohen who took a piece of fabric and quilted it. I knew there was more I could do with the fabric, but I wasn't sure how to approach it. Once I saw what Ellen had done, I was hooked, but it took confidence to start the free motion needed to accent these patterns. Starting this Sunday, I'm going to introduce "Sunday Stories," and I'll take a look at the story behind each of the pieces in my gallery on the website.
For today, here's a close-up look at one of the bamboo strips (which I am aiming to finish by mid-August, as I want to enter it into an art quilt show with my "Ocean's Bounty.") You can easily see all the "lines" in the pattern and how I have followed the lines with a variety of different colored threads. The problem you might run into (as I have) is when to stop with the lines – you can get easily sucked in to quilting everything.
You can see the serged edge in this piece – which is how I usually finish these weaving pieces. I've learned over the years not to serge until I am finished with the machine quilting.
This is with my walking foot, but I'm not totally happy with the control with this foot. Because there are slight curves to these lines, I use my regular foot and am quite happy with it. I think this is probably a personal preference. I tried the free motion foot on this, but I didn't have the control and even stitches I wanted for this design.
I have four and a half "strands" of bamboo finished at this point. I can quilt for a couple of hours, listening to some John Denver and just kinda zone…as I mentioned earlier this week, I am amazed at just how much I get done when I think a project will take forever. Now what probably will take forever will be the leaves. I've tried marbling some silk leaves – not happy with them. I am thinking some thread leaves, but they may not seem "sturdy" enough for this hardy plant. I do know thread leaves would be a great use of all my lousy threads I have hanging around. I haven't broken any threads with some 6 hours of quilting – have I told you how much I love my Superior Threads?
If you would be interested in a tutorial on quilting marbled fabric, please leave me a comment and let me know. If you've got pictures of some marbled fabric that you have quilted, I would LOVE to see it.
I think one of the biggest challenges we face as artists and business people is making sure our art doesn't suffer, that we continue to create. My summers away from school usually lead to one big new piece being finished, and this year it will probably be my bamboo piece. But right now I am finishing up some small pieces to go in my soon-to-come Etsy shop.
This is my lava piece, which is not from marbled fabric, but was part of a group challenge a couple of years ago.
Originally I didn't do any background quilting beyond the whitish streaks, but the more I looked at it over the years, the more it felt like it wanted additional quilting. So I free-motioned the whole background, so it would look like rougher solid lava. Then I thought it was done….but now I want to add more lava, and as I was looking through my beads and stones, I realized I have some actual lava pieces I bought at the gem show. I will add that around the piece to represent more of the rougher hardened lava.
This piece originally came about because of a quote I had read concerning the volcanoes of Hawaii: "Seeing lava that has traveled from the center of the earth to the ground at your feet is something that speaks to the soul.It is the most basic of things. The creation of earth unfolding before your eyes. Each person has their (sic) own reason for wanting to see this awesome power of nature. For some, it is the scientific aspect that fascinates and confirms. For others, it is simply creation unfolding before their very eyes." This from Gloria Hopkins in her article "Photographing Hawaii's Lava Fields."
If you have stood on the rim of a volcano, walked a hardened lava field like some of the beaches on Maui, or watched the lava creep across the road on the Big Island, then you know what a spectacular sight you are witnessing.
On another matter, check our yesterday's blog for details on our Give-Away of marbled goodies. You need to use the Subscribe button to the right here to add your email address  for our monthly newsletter. You have till July 13 to do this before we use the random generator to choose a winner! And – there is a big coupon coming in this first newsletter, so sign up now.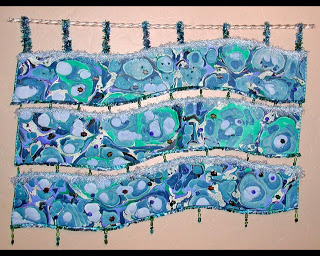 About seven years ago I had a chance to work at Quilt Market in Houston, as I wanted to explore whether or not I wanted to offer our marbled fabric at wholesale shows. I knew within three hours that it would be too much work for very little money – nothing to account for the work that goes into each piece of fabric. What I loved, however, was shopping at all the booths and seeing all the amazing quilts! I have not been able to go back to Festival, so here is a chance to see the "tour!"
This piece just returned from a four-month stay in a juried show at the Historical Museum in Cordova, Alaska, Fish Follies. Ocean's Bounty took five years from conception to completion. The background fabric is a poly-satin white that has been marbled in a traditional stone pattern. I originally wanted to weave strips together, but I wasn't happy with the result. So I cut a "wave" from one end, liked the effect, and cut two more. I knew then it would be a free-hanging fiber piece, with lots of embellishments.
The quilting is all free-motion, with Sulky variegated threads, backed with hand-dyes custom for me from DownEast Dyes. I serged the edges, and then the pieces sat for another two years. In the meantime I collected threads, beads, and some stones, with the idea to embellish. There are hand-blown glass fish from Hawaii, two kinds of yarns for waves and foam, and some smaller stones. I used one of the yarns, which seemed like kelp, as hangers for the piece. I used a plexiglass rod for hanging, with a series of cup hooks to balance the weight of the piece.
Each of the waves is connected to the other through a series of glass beads of different colors. Believe me, it was difficult getting the pieces even and hiding threads from the beads. It is heavy, but it is a stunning piece, if I say so myself! The piece is available for sale, so email me!!
And join the fun – just click the pic to the top right of this post!!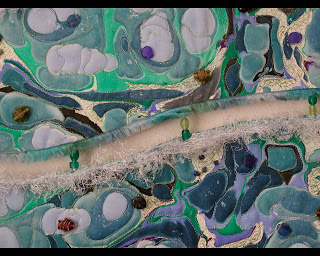 Yes, yes, yes!! The waiting game is worth it, as I got two pieces into the Fish Follies art show at the Cordova Historical Museum in Cordova, Alaska. You can view last year's entries here. Suzan Drury is my digital partner, and she won (and sold her piece) honorable mention last year. This is my third acceptance (each of the three years I have entered), and my second fiber piece. Last year Suzan and I had two pieces accepted, and this year we just did one joint piece. I do like the fact that they look seriously at fiber entries. This pic at the top of this post is a close-up of Ocean's Bounty – I'll get a full-size one posted soon.
So I could say I have a track record at this show – now if I could just sell something….but I am not going to let a heavily quilted and embellished piece sell for peanuts. Plus, I made the marbled fabric to begin with. Now I'm waiting on the Fort Collins show…all fiber – we'll see if they like "out-of-the-box" fiber!
Anne (see comments) from El Milagro Studio suggested creating a body of work and shopping it to galleries, which is what a lot of the focus will be this year. I do have a track record of getting into shows, including one rather prestigious fiber show. Some of our entries:
* Textures Gallery and Studio, Scottsdale, AZ, Fall, 2003
* "My World in Black and White," online exhibition, 2003-2004
* "My World in Black and White," Ontario Museum of Art and History, CA, 2003 – 2004
* Schullenberger Gallery, Jericho, VT. Artists' Showcase, December 2003
* Leandro Fabrics and Gallery, Tucson, AZ, May 2004, September 2004
* Expressions in Textiles, juried show, New Haven, CT, August 2004
* Fabric of Legacies, juried show, Fort Collins, CO, July 2004
* Fish Follies, juried show, Cordova, AK, August-November 2004
* Art of the Sixth Extinction, WomenKraft Gallery, Tucson, AZ. Winter 2005
* Fish Follies, juried show, Cordova, Alaska, July – November 2008
And now – Fish Follies, juried show, Cordova, Alaska, June – November 2009!
Here's hoping for more!
New to Marbled Musings? Here's a sample of what we're about!


Now it's waiting time. I have entered two shows in the last two weeks, one in Alaska and one in Colorado. There are several others that would be appropriate for my work (both fiber and digital), but too many entry fees really add up.
The Alaska show is one I've entered twice before and been accepted to, entry fee is reasonable, but I haven't sold anything yet. My digital partner has sold pieces every time she enters – just not one of "our" pieces! So at least the odds for acceptance are in my favor. My first piece was an art quilt, second pieces were digital art, and this year's entry is a very involved art quilt.
The Colorado show is also one I've entered and been accepted into, and there's no entry fee, but a 30% commission. Haven't sold anything, and haven't entered in the last couple of years. So I'm hoping my work is unusual enough to be noticed. Once I hear something, I'll post more.
I guess the questions for all of you are those of necessity. Do we need to have a juried list of acceptances to be seen as "real artists?" Do you choose which shows each year you want to enter? Do you set a budget specifically for art shows? Are there some shows you have more luck with?
Inquiring minds really want to know….and…wait for it….it's the weekend!! More time for art!
First time reading Marbled Musings? Check out the Overview.
Last days for Contest


The time has come to seriously work at marketing. I already have a few events set up for these next 12 months, which is more than I have ever done. Now I need to find a way to balance marketing and blogging with actually creating art – so far blogging is winning….
I also need to think deeply about the relationship between the blog and creativity, with marketing the website and actually selling some art. While we are slowly solving our marbling problems, in reality I have plenty of large fabrics left for probably 15 new art pieces – as well as 1 or 2 just needing a few "extra" touches.
Part of the last few days has been exploring Google Analytics and Delicious, as well as a few others. I do read some blogs, but evidently I will need to do more commenting in order to build up my own following. So lots of thinking ahead in a totally different kind of creativity. Speaking of which, time to mark some papers….
I would love to hear from others as to how they balance marketing, thinking about marketing, 9-5 job, and making art….and why isn't AdSense working???

We spent yesterday setting up to marble (which always takes so long, with pretreating and actually setting up the liquid bath), but then today we got to play – marbled about 6 yards of fabrics, and once again everything went really well. It is so nice to be back in the large tray again – we actually feel like we are creating art again, not just little pieces to sell. Yet again today we were talking about how much of a void there was in our artistic lives when we couldn't create large pieces of fabric. When you define your art this way for over 14 years, it really is distressing to lose the skills.
Especially nice is the fact that we are working with other fabrics. Tried some larger heavy-weight silk that worked wonderfully, as well as some faux suede pieces, and the velveteen also worked. I still need to treat the velveteen to soften it up, but overall extremely pleased. Still haven't been able to do the chiffon again – those people who bought that two years ago certainly have one-of-a-kind pieces!
We want to marble more often now that things are working again. It is SO GOOD to be creating fabric again! We even are revisiting marketing and revving up the business end because we are turning out really great fabric. The disadvantage is that our bodies have changed enough that we can no longer go for six hours straight, not including clean-up. There was a time four years ago when we could do 60 fat quarters in a day. Can't do that any more, and we also discovered we don't like turning out fabric that way – we would just as soon do a smaller amount and have a chance to play on each of the pieces.
We are still looking for a particular fabric that we used for so many of our art pieces – we used a poly-satin that kind of worked, but not to the detail we would like. I found an old piece that we'll use in checking around fabric stores. All the really great pieces are from bridal fabrics, so we just have to shop around for those.
This piece that I've scanned shows the incredible detail you can get on the poly fabrics.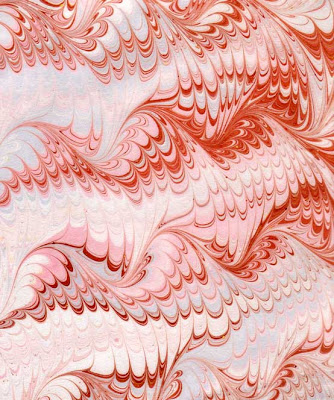 Then I started playing with some of the new tools from the Photoshop lessons. This next is with the Shadows and Highlights adjustment. I particularly like the neon effect on the orange.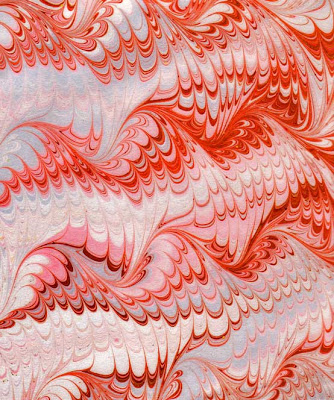 This next is playing around with the eye dropper tool and the white space. Each gives a different feel, which is why I have wanted to learn Photoshop for so long. I want to be able to take a really great piece of fabric and use it to create lots of other images, so the particular piece doesn't have a short shelf life till someone buys it.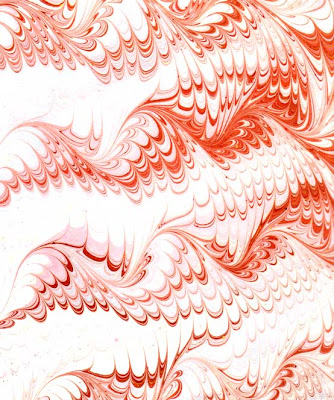 And finally – the joy of playing with filters in Photoshop! Take a look at what happens with the emboss filter with the same piece! Reminds me of maps of the Continental Shelf.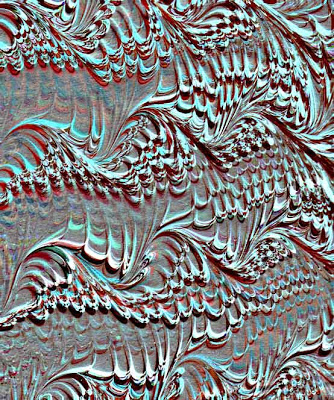 All in all, a great way to spend a day off from school (Rodeo days here in the Old Pueblo)!