Archive for the 'fabric marbling' Category

I have really been busy these last two days, made much better by the fact that I have no school work – no lesson plans and no papers this weekend, so that's a real treat. Last night I stumbled upon the idea of taking a whole bunch of UFOs and getting them ready for the March show, since we will have a considerable amount of fiber in our booth. These are mostly pretty sad UFOs – been around a LOOOOONG time, way before skill sets improved considerably. The challenge now becomes how can I improve on them. Plus, if I work at bindings and things like that, I will have handwork to keep me busy at night in front of the television – anything to keep me from eating!
Before the reveal (too much HGTV…) a note about the Joggles button along the right side. Yes, I am an affiliate, but I gotta tell ya, I am really enjoying the landscape class I am taking right now, plus the store can make a real dent in your plastic – lots of ideas and lots of goodies to experiment with – so give them a peek.
Now, this first piece goes back to the very first Journal Quilt project, first announced on the QuiltArt list some many years ago. At the time I was running a nonprofit learning center, and one of our specialties was working with dyslexic students. I decided to do a series of journal quilts on the Orton-Gillingham method of learning to read, which starts with vowels, the key to decoding English. I managed to do three months, and then hit the wall with my execution of "silent e," or "magic e." Man, it looked like crap. So they didn't go anywhere, but I still have them. The vowels are still around, and they seriously need a new binding. So here it is in all its unfortunate shape, with a new binding about to be attached. I do have a soft spot for this one.
Next is a landscape I started in a class with Jennie Rayment from England, about 10 years ago. She is a master of fabric manipulation. She had a fashion show for us of these amazing garments, all these nips and tucks…ALL made from muslin. The class was wonderful, and I own her books, but I haven't really done anything with them. So this piece needs some more thread work and then a decent binding. Yes, I know there are composition problems, but I am hoping as I take my landscaping class, I will discover some ways of "fixing" them, like toning down the water.
Next is a mandala, in my series of mandalas. You can see two others here. This yellow one just radiates heat, and I want to do more with beading. The little pieces of masking tape are hubby's attempt to spread out the beads, and mark where they will go. I tend to use some wild yarns braided for the edging. I do love doing free-motion quilting on marbled fabrics.
Now two of my favorites, also started as part of the second year of the journal project, but I only got three done, and I learned that just because you CAN stitch it, doesn't mean you should. I am really partial to the one on the left, my "Monet" piece, again lots of free motion on marbled fabrics. I think it needs to be mounted on foam core, and I want to continue with the beading on it. The other piece needs something, I'm not sure what, so I want ideas, people! Let me know what you think would make the piece pop (again, too much HGTV….)
This last is unusual. This is my current table cloth, rescued from the art room a couple of years ago. This was the cloth the students would wipe their paint brushes on. I fell in love with it, as it reminds me of Provence, France – never been, have no idea what Provence actually looks like, but I can see it in this cloth. Some day I will quilt this.
I'll leave you today with some pictures of our snowstorm – we don't see much snow in the desert, and this week's ending storm did a great job dumping feet on the mountains. As a New Englander, I do enjoy snow, but I would much rather just LOOK at it!

Since today bloggers are talking about climate change, I thought it appropriate to use my sunrise piece. I don't often get up early enough (voluntarily) to see a sunrise, but this time of year I'm headed to school as the sun is coming up. We've had more dust in the air than usual, including a recent air inversion, as well as added pollution. It used to be the desert sky and air was the bluest, truest blue, but we are losing that to unchecked growth.
Our summers are changing – getting hotter and hotter (the third warmest on record this year), and our water patterns are changing. It used to be when monsoon season hit, the clouds would gather from the heat in early afternoon and then dump a ferocious thunder and lightning rainstorm around 4 PM, flood the washes and roads, and then dry out. You could count on our "monsoon season" for half the yearly rain. That just isn't happening any more. We are having summers where the cactus are so dry and parched that you can almost see through them.
As I read about climate change (Friedman's book "Hot, Flat and Crowded" is an amazing piece of research), I become very aware of my own individual impact on our environment. I try to take the bus at least twice a week, try to recycle as much as I can because we are rapidly outgrowing our landfills, and try to be very conscious of the water I am using. But I know it isn't enough.
Are we reaching the point of no return on the planet? Will we change things so significantly that we can no longer return to a balanced planet? I don't know – I DO know that we have to be conscious of our impact, each and every one of us – on our little piece of the planet.
On a happier note, here are some of our bigger pieces from our marbling session this past Saturday – all are available on Ebay this week.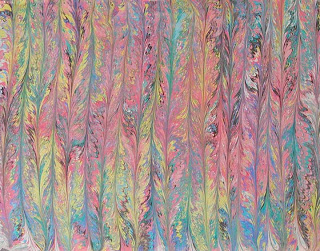 This first is a fat quarter of silk organza – gorgeous stuff to work with, now that we are having luck again with our tray. This piece is pastel, and it has a nice hand to it – soft, heat-set, and ready to go. The pattern is one we call "small feathers," and for it to be successful, it needs a lot of colors to the mix.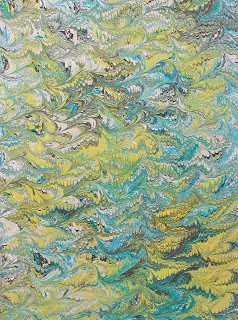 This is a fat quarter in blues and yellows, much nicer than the picture. It's pima cotton, pre-srhunk and heat-set. This is a marbled wave, giving great illusion of movement.


This last is a half yard of pima cotton, marbled with blues, blacks, and hints of purples. The pattern is a modified bouquet – looks somewhat like a waterfall, depending on its orientation. Again, heat-set and ready to go for whatever you can dream!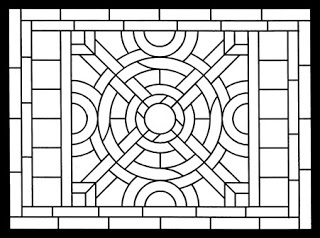 I wanted to work with the stained glass images I bought a while back in a Dover clip art book. I chose the one at the left, after figuring out I had to download it a a GIF and then to Grayscale, to RGB, and then to a jpg to get the size I wanted. Learned a lot right there! The primary marbling patterned used was the Italian vein, color adjusted for the different effects you will see. I used two other patterns from the papers we marbled:
Here's the progression to the finished design.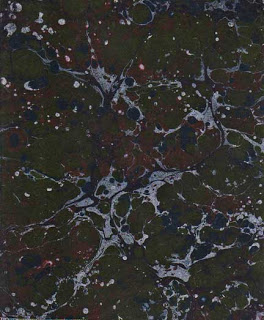 For being out of commission for a good chunk of last week, I am pleased to say the momentum is continuing. The quilt is done and I hope to post pics soon. I've rescheduled our artist group for August, set up the Etsy store, and did some new marbling. The pic to the left is a traditional stone pattern that FINALLY looks like a piece of marble. We have tried for years to do this, and now with the new paints from Galen Berry, we are having success. This design is on a piece of black cotton, so all the colors are subdued. In good like it looks like an expensive piece of marble countertop. I've already tried experimenting with Photoshop, and this should make a good background piece for other work.
The Etsy store took time, but I am hoping it will begin to move a few things. I have started a list of new things to marble and put just in the Etsy store. I want to continue my Geode series, and I think this might be a good outlet for small pieces as gifts.
Nothing new on Cafe Press this week – I will be making new changes for next week – have some new designs to start with.
I am going to attempt to dye fabric this week, and then marble it and see what happens. I also want to marble some more paper for people who like collage. And – ta-da – after watching numerous videos of Turkish masters marbling, I have attempted with some success to create marbled flowers right in the tray. As I do more, I will post the results. There's still a LOONNGGGG way to go to be good, but I want to practice them for some other commissioned work.
Goals for this week:
* maintain the blog
* get pics up for Brenda (weaver) and Yvonna (clay artist)
* check on December show
* update Cafe Press
* get started on Operculum store for CafePress
I hope everyone has a great art-filled week!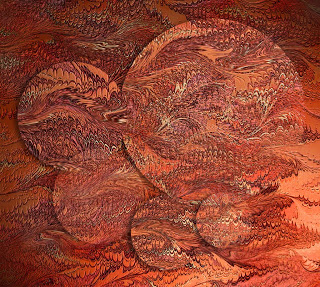 Martha Stewart on the Today Show, demonstrating "marbleizing" and promoting her new book, The Encyclopedia of Crafts. What's wrong with this picture? Here's a quick "Top Ten."
1. Marbleizing? It's called "marbling," or "ebru" (the Turkish name), and anything else is an insult to marblers around the world.
2. Easy? Good marbling isn't easy. This is a centuries-old art form, practiced by masters around the world. I've spent close to 17 years learning this art form, and I'm still learning! It was 10 years of work before we really felt we had fabric that we thought was good enough to sell commercially. Guilds used to put members to death for sharing secrets of marbling.
3. Italy? Not the birthplace of marbling, as Martha stated to a nationwide audience. Turkey is still the home to learn from the masters.
4. Paint brushes? We don't use no stinkin' paint brushes! Horse hair, at least! And we make ouor own!
5. Methyl cellulose? Martha stated it was fine to use, no problems, but she managed to ignore the warning that comes on the back not to inhale the stuff. Most practicing marblers use carrageenan, a natural seaweed found in many of our processed foods.
6. Recipes? Granted, it was a five-minute segment, but if you are going to encourage people to marble, as least reference recipes for an alum bath and the carrageenan bath. IT'S NOT JELLO! and a marbling bath can be very temperamental, depending on temperature and humidity.
7. Tools? Sheesh, Martha, we marblers make all our tools, and it's time-consuming. Just because you have toothpicks and pins doesn't mean the tools are cheap – either in price or measurements. It took us several years to collect the information and successfully make a bouquet comb.
8. Patterns? Martha, you used a toothpick to swirl a few drops of paint, and you told Meredith she was doing fine. Do you remember that Meredith disagreed with you? You didn't lay the paper correctly, and you certainly didn't do any of the really amazing patterns that can be had by beginners.
9. Crafts? Martha, you showed lots of applications, but bottom line? None of them were great examples of what can truly be done with marbling. At least you could have had great products.
10. How many pages? Oh, you the queen of how-to books, don't you realize just how many books are available on marbling? Books, not pages. Art, not craft. Love, not money.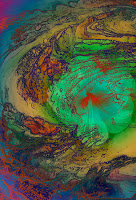 So school is back, and I actually accomplished some fiber before the year started. I am now teaching high school algebra, much to the amusement, I'm sure, of my family. I love being back at the high school level, seeing kids from middle school, and working with competent people. A FAR cry from the incompetence of last year.
I finished a piece I started nearly three years ago, but the fabric had been made for close to 7 years. I quilted two of the three strips before I ran out of backing. I ordered a special hand-dye for the back, but that was it. This summer, after the move, I finished the third strip (12 hours' worth of trying to find everything I needed after three years!). Then I played with the beading and all the fish Ali bought me from Hawaii. I had yarns I wove for various parts of the strips I had been collecting over two years – they look fabulous with the piece. So here goes: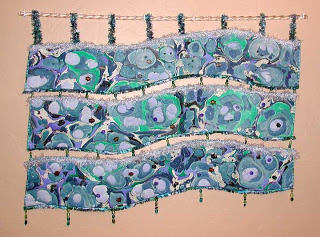 And here's a close-up: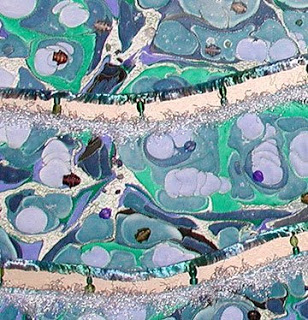 We've actually been on the web with a presence for ten years. But getting here was interesting. When we thought about doing a web page, we did check around and get some quotes. Once this one person quoted $3000, I knew if I wanted this I would have to do it myself. So I bought Pagemill and started to learn it. I remember being on the local server – starnet – and trying to get some questions answered – but the phone message kept saying to check the website, and I couldn't even figure out how to get on line.
That was a steep learning curve. About a year after our first attempt, I bought a book (so typical of me) on the 10 biggest mistakes you can make on a website. Turns out I made most of them. Once I updated to an iMac (some 8 years ago now), I had to learn GoLive, and I was able to do a credible job. At the time we were mostly selling kits and patterns, and I had a lot developed, and about 30 different products on the website.
Eventually the time came to change providers and went to Saltwater Systems and Suzan in Sedona, for better shopping cart. Then the time came when I wanted to just sell art pieces, and Suzan did the complete redesign you see now at Marble-T Design. This has been a classy site for us.
The art work is taking over what we are doing – we rarely do custom anymore – way fewer headaches. We marble for ourselves and for our art pieces, and pretty much keep the "retail" to eBay. That takes care of the basic supplies. Now we just play with new patterns and ideas when we marble – but there was a time when we were marbling every weekend to keep up with fabric orders – applique kits and the like. I still don't have t-shirts, which was the original idea behind Marble-T, but we're getting there.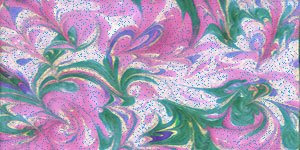 We marbled this past weekend in the big tray – first time in almost two months, what with the move, setting up the studio, and the end of school. There are wrinkles in the new system that we will need to work out – we have more room for marbling, but not necessarily for my sewing – which has decreased with the coming of the digital marbling – now a domain name for us.
The bath was really thick, and turned out uneven – we will need to work on that. We can redo the studio so Dean can mix everything in there, rather than making dozens of trips to the kitchen. We've gone back to the newspaper for drying pieces, so the rinsing is much easier, and of course our own dryer now, so that makes the heat-setting lots easier.
I anticipate, now that vacation is here, we will be able to marble a lot for fall and the holidays before school starts again. That said, we turned out a great piece of silk from the bottom of the tray again. We have started saving a piece of fabric for the end of the tray, once we have started to clean the tray – we are getting very organic pieces – looks much like topographical maps. Here's the original and a digital reworking of the piece – called Lava.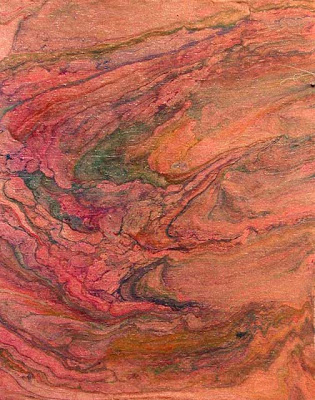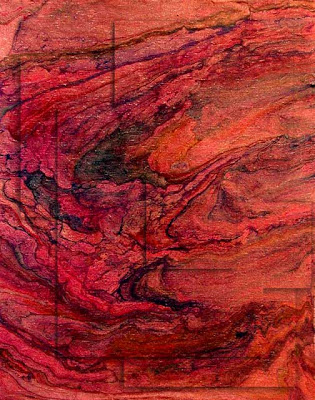 What I particularly like about Lava is the use of the straight lines to contrast with the natural curves. I think this makes a nice finished piece, with the different layered squares just making a hint of structure to the piece.


After a great workout at the spa and a nice lazy afternoon, I decided to get involved with some new Photoshop stuff. I am anticipating a visit to a gallery next weekend – sent the letter and DVD off in the mail yesterday – so it's time to continue making some new work. What follows is the original – and I had a lot of fun adjusting hue on this for a variety of looks.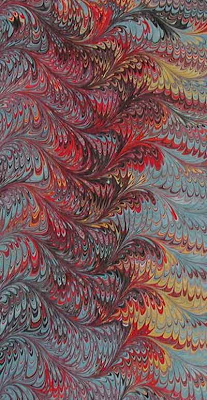 From here I started with the purple.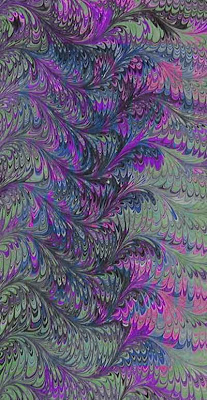 Then I wanted to look at some shapes. I am still not happy with the shape library, but I was trying a couple and ended up with a nice stylized piece.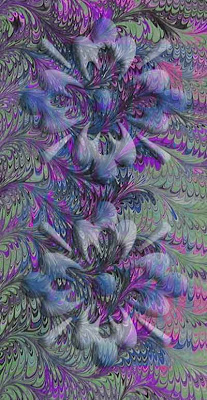 And the final version – at least, it's final until Suzan works her magic. I tried several others first today, and I wasn't really happy. This one is close to being a "wow."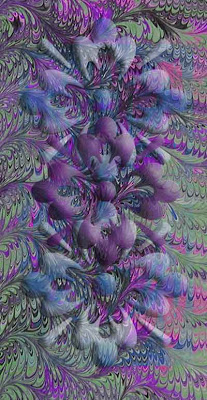 I have an incredibly talented student in art class this semester, and I want to do right by him. Most of the types of assignments I am doing are for students who have had no exposure to art. I offered him a solo show at the art show in May – he would need to create 20 pieces of art. I wanted him to think about it.
He asked me on Friday if the pieces all needed to be pencil drawings, and I said no. It never occurred to me they would all be pencil, but evidently it did to him. So I am thinking now about some ways to expand his range – like getting him markers for a different medium, having him study an artist and try and create a work in that style, getting out paints, India ink and pens, oils – maybe even clay and other three-dimensional tools. I want him to experiment and really grow in what he does.
The other piece of news – we may have our first major teaching gig – in Hawaii! It would be so cool to get back there, and have our expenses paid! The logistics would be amazing, and we would have to start planning now, but I would love the opportunity. I have also offered to do a presentation on marbling – historical, as well as the new digital direction we are going. I wouldn't be surprised if we know something by the end of January, in which case we start making fabric! Yee-hah!

We spent yesterday setting up to marble (which always takes so long, with pretreating and actually setting up the liquid bath), but then today we got to play – marbled about 6 yards of fabrics, and once again everything went really well. It is so nice to be back in the large tray again – we actually feel like we are creating art again, not just little pieces to sell. Yet again today we were talking about how much of a void there was in our artistic lives when we couldn't create large pieces of fabric. When you define your art this way for over 14 years, it really is distressing to lose the skills.
Especially nice is the fact that we are working with other fabrics. Tried some larger heavy-weight silk that worked wonderfully, as well as some faux suede pieces, and the velveteen also worked. I still need to treat the velveteen to soften it up, but overall extremely pleased. Still haven't been able to do the chiffon again – those people who bought that two years ago certainly have one-of-a-kind pieces!
We want to marble more often now that things are working again. It is SO GOOD to be creating fabric again! We even are revisiting marketing and revving up the business end because we are turning out really great fabric. The disadvantage is that our bodies have changed enough that we can no longer go for six hours straight, not including clean-up. There was a time four years ago when we could do 60 fat quarters in a day. Can't do that any more, and we also discovered we don't like turning out fabric that way – we would just as soon do a smaller amount and have a chance to play on each of the pieces.
We are still looking for a particular fabric that we used for so many of our art pieces – we used a poly-satin that kind of worked, but not to the detail we would like. I found an old piece that we'll use in checking around fabric stores. All the really great pieces are from bridal fabrics, so we just have to shop around for those.
This piece that I've scanned shows the incredible detail you can get on the poly fabrics.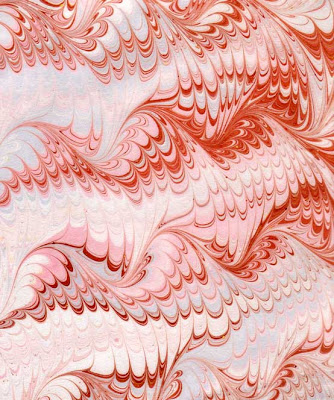 Then I started playing with some of the new tools from the Photoshop lessons. This next is with the Shadows and Highlights adjustment. I particularly like the neon effect on the orange.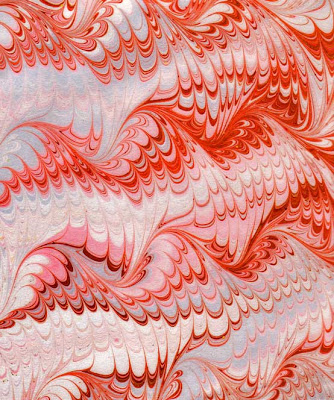 This next is playing around with the eye dropper tool and the white space. Each gives a different feel, which is why I have wanted to learn Photoshop for so long. I want to be able to take a really great piece of fabric and use it to create lots of other images, so the particular piece doesn't have a short shelf life till someone buys it.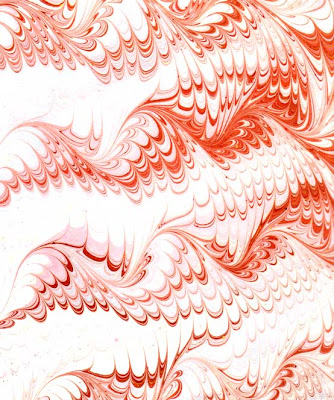 And finally – the joy of playing with filters in Photoshop! Take a look at what happens with the emboss filter with the same piece! Reminds me of maps of the Continental Shelf.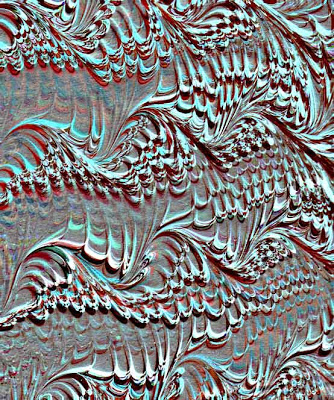 All in all, a great way to spend a day off from school (Rodeo days here in the Old Pueblo)!
I am hooked on creating with Photoshop. I cannot wait for the new lesson to arrive tomorrow in my inbox. I've had a lot of fun practicing, deleting, trying new things. I still see myself as very ordered in what I put together, but I am learning to see that it isn't a bad thing. I like what I create, and if it's ordered, okay. The fact that I can get something pleasing to me, making decisions along the way, trying to expand how I look at things, is ultimately good. I am no longer worried about what the finished project will be when I start.
The nice thing about this, I just realized, is that when I start my fiber work, I do have a finished idea in mind. With these little creations, I just let the shapes take me where they might. Kind of like letting the characters start talking and control the story when I am writing.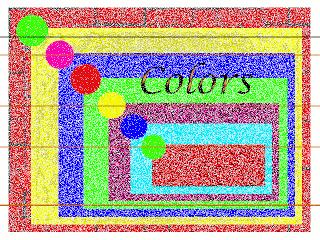 This particular picture let me play with some of the dissolve aspects of the filters. And I continued to work with the eyedropper to match my colors. Then I decided to look at the text function, which I hadn't tried yet – I remember trying to work on a logo for the website and not being able to get anything into the letters. But that was also an older version of Photoshop – or else it was me with absolutely no knowledge about what I was trying to do – which is far more likely!
Spent a couple of hours Sunday at the gem show – dropped my money at the Chinese ladies from Dallas – discovered the beauty of tree agate – kept thinking about some marbled trees and these stones spread throughout the design. That will be a fun one to create.
Speaking of marbling, we are setting up the big tray on Saturday – first time marbling in the large tray in two years – ever since the water went and the chemistry of everything we did changed significantly. Fingers crossed – it would be so wonderful if we can get large pieces again. But I look at the two years of not doing this – we did do some nice things in the smaller tray, and we started experimenting with different designs. So not all lost – but I want to make big pieces of cloth again. Somehow I will feel like an artist again!
New class comes through tomorrow – now I just have to get tests scored and lesson plans ready and I can play for the next few days!