Archive for the 'top ten reasons' Category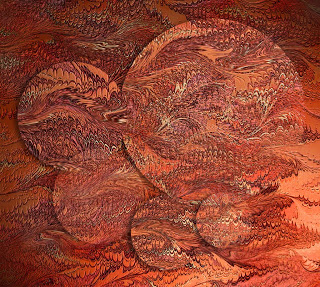 Martha Stewart on the Today Show, demonstrating "marbleizing" and promoting her new book, The Encyclopedia of Crafts. What's wrong with this picture? Here's a quick "Top Ten."
1. Marbleizing? It's called "marbling," or "ebru" (the Turkish name), and anything else is an insult to marblers around the world.
2. Easy? Good marbling isn't easy. This is a centuries-old art form, practiced by masters around the world. I've spent close to 17 years learning this art form, and I'm still learning! It was 10 years of work before we really felt we had fabric that we thought was good enough to sell commercially. Guilds used to put members to death for sharing secrets of marbling.
3. Italy? Not the birthplace of marbling, as Martha stated to a nationwide audience. Turkey is still the home to learn from the masters.
4. Paint brushes? We don't use no stinkin' paint brushes! Horse hair, at least! And we make ouor own!
5. Methyl cellulose? Martha stated it was fine to use, no problems, but she managed to ignore the warning that comes on the back not to inhale the stuff. Most practicing marblers use carrageenan, a natural seaweed found in many of our processed foods.
6. Recipes? Granted, it was a five-minute segment, but if you are going to encourage people to marble, as least reference recipes for an alum bath and the carrageenan bath. IT'S NOT JELLO! and a marbling bath can be very temperamental, depending on temperature and humidity.
7. Tools? Sheesh, Martha, we marblers make all our tools, and it's time-consuming. Just because you have toothpicks and pins doesn't mean the tools are cheap – either in price or measurements. It took us several years to collect the information and successfully make a bouquet comb.
8. Patterns? Martha, you used a toothpick to swirl a few drops of paint, and you told Meredith she was doing fine. Do you remember that Meredith disagreed with you? You didn't lay the paper correctly, and you certainly didn't do any of the really amazing patterns that can be had by beginners.
9. Crafts? Martha, you showed lots of applications, but bottom line? None of them were great examples of what can truly be done with marbling. At least you could have had great products.
10. How many pages? Oh, you the queen of how-to books, don't you realize just how many books are available on marbling? Books, not pages. Art, not craft. Love, not money.