I am hooked on creating with Photoshop. I cannot wait for the new lesson to arrive tomorrow in my inbox. I've had a lot of fun practicing, deleting, trying new things. I still see myself as very ordered in what I put together, but I am learning to see that it isn't a bad thing. I like what I create, and if it's ordered, okay. The fact that I can get something pleasing to me, making decisions along the way, trying to expand how I look at things, is ultimately good. I am no longer worried about what the finished project will be when I start.
The nice thing about this, I just realized, is that when I start my fiber work, I do have a finished idea in mind. With these little creations, I just let the shapes take me where they might. Kind of like letting the characters start talking and control the story when I am writing.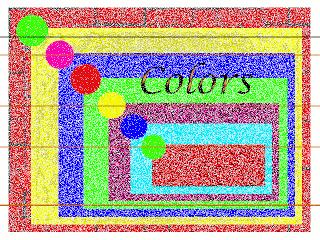 This particular picture let me play with some of the dissolve aspects of the filters. And I continued to work with the eyedropper to match my colors. Then I decided to look at the text function, which I hadn't tried yet – I remember trying to work on a logo for the website and not being able to get anything into the letters. But that was also an older version of Photoshop – or else it was me with absolutely no knowledge about what I was trying to do – which is far more likely!
Spent a couple of hours Sunday at the gem show – dropped my money at the Chinese ladies from Dallas – discovered the beauty of tree agate – kept thinking about some marbled trees and these stones spread throughout the design. That will be a fun one to create.
Speaking of marbling, we are setting up the big tray on Saturday – first time marbling in the large tray in two years – ever since the water went and the chemistry of everything we did changed significantly. Fingers crossed – it would be so wonderful if we can get large pieces again. But I look at the two years of not doing this – we did do some nice things in the smaller tray, and we started experimenting with different designs. So not all lost – but I want to make big pieces of cloth again. Somehow I will feel like an artist again!
New class comes through tomorrow – now I just have to get tests scored and lesson plans ready and I can play for the next few days!