The last couple of designs have all been from the same piece of marbled fabric, as is this one. What follows with the green shades is interesting, but it needs lots more work. Very agricultural….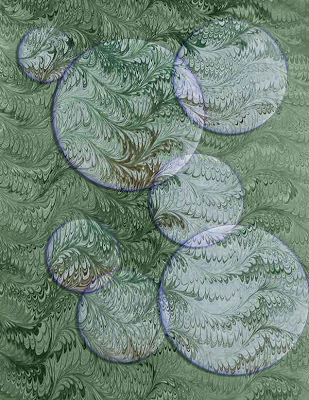 These next two are variations of the same, with the hue and color balance changed. In the blue, I was able to "twirl" one of the circles, and I really liked the effect. I wasn't able to get any of the other circles to do as cool an effect, but I do like it in purple.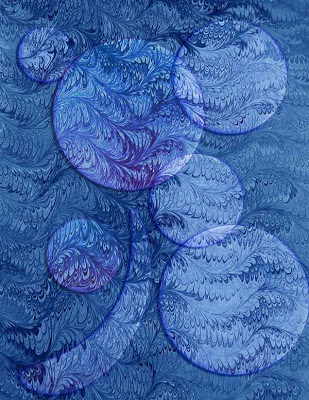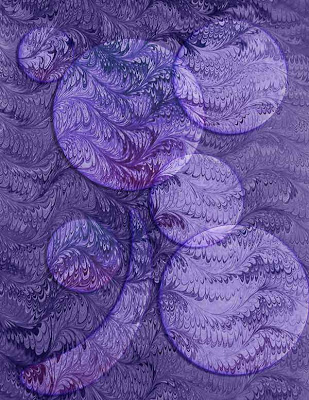 It does feel good to get back to doing work with Photoshop – pretty productive weekend, and I still continue to learn lots. I have been experimenting with additional shapes in the library – definitely need to add more. But this is a great way to work with layers and see how everything interacts together. This piece has as its original, the same piece from the purple flower below, but this time tinted with a yellow hue. In this one, Spring, you can see the original shape I used on its own layer.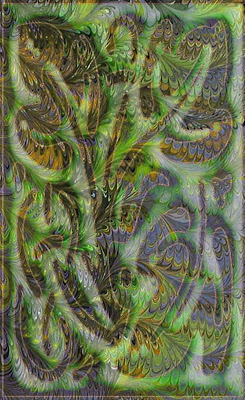 I tried to do more to get this idea of spring/summer across, without making the shape look too much like a Photoshop shape.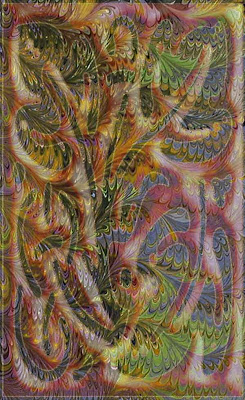 Then I just started playing around till I got what I'm calling "Asian Fantasy."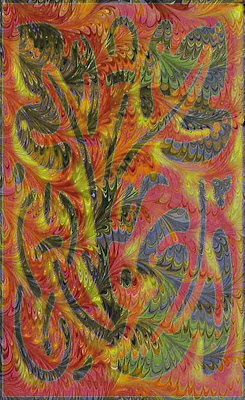 Here are two other iterations (that seems to be my word for the day!!) –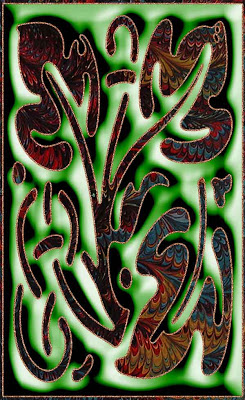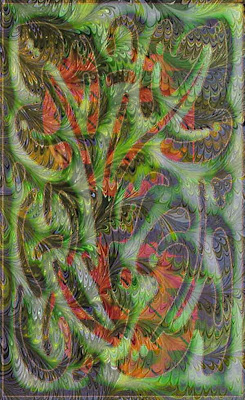 After a great workout at the spa and a nice lazy afternoon, I decided to get involved with some new Photoshop stuff. I am anticipating a visit to a gallery next weekend – sent the letter and DVD off in the mail yesterday – so it's time to continue making some new work. What follows is the original – and I had a lot of fun adjusting hue on this for a variety of looks.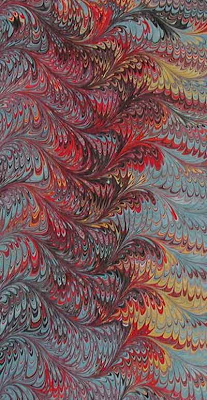 From here I started with the purple.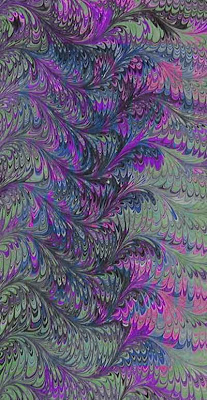 Then I wanted to look at some shapes. I am still not happy with the shape library, but I was trying a couple and ended up with a nice stylized piece.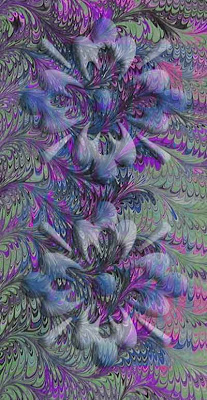 And the final version – at least, it's final until Suzan works her magic. I tried several others first today, and I wasn't really happy. This one is close to being a "wow."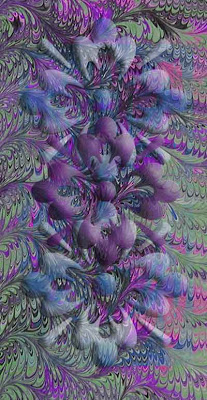 On Wednesday, February 20, Eric Maisel will be stopping by this blog, with an interview on his new book, The Van Gogh Blues. I really want to look at the issue of making meaning for adolescents. I am having a terrible time encouraging kids to want to learn. Maybe Eric will have some insights.
I am working on making my own meaning with the kids in art. I prepared a rather long presentation for the kids, with lots of websites on mandalas. The Mandala Project is quite involved, and there are some great examples of individual mandalas that have been created and added to the site. take some time to look through the site. The kids did not, on the whole, know anything about labyrinths, so that was another interested segue.
We also looked at the Tibetan Healing Mandala made after September 11. The kids were fascinated, and couldn't believe the mandala was "destroyed" at the end. This led to an interesting discussion about our western perception of "art" and the difference with a work of art that is very temporal. There are hourly pictures of the 2-week project, as well as detailed pictures. The kids were fascinated.
The eighth graders in particular had a very hard time getting going, but once they mastered the compass they were able to get a little more involved, and by the end of the period, most were getting into detail. My seventh graders are doing some great stuff. I actually had some time and I started on one – wanting to use some symmetry. I like where it's going – would make an interesting quilt – probably need to start some digital work in that area. Hmmmm….
Also, as a way of trying to bring the mandala home to Arizona, I included a link on Navajo sand paintings, which also work with the circle motif. It was a productive two days in art class. I am looking forward to scanning the finished work – last semester it was a very successful project.


I decided to skip finishing lesson plans. I get very resentful when I end up spending almost an entire day trying to get ready for the week. I would much rather go and work out – which I did this morning. Here's my saga – since joining the new spa at the beginning of January, I have really gotten into doing cardio on the elliptical. I have gone from 11 minutes at level 1 to 30 minutes regularly, today almost all of it at levels 4, 5, and 6. I have been feeling great – I went shopping yesterday, and not only did everything fit,my whole profile has changed and I was in to smaller sizes – by one. I am almost ready to move over to the other side of the store, out of women's.
Physically I have been feeling really good, and I am even enjoying spending more time making myself look better – who knew? All these years I never really did the exercises correctly. Now I am – and loving it. Three new tops and a new pair of pants – just need to hem them. If I could only manage the stress as well….
Art class this week will focus on the kids making Valentine's cards. We worked on water colors last week, and the kids had a ball. I am pulling out a lot of supplies, and I've searched the web for sites related to Valentine's Day – found a couple of cute projects, how to say "I love you" in 50 languages, and an Arabic love story to read. Should be an easy couple of days.
My Somali girls are so into color – they are so free with the tools and supplies – they just want to create and use color! Most of my eighth graders don't want to be in the class – they would rather cook – and are resisting trying anything. My seventh graders, on the other hand, are doing really well.
We did the edible color wheels last week – everyone enjoyed them, and I sent them on to other classes (including mine) on a bit of a sugar high! Got some good looking color wheels, and definitely an understanding of mixing colors. Again the Somali girls loved seeing what happened.
Art seems to be the only thing keeping me focused and sane….


It is a glorious Sunday morning here in the Old Pueblo – getting up to the low 70s today. Which is why we live here – sure beats the snow on the weathercam for Burlington. So I'm going to ramble before I start my lesson plans.
First up from the weekly newsletter from Eric Maisel–
"It turns out that the United Nations organization UNESCO launched a Creative Cities Network initiative in 2004 with an eye to promoting the social, economic and cultural development of cities in both the developed and the developing world. Cities apply to the network and pledge to promote their local creative scene and uphold UNESCO's cultural diversity mission. UNESCO considers their applications and, for those it approves, designates the applicant a Creative City in one or another of several different categories.
Apparently 20 or 30 cities have applied so far and Aswan, Egypt and Santa Fe have been designated UNESCO Cities of Craft and Folk Art, Berlin, Buenos Aires, and Montreal have been designated UNESCO Cities of Design, Popayan, Colombia has been designated a UNESCO City of Gastronomy, Edinburgh has been designated a UNESCO City of Literature, and Bologna and Seville have been designated UNESCO Cities of Music."
I think that is very cool – countries and cities specifically designated as art stops. Here is Tucson lots of people feel it is an artist's mecca, but I so disagree. Maybe if all you want is western art, specifically paintings, but I consider the area a wasteland artistically. Tubac at least has a variety of galleries, but still pretty western-art oriented. Tucson does have a spectacular glass studio, and there are some interesting galleries, but overall western.
When we visited Santa Fe on gallery row, there was so muc eye vandy – a good smattering of other things besides western art, although the western art was spectacular – huge sculptures that were available as public art. Our library has a weird red "thing" that no one has really figured out.
The Pima Arts Council tries, but I think it is dominated by those folks who consider themselves "artists and no one else is." Sheesh, I hate that. I'm tired of finding that in quilt stores.
That said, the Gem show is in town, and spent a good chunk of time last Sunday looking. Bought some great red jasper and a few other things, but the jasper stands out in my mind. Found some great stuff for Ali – I do have the eye for what she likes!


I am amazed at how many of us are struggling in our teaching because of the weight of what we do. As I've written before, I have come to see teaching as my primary creative activity for at least a few more years. I am reading The Van Gogh Blues by Eric Maisel, and there was a wonderful quote in the beginning:
"What could be odder than to have no doubt while having no success and then tremendous doubt as soon as a great success hits? How upside down that sounds! Yet isn't the experienced cleric more prone to doubt than the seminary student, the experienced therapist more prone to doubt than the intern, the experienced professional in any field more prone to despair and meaning loss than the innocent who still believes?" (p. 28)
That's a powerful statement, and it speaks to my looking at this issue further. Eric Maisel will be appearing here on this blog to talk about this and other issues on February 20th. I am finding the book fascinating reading, but while I may be helped, I can't help but wonder about the overall state of education and creativity.

The kids are finishing up another line assignment – filling a sheet with nothing but geometric shapes until they have something they like, then adding color to the shapes.
It is really interesting to see where the kids decide to put color. Some go all out, and some do just touches. Some really get into it, and some just want to be done with the assignment. The framing was interesting – I decided to do that after each assignment, to value their work ahead of time. One or two of the kids really get creative with the framing!


I got some pictures of the kids' doodles. This has been a really successful assignment, getting the kids able to let go a little bit with their pencils and actually create a work of art. First they spend 20-30 minutes just doodling on a sheet of paper. Then they have to use their math skills to create a small frame. They move the frame around until they find a spot they really like, glue the frame in place, and then add color to their doodle.
You can see the variety of doodles the kids have done. This first one shows the whole process.
The display area isn't great – all the left-over lockers – but the work looks very good – and the kids are proud of what they have done.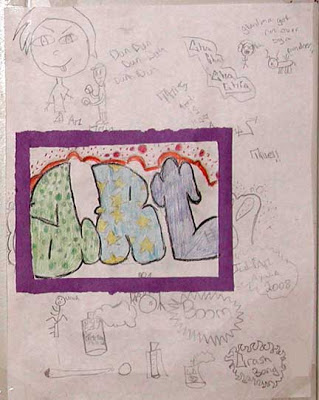 This next is a doodle by my really great art student – I gave him some supplies today – he has an incredible natural talent.


I finally remembered the digital camera today, so I could document some of the kids' work, as well as take pictures of my art room. We still have a lot of work to do, with finishing cleaning and storing, but we are making progress! You can see all the windows, with some really great northern light – this is this morning about 9 AM.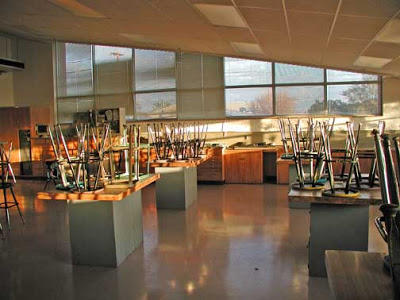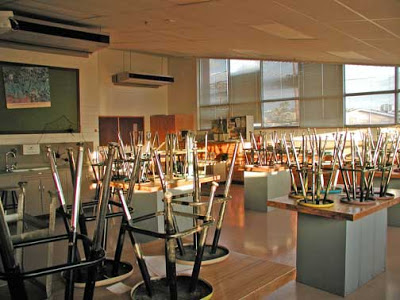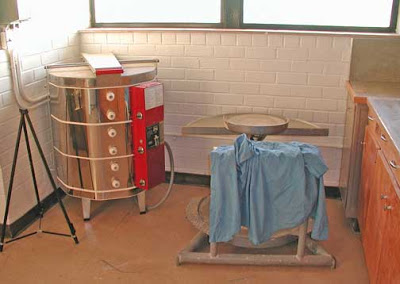 You can see the clay room, with the wheel and kiln. I don't know how to use either of them, so I have incentive to learn how to throw a pot.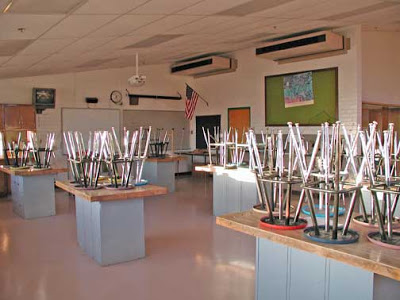 We just finished four nights of watching Season 3 of Project Runway. We caught Season 1 when our local cable ran two free months of expanded cable, and we had Bravo for a while. Since we're doing Netflix again because there is nothing on TV, we watched Season 2 and now Season 3. I love Tim Gunn – classy, stylish, intelligent, all around amazing!
We really enjoyed watching this together. We have started doing more with original design and color, so we were very interested in watching the results of the various challenges. For season 3 I was very glad they didn't throw another challenge on top of getting ready for fashion week. I still don't think Jeffrey should have won – I would buy Uli's clothes, and Jeffrey is just too out there. One of the things we have both been commenting on is how disorganized most of the contestants are. We were saying if it were us doing this, we would be so planned and organized, and not leave things to the last minute. Two months (five in season 2) would be plenty to develop a line – I work well with deadlines. But while I can sew – I have no sense of designing clothes!
Now we just have to wait for Season 4 to come out on DVD!


It will be interesting adjusting to being in the art room. It is tricky getting set up and then cleaning up and trying to get back to my classroom – since the Promethean Board isn't working right now, I don't need to unhook the computer, so that will make things a little easier. But I need to have my folder for emergencies, my attendance book, dry erase markers to get agendas and objectives up – plus set up activities. At least I don't have to clean up before leaving – I can always set up the first thing.
My two aides have been cleaning and organizing the storage closet – we have lots of great stuff, so I should be able to do a lot of interesting activities. I have the laptop computers in, which was a hassle, but the kids liked to look at the optical illusions, especially my seventh graders. They were so attentive, and they were very careful with the illusions they chose to recreate. These are a couple of good sites:
optical illusions with lots of movement, and more optical illusions that are constantly updated.It should be interesting to see how that kids handle this.
I will use more activities from the Incredible Art site, as I know what I have for materials. I miss not having Photoshop right now, as the kids could do samples of lines. I need to get some pics of the room- lots of great windows, we need to have window blinds put up on one side, because the morning sun right now is pretty strong, especially when using the computers. And I need to get the garbage emptied, so we can continue to clean.
32 more days till Eric Maisel visits the blog. Once I read through Van Gogh's Blues, I want to start thinking about questions that look at making meaning for adolescents. I am enjoying reading other blogs.


As of tomorrow I am officially in the art room! We got our stools – they're not set up, and I don't have the computer connections, but the kids can help with most of that tomorrow. I discovered a potter's wheel and loads of clay. I need to have the district check out the kiln to see if that works. The room is wonderfully big, lots of great light, lots of storage…we should be able to do great things!
The doodles worked out really well. The kids started their evaluations today, and they were really looking at the work. Maybe not as critically as I would like, but I need to improve what I am asking them in order for them to be more critical and definite about the work. I need to develop a basic rubric for evaluation, where I can list the criteria for each assignment. This means I need to look at the assignment differently, but now that I am repeating assignments, I have more time to think about the integral components of each one.
One thing the kids seem to be enjoying is the different website each day. Today was Animusic – all computer-generated instruments and music – really cool stuff. The kids all wanted to know how to get the CD. Two of my boys know they can drive me nuts by always saying "This is boring." Well, they just wanted more and more of the examples.
36 days! That's not counting today – 36 days until Eric Maisel, creativity coach and author, will be stopping by the blog to take interview questions. He'll be talking about his new book The Van Gogh Blues, about creative types and depression. I'll get a link to Amazon posted for ordering. My book is due to arrive any day now!
So stay put for more info!


I have an incredibly talented student in art class this semester, and I want to do right by him. Most of the types of assignments I am doing are for students who have had no exposure to art. I offered him a solo show at the art show in May – he would need to create 20 pieces of art. I wanted him to think about it.
He asked me on Friday if the pieces all needed to be pencil drawings, and I said no. It never occurred to me they would all be pencil, but evidently it did to him. So I am thinking now about some ways to expand his range – like getting him markers for a different medium, having him study an artist and try and create a work in that style, getting out paints, India ink and pens, oils – maybe even clay and other three-dimensional tools. I want him to experiment and really grow in what he does.
The other piece of news – we may have our first major teaching gig – in Hawaii! It would be so cool to get back there, and have our expenses paid! The logistics would be amazing, and we would have to start planning now, but I would love the opportunity. I have also offered to do a presentation on marbling – historical, as well as the new digital direction we are going. I wouldn't be surprised if we know something by the end of January, in which case we start making fabric! Yee-hah!