I got some pictures of the kids' doodles. This has been a really successful assignment, getting the kids able to let go a little bit with their pencils and actually create a work of art. First they spend 20-30 minutes just doodling on a sheet of paper. Then they have to use their math skills to create a small frame. They move the frame around until they find a spot they really like, glue the frame in place, and then add color to their doodle.
You can see the variety of doodles the kids have done. This first one shows the whole process.
The display area isn't great – all the left-over lockers – but the work looks very good – and the kids are proud of what they have done.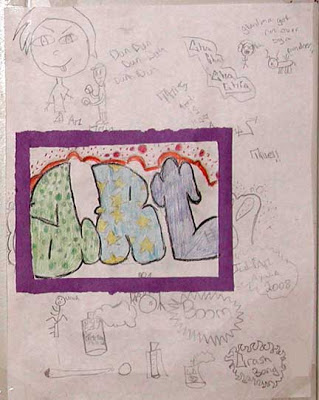 This next is a doodle by my really great art student – I gave him some supplies today – he has an incredible natural talent.