Archive for the 'holidays' Category
Well, actually….they're fabric bowls, but somehow "introducing fabric bowls" doesn't have the same ring. So this has got all the goodies of a holiday basket, but it comes in a fabric bowl that you can use throughout the year, rather than trying to figure out what to do with another straw basket. Which I must admit I thought was waaayyyy better.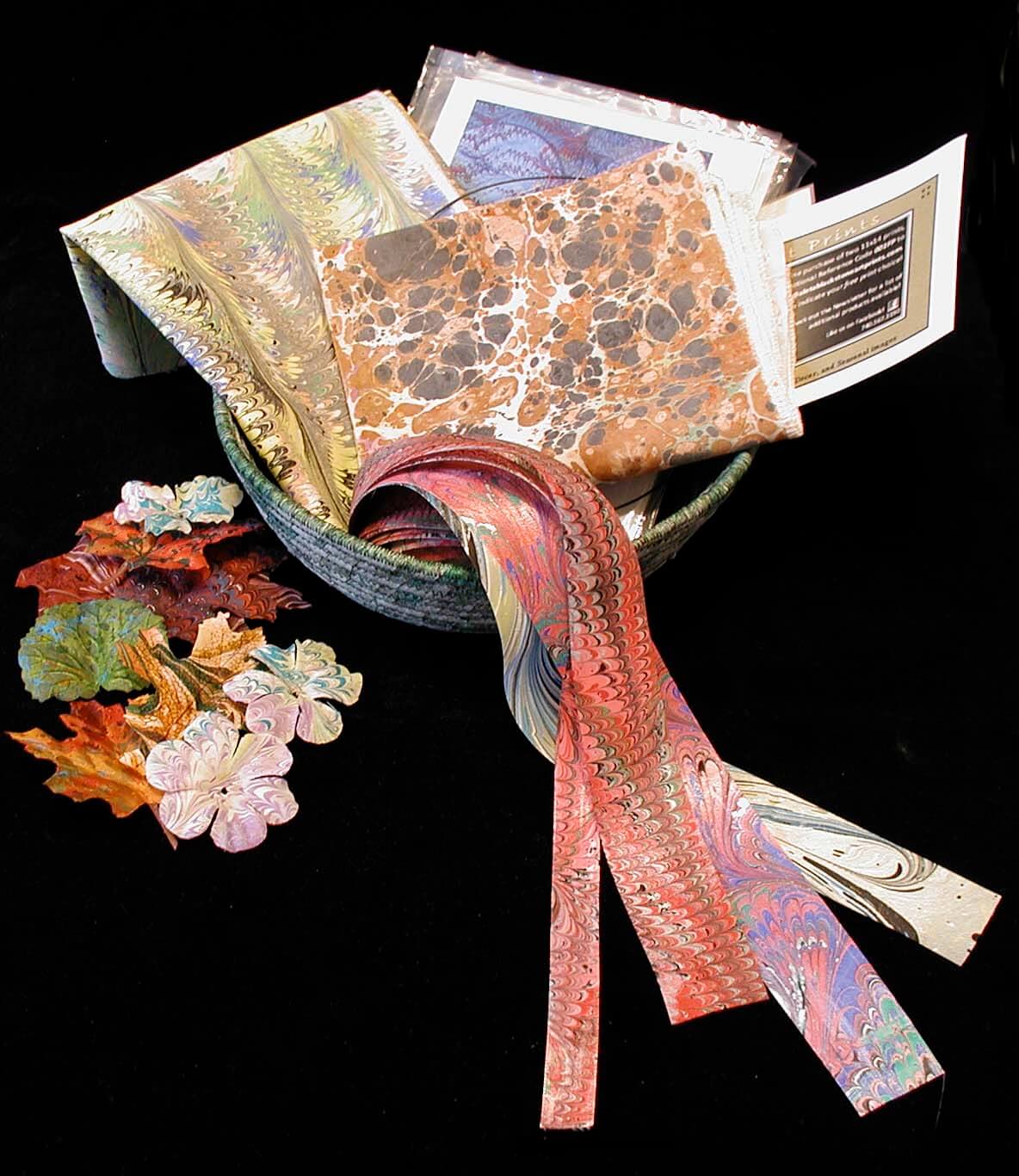 Here she is! This holiday treat starts with a hand-crafted fabric bowl, in a subdued color that makes the bowl perfect for year-round use. Then it's filled with goodies from the marbling tray: a fat quarter (18 by 22 inches) of 100% hand-marbled cotton; 4 pieces of hand-marbled Offray ribbon, in assorted sizes and width, all 18 inches in length; a 10% off coupon for our Etsy store (fabrics and small art quilts and table runners); coupons from other artists with offers for their websites; a Smapler Package of eight 6 by 9 inch hand-marbled pieces; a selection of hand-marbled silk leaves and flowers, perfect for embellishments; a set of four Digital Marbling (TN) note cards; and…a small mystery gift.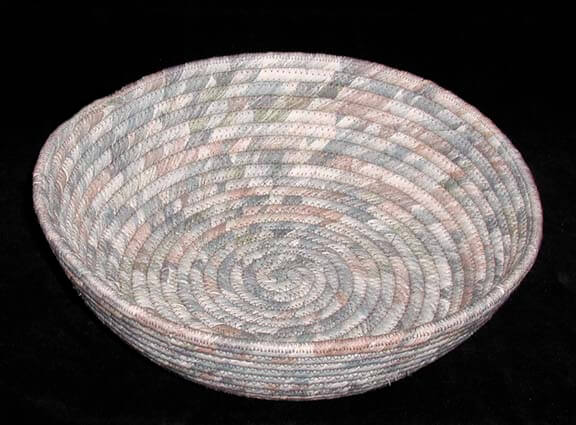 I want the fabric bowls to be in a rather subdued set of colors, as I want them to 1) fit just about any decor, and 2) be useful all year round. A "red" bowl tends to limit use. The actual bowl in this package is a nice mellow green.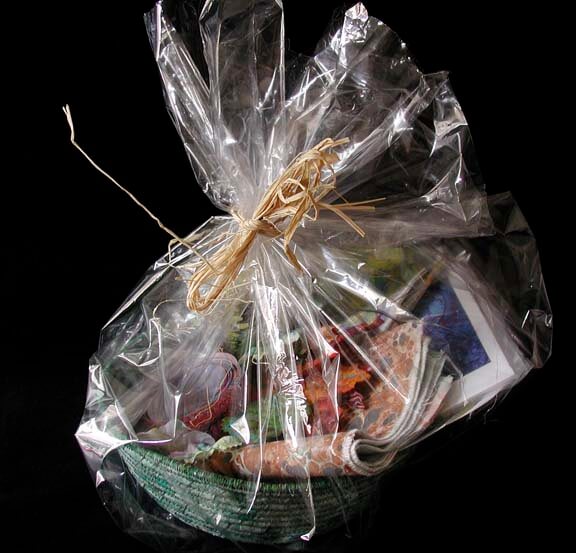 The "basket" comes wrapped in plastic and fits in a priority box, surrounded by shipping peanuts. You can have it sent to yourself, o4 let us know the address and we will ship it.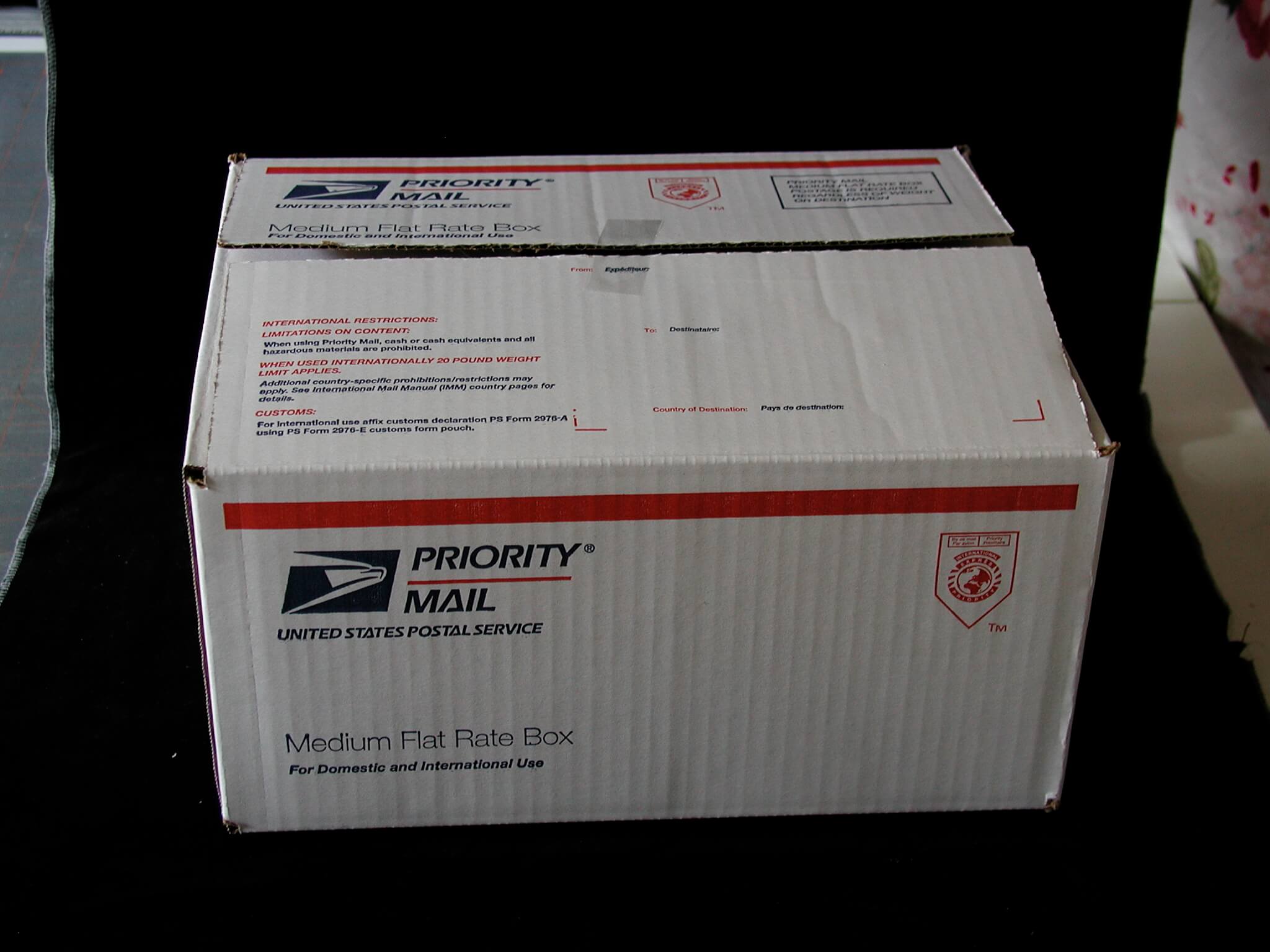 This is a $50 retail value, special available for the holidays for $35.00. Want one? Head to our Etsy store and buy the one there. We'll add additional ones as they sell, so you can see exactly what you will be getting for colors and fabrics.
These have been really fun to put together, especially choosing fabrics for the bowls. And if you haven't tried making these fabric bowls, they are incredibly soothing….wrapping fabric while you're watching television, or in the car, or waiting in the doctor's office…..There are a couple of good books available if your LQS doesn't offer a class:
We are affiliates for Amazon, so if you order through our blog, we do receive a commission (keeping the FTC happy….).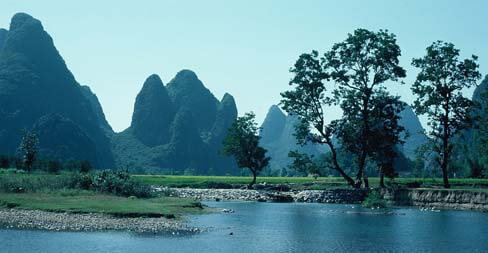 This photo is from one of my most favorite spots in the world – a small park somewhere on the Li River in Guilin, China. I've done some cropping, but this is the focus of the latest class I am taking from Quilt University: Artists Revisited. Technically I should have chosen a painting by one of the masters, but I have always wanted to translate some of my own photos to fabric, so I chose this. My colors aren't an exact match, as they should be for this exercise, but I am happy with what I have chosen. I worked on the background first and then came to the foreground, where I realized it was extremely busy. Here's what I've got: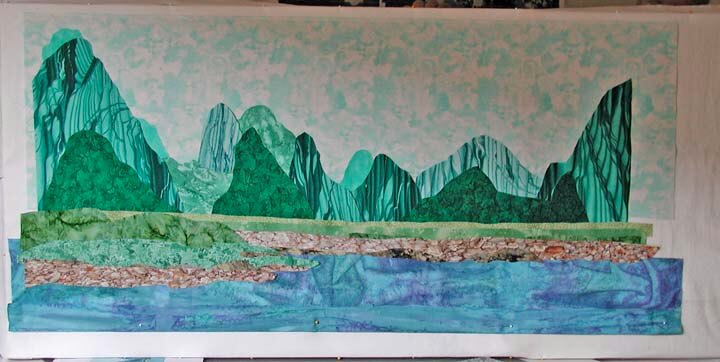 It's obviously rough, and the trees are missing. I am going to start the thread painting, and then I'll add the trees toward the end of that step. This is taking a much longer time for me, as I want to really think through each of the thread painting stages. The first step will be the horizon lines, and then I'm going to practice on the "crags" to see what I can do to accent and at the same time soften the mountains. I'd love suggestions for ideas to "paint" the sections.
Also, I've been making cloth baskets as a start for our Holiday offerings: we're doing a "basket, which is really a fabric bowl suitable for all year round, as I'm creating them with some fairly neutral fabrics. The thinking is that a bowl might be more useful around the house than a basket.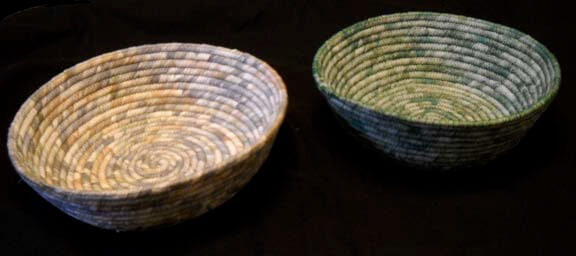 Once the bowls are done, they will then get filled with all kinds of goodies:
* A fat quarter of hand-marbled fabric on 100% cotton
* Four pieces of hand-marbled Offray ribbon, assorted sizes and widths
* A selection of coupons and discounts from a variety of Etsy sellers, good for use in their individual stores
* A Sampler Package of 6 by 9 inches swatches of hand-marbled fabrics
* A selection of hand-marbled leaves and flowers
* A set of note cards with Digital Marbling (TN) designs
* and…some type of mystery gift.
We totaled up costs, and the retail value of this offering is $75.00. We'll be selling the Holiday Bowl Packages for $50.00. Now each order will be different, as every piece of marbled fabric is unique in its creation. No two Bowl Packages will be the same.
Here's the deal – for the next week, you can order these Holiday Bowl Packages for 20% off. Email us with your order, and we'll do an invoice and arrange shipping. This offer ends on Wednesday, September 7.
Here's the start of one of the Holiday Bowls…..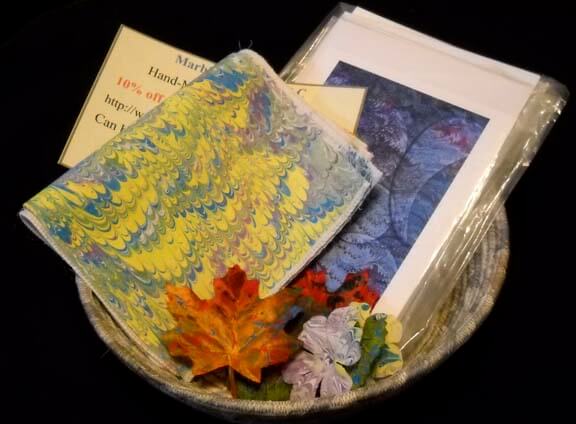 Think of all those family members who like fabric and are really hard to shop for – this will be totally unique!

So one of my goals over these ninety days is to look at the pictures I have developed over the last couple of years, analyze the licensing materials, and determine ten collections that I can develop. According to the research I have been doing, I am going to need twelve to fifteen different collections. I have some ideas, but I need to get them organized, set up folders, look at what needs to be enlarged, adapted, and so on. I also want to see what can cross over to Cafe Press and potentially Zazzle, so I get as much mileage from some of the pieces.
Whew. There's a lot there. One of the things I learned in the lynda.com classes was about Bridge – a program in Adobe Creative Suite that let's me easily look at all my images and organize them easily – something I really need to do.
Now to get started….and DON'T EVEN THINK OF COPYING THESE IMAGES – ask if you have something in mind.
Botanicals: I have a LOT of photos that could go for calendars, prints, cards. Interesting – as I'm writing this, I realize I really haven't given much thought to WHAT these could adorn. I have been through numerous stores, looking at design, but I'm not sure I have really thought about extending these pictures into more than two items. Hmmm. Food for thought.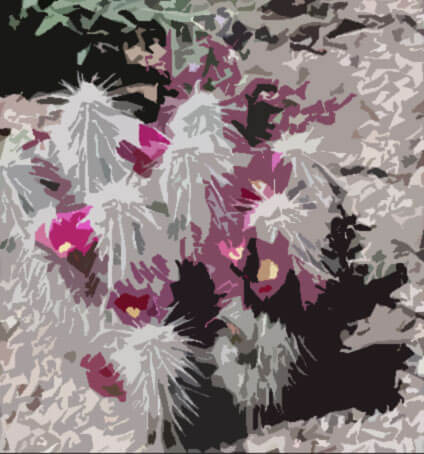 (don't even think about copying….)
Black and White: prints, cards, kitchen items, gifts, fabric designs.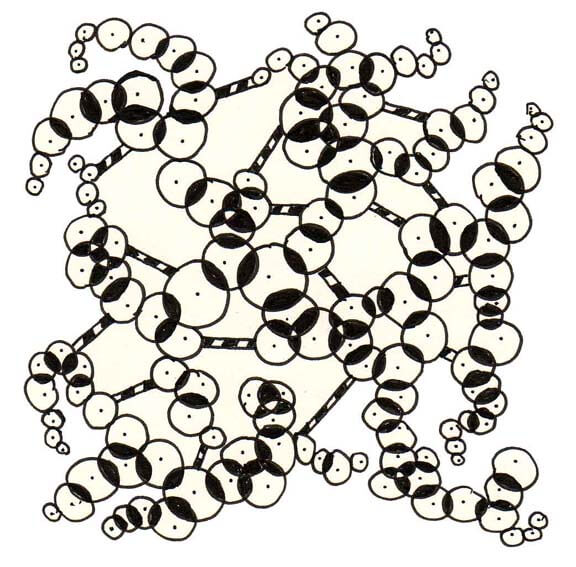 Indigenous images: I love taking regional designs and seeing how I can interpret them through marbled fabrics that have been digitized. This would make good regional products. Cards, calendars, prints, fabric (if the repeat works), gifts.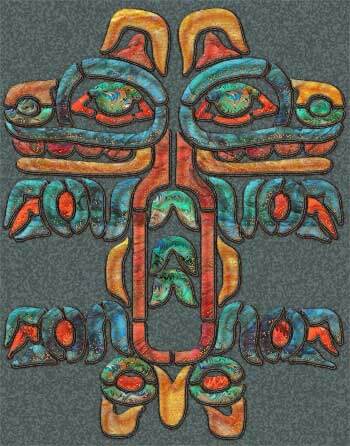 Art Deco Revisited: taking images in the public domain and embellishing them with marbled fabrics that have been digitized. Cards, calendars, prints, fabrics, gifts. The designs are from a public source, in this case the Dover book on Art Deco Designs.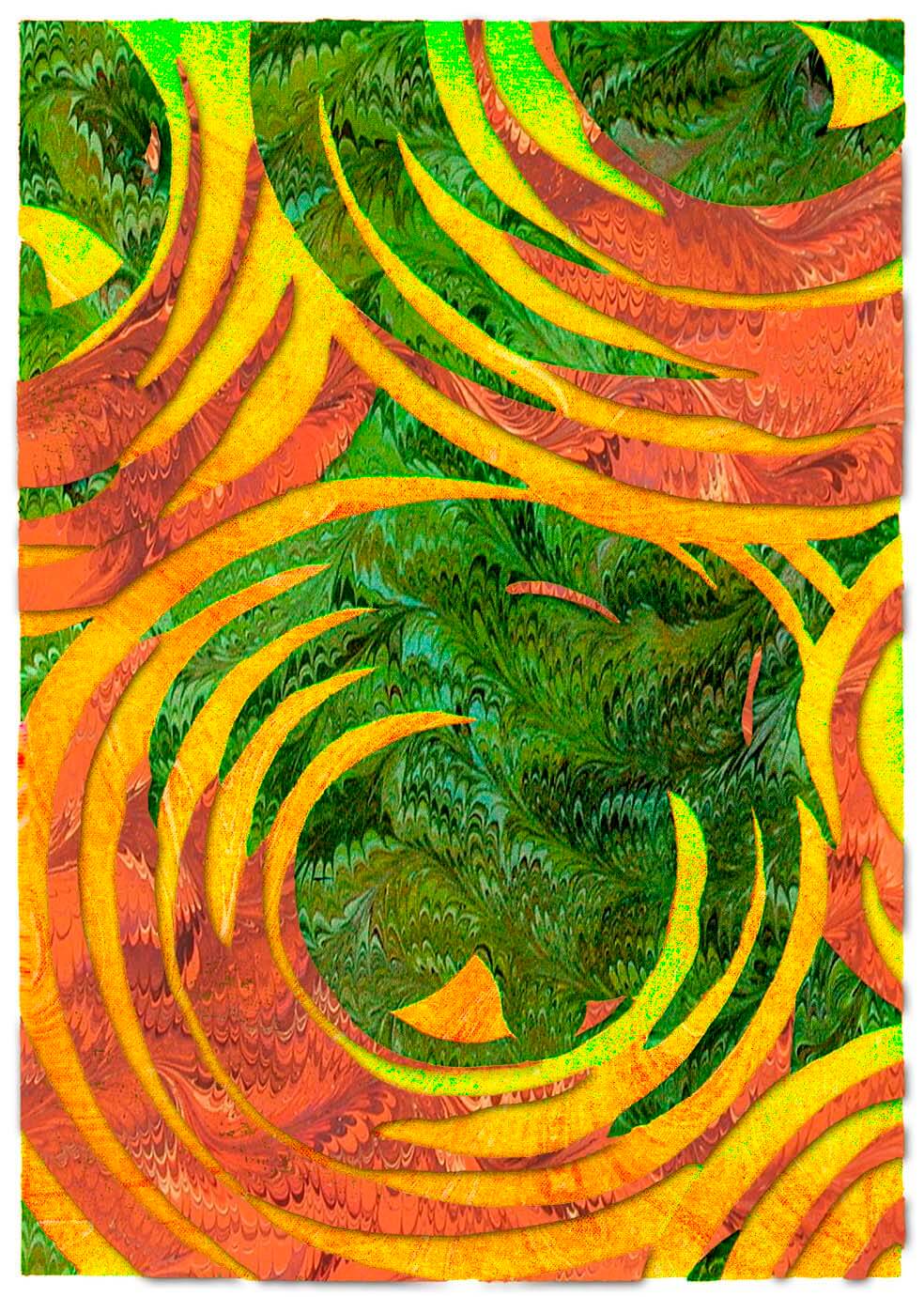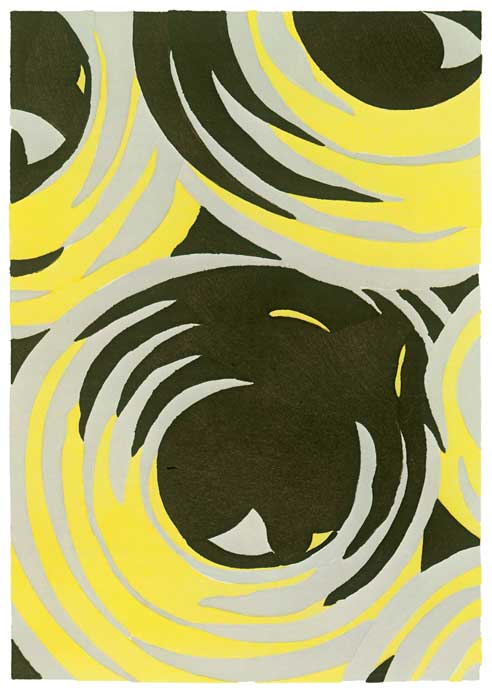 Original                                                                                                                With the digitized marbled fabrics
Abstracts: digital manipulation of marbled fabrics to create a new design, in this case "Moons." Prints, cards, calendars, potentially fabric, gifts.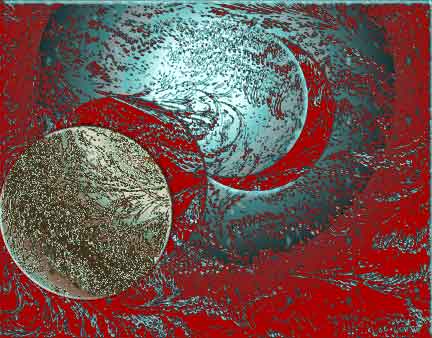 Inspirational: Taking either marbled patterns or images from nature and creating inspirational/motivational prints and cards, t-shirts, calendars.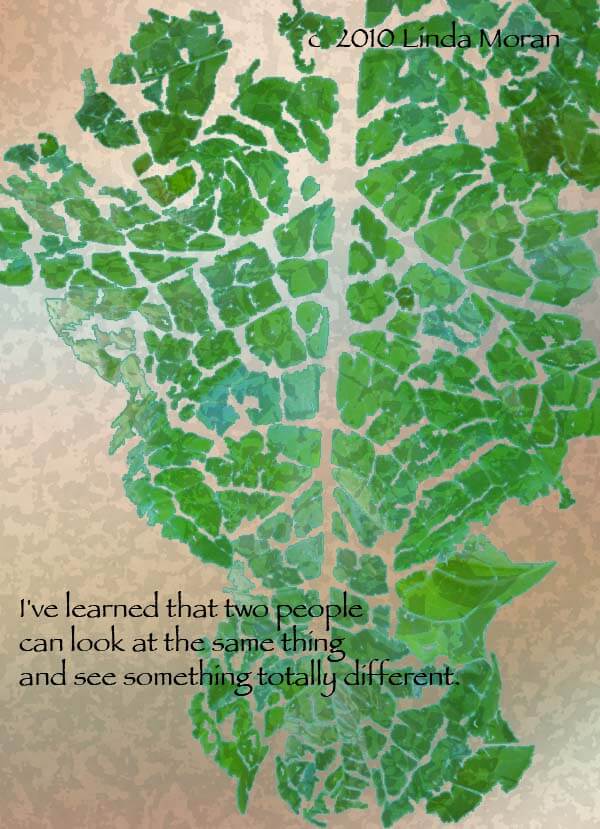 Seasons: digital marbling, as well as nature images that could be used in fabric, cards, calendars, prints. Pictures here could overlap other sections.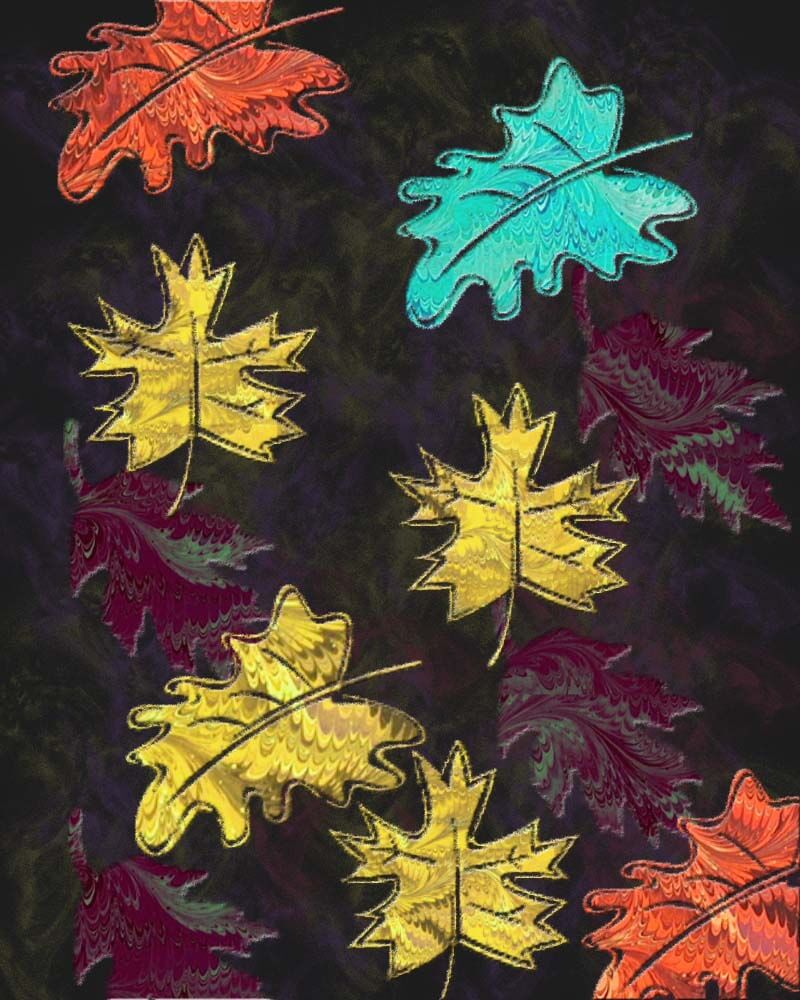 Nature: Places around the country and the world, cards, calendars, gifts, prints.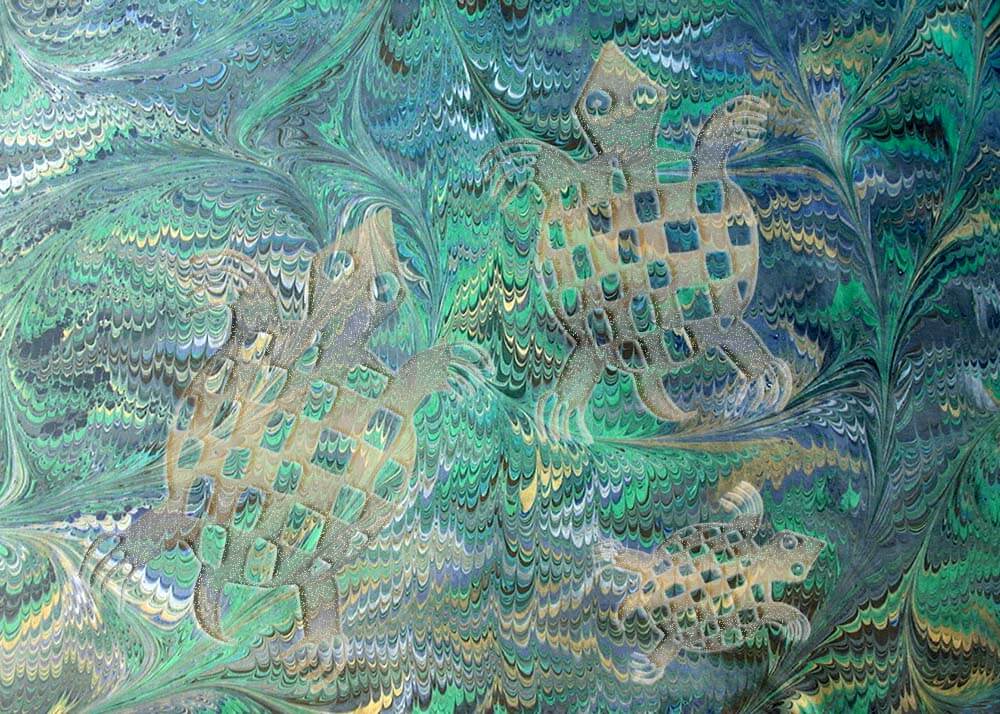 Southwest Designs: since I'm in the southwest, and I know how popular many of these images are. This one is already set in repeats. Lots of fabric possibilities here, as well as simple gifts.

Holidays: (valentines, etc) Got nothin' here, and I know companies will want to see holidays, so I have a great place to start.
Interesting. That's potentially ten collections. In my mind there were more, until I actually started listing them. Next steps: take this list of collections and go back into the stores to see how else these prints could be used. Stay tuned for the progress here.
And if you're looking for resources, I regularly read Tara Reed, who writes an art licensing blog. Also, I have purchased materials from her about licensing (disclosure: if you purchase anything through this site, I do receive a small commission as part of her affiliate program). Also, her "Just Ask" calls are filled with great information from a wide variety of experts in the field. It's another resource for you.  July 2011 Ask Call Replay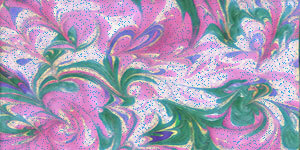 I need to think this through, and writing seems the best way for me to work out all the details and kinks. We are doing holiday gift baskets , and we are in the process of putting together the samples for photography. We did this a number of years ago and had a lot of success. The idea is to offer a basket of goodies, mostly marbled items. But…we would also like to include some coupons, and not just for us. We will have a coupon for 10 percent off anything in our Etsy store.
We are looking for others who would like to stick a coupon in our basket. Why? 1) You could make some sales. 2) Not a lot of work involved in this promotion – create the coupon and send us 10-15 copies. 3) This is a chance to move some goodies that could be strictly holiday promotions. 4) It gets your name out to potentially a different audience.
Seems like it's a win-win situation for all of us. Postage, printing, and some design time. That's all it takes. You get unexpected advertising as we promote our gift baskets, and this is something we will continue all year long. If you think you have something that you create that our customers would be interested in, be specific in your coupon – expiration date, amount of discount, what items, contact information, and anything else you think is important. Once the basket leaves us for its new home, it's up the the recipient to deal directly with you, so be specific.
You're getting a first shot at this coupon idea – I plan to advertise for coupons through the TAFA List, Art Marketing group on Linked In, and the Art Business group on Linked In. Plus…you get to advertise the gift basket if you would like – we'll send you one of our coupons.
If you are interested, let me know in the Comments and I'll send you more information. We'd like to have all coupons by October 31 so we can begin advance sales. Anything we've forgotten? Any questions? Just let me know.