There are times when we really need to stop and smell the roses. We need to slow down and look, listen, and absorb. I had that chance for a few days in June, when we tried to escape to northern Arizona to enjoy cool weather and beautiful scenery. Oak Creek Canyon has always been our route of choice when we have time to come down to Sedona from Flagstaff. We checked on line and found a resort that was truly beautiful – Junipine Resort – along the creek, our own condo, a fireplace, and a view that was absolutely spectacular.


Once I walked out on the balcony I knew I would sketch, listen to music (brought the CD player) and absorb the incredible scenery. This was the basic view from our condo.
That night, I was sitting out, letting the cooler air settle around me and listening to the wind. I realized that the light behind me wasn't light from Sedona, but a rising moon. So picture this view, with the moon coming up from behind, and the light slowly creeping down the face of the cliff, lighting all these wonderful crevases and making the trees look like a silent sentinal army. It was spectacular. It was a moment of pure art in nature.
The next morning I was up early enough to watch the sunrise creep down the same cliff and create a totally different kind of light. Absolutely magical. We already have our reservations for next May.


So almost the whole month went by, as I dealt with a root canal, eye surgeries – and the latest – two blood clots. Feeling very tired and worried about getting energy back in time to start school.
I did finally work on getting the sewing area set, and I actually finished a really old piece (at least 5 years) that looks wonderful. This will be a thank-you for Sam for doing math tutoring for me.
This started out with just quilting some background for marbled flowers. Then it just got stored, as a result of one of our many moves. I found a few more marbled flowers to finish it up, and then I had some fun looking through a stash of beads for the flowers, found a lady bug for the leaves, and used some of my red agate for the corners. I may need to do a few more like this. We marbled leaves this weekend and they worked out really well.
Overall it's good to be doing some sewing again.

So I am trying to figure out how I got to be 60….For my 30th year, I went to China. At 40 I quit the learning center because of ethics. At 50 I started a nonprofit. Now – I will be teaching high school algebra. With 6 years to go till retirement.
I guess there comes a time when we wonder about our lives. I'm overall happy. I know I am slowing down, but I still get excited by new ideas and new adventures – the adventure just needs to be a ground-level now. I no longer feel like every minute must be productive to some great cause, especially after the month I've had – three eye surgeries, root canal – falling apart like the teeth. I find I am enjoying just sitting and reading, sewing, creating art, talking to friends, worrying about the state of the world….
The fifties were a busy time – lots of mid-life crises, changes, wondering what teaching is all about and if it will ever change. Who knows about the sixties – supposed to be the new 50….I don't think so. Who knows what's ahead in the next decade – nothing seems to show a picture….


I knew, early on in marbling, that once I saw Photoshop and some of its possibilities, that there would be much more I could do with my marbling. The problem was learning – both improving my marbling skills, my quilting skills, and figuring out Photoshop. I am just now beginning to feel like I can make a mark in digital marbling/mixed media. I am looking forward to creating more this summer and getting a specific website up, getting CDs out to galleries, and just having fun with Photoshop.
That said, check out the Cordova Museum in Cordova, Alaska. I have two pieces with Suzan that were juried into the show, so more for the resume, as well as some validation. There are some very interesting pieces in the show. No fiber, so I really need to continue with the Glacier piece for next year.
More coming……

We've actually been on the web with a presence for ten years. But getting here was interesting. When we thought about doing a web page, we did check around and get some quotes. Once this one person quoted $3000, I knew if I wanted this I would have to do it myself. So I bought Pagemill and started to learn it. I remember being on the local server – starnet – and trying to get some questions answered – but the phone message kept saying to check the website, and I couldn't even figure out how to get on line.
That was a steep learning curve. About a year after our first attempt, I bought a book (so typical of me) on the 10 biggest mistakes you can make on a website. Turns out I made most of them. Once I updated to an iMac (some 8 years ago now), I had to learn GoLive, and I was able to do a credible job. At the time we were mostly selling kits and patterns, and I had a lot developed, and about 30 different products on the website.
Eventually the time came to change providers and went to Saltwater Systems and Suzan in Sedona, for better shopping cart. Then the time came when I wanted to just sell art pieces, and Suzan did the complete redesign you see now at Marble-T Design. This has been a classy site for us.
The art work is taking over what we are doing – we rarely do custom anymore – way fewer headaches. We marble for ourselves and for our art pieces, and pretty much keep the "retail" to eBay. That takes care of the basic supplies. Now we just play with new patterns and ideas when we marble – but there was a time when we were marbling every weekend to keep up with fabric orders – applique kits and the like. I still don't have t-shirts, which was the original idea behind Marble-T, but we're getting there.

As I start doing more marketing and trying to develop more income from my art, I thought I would look back on where I've been. Sixteen years ago in the combo bathroom/laundry area on Sleepy Hollow in Vermont, Dean did the first marbling bath. We were so excited with those first few pieces – all of which have since long gone as remnants. We tried some of our first selling to quilt shops (first flyer was copied, color was bad – we knew so little!), and I was using the pieces in quilts with just black. In fact, the first quilt with the marbled pieces was an Attic Window design – learned about 45-degree angles the hard way!
We kept experimenting, with Dean learning about sewing and selvages and straight of grain, and my wondering in amazement how he worked so freely with color. We moved from our small pink hospital pan to a turkey baster tray, and then to a cat litter-sized tray. We discovered that we needed to be able to do fat-quarter sized pieces if we were going to reach the quilt market, but nothing was big enough.
We moved to Tucson, and we had a kitchen counter that was longer, so we tried rigging up a longer tray to try some scarves – mediocre at best. That led to one of our decisions to buy a house. We ordered a plexiglass tray, built a fold-up marbling bench in the garage, had a set-tub put in, and really started learning our craft. We tried all kinds of fabrics – nylon washed right off, satin had to be the cheaper kind, polys marbled wonderfully – despite what people would say about the fabric. We tried all kinds of new combs and patterns, with the idea that if we could perfect the marbling on white cotton, we were really getting somewhere.
We joined our first guild (Wearable Arts Guild of Southern Arizona – made my first garments) and did demonstrations for the local Bernina Sewing Center. Didn't know enough about marketing at the time to realize we should have had lots of little pieces to sell! Did a "Round-Up" with Bernina and made $150 on small pieces – we thought it was huge. Tried getting a distributor and selling some patterns – lots of interest, but what we found was a misunderstanding about what marbling is – and isn't. It's not dyeing fabric. We still are educating people.
Eventually we stumbled into the kinds of combs we needed and started creating more of the traditional patterns. We framed a few pieces and realized we had another great idea here, and we ended up selling some of our lager pieces as framed art, now in a lot of offices and businesses in Tucson.
Then came the idea of a web page….$3000??? You must be joking……


I spent over an hour at Barnes and Noble on Saturday, reading Art Calendar and looking for marketing opportunities. One thing led to another and I discovered this viral marketing information that is pretty amazing. I am spending time processing how I can use this in marbling, realizing full well we need to get a video completed to go up on YouTube. There are other marbling videos available, and I have used them to explain to the kids what it is that I do.
I got a lot of other ideas on upcoming shows, and I need to research these. It is interesting that within two years (the last time I needed slides to enter a show), the technology has changed so much that now you just need good jpgs or a CD to send. Makes life much easier.
On trademarks, I got a new domain name for our work, and now I am looking into protecting that name as part of what we have started to do. This will be the summer that I do lots of work on the art and business of marbling. I am drafting the new website, as well as researching more information about marbling. I WILL be productive!


I am working on applying for an "emerging artist" grant. I determined last weekend that I would make this an extremely productive art summer, as I really would like to not only create more art, but also make some money while doing it. So as I was preparing this application, I came upon my past successes.
"Fish Follies," juried show, Cordova Art Museum, Cordova, Alaska. "Whales" (digital marbled art); "Swimming Upstream" (digital marbled art), with Suzan Drury, June 2008. I THINK I FORGOT TO BRAG ABOUT THIS!!!!!
"Art of the Sixth Extinction," WomanKraft Gallery, Tucson, AZ. "Pond;" "Road Not Taken;" "Mandala 1: Core;" "Nature 4: Alaskan Waters." February 2005. Fiber art.
"Expressions in Textiles" juried show, New Haven, CT, August 2004. "Nature 1: Rock Garden." Fiber art.
"Fish Follies," juried show, Cordova, Alaska, August 2004. "Nature 4: Alaskan Waters." Fiber art.
"Fabric of Legacies" juried show, Fort Collins, CO, July 2004. "Mandala 1: Core." Fiber art.
Leandro Fabrics Gallery, Tucson, AZ, May 2004, September 2004
Textures Gallery and Studio, Scottsdale, Arizona, November 2004. Solo show.
My World in Black and White, online exhibition, 2003-2004. "Black and White with a Hint." Fiber art.
My World in Black and White, Ontario Museum of Art and History, California, 2003 – 2004. "Black and White with a Hint." Fiber art.
Schullenberger Gallery, Jericho, Vermont. Artists' Showcase, December 2003
There is a gap, and those are the years when the marbling just went to hell – couldn't marble for anything, and we even had trouble with remnants for eBay. But we are back, and going in different directions. So here's to adding more to the list!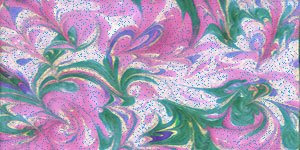 We marbled this past weekend in the big tray – first time in almost two months, what with the move, setting up the studio, and the end of school. There are wrinkles in the new system that we will need to work out – we have more room for marbling, but not necessarily for my sewing – which has decreased with the coming of the digital marbling – now a domain name for us.
The bath was really thick, and turned out uneven – we will need to work on that. We can redo the studio so Dean can mix everything in there, rather than making dozens of trips to the kitchen. We've gone back to the newspaper for drying pieces, so the rinsing is much easier, and of course our own dryer now, so that makes the heat-setting lots easier.
I anticipate, now that vacation is here, we will be able to marble a lot for fall and the holidays before school starts again. That said, we turned out a great piece of silk from the bottom of the tray again. We have started saving a piece of fabric for the end of the tray, once we have started to clean the tray – we are getting very organic pieces – looks much like topographical maps. Here's the original and a digital reworking of the piece – called Lava.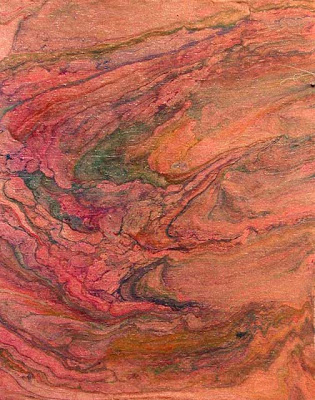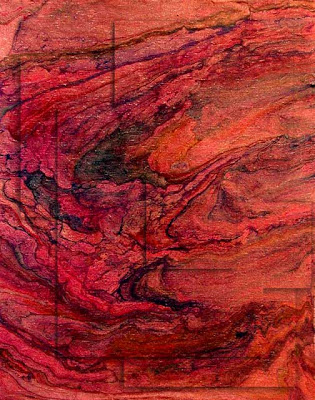 What I particularly like about Lava is the use of the straight lines to contrast with the natural curves. I think this makes a nice finished piece, with the different layered squares just making a hint of structure to the piece.


Art has been an unexpected gift this year. Once I stopped moaning about having to do it, I began to see all the advantages.
I didn't have to worry about teaching something that was being tested. This was a chance to what I love – develop an idea to fruition and encourage kids to explore and try new things.
It gave me the opportunity to learn more about art, and I discovered an amazing website that I can use over the summer to do more practical exercises – Window to Art.
My special ed kids really turned out some great art – I challenge you to be able to pick their art out of the show – the work fit in wonderfully, and the kids even sold some. Several of them have a great eye for color, and they are very free with what they do – not nearly the self-censorship the "regular" kids had,
I learned how to teach art – I still have a long way to go, but I can see the skills needed to teach this discipline. There is a fine line between "cookie-cutter" art and giving students a model to follow. Without realizing this, the perspective rooms wouldn't have been nearly as great, as would any of the other assignments.
I learned just how critical math and art are together. Intellectually I understood the connection, but until I was knee-deep in trying to help kids with an assignment, I truly didn't understand just how much math we were doing.
Part of me will really miss this next year. I will miss Amy who in January said she couldn't even draw a straight line, and yesterday took home eight pieces of art for her mom. I will miss Di, whose talents are just beginning to emerge, and now I own one of his pieces – a wonderful dragon. I will miss Ivan, who didn't want to be in art class at all, but whose leadership and art skills made him a valuable member of the class – I hope he gets to art school.
Now to just finish cleaning the art room……


For your viewing pleasure – and my memory of a year teaching art – and learning how to teach it – the spring art show – over 180 pieces of art – the silent auction is still going on.
The hallway in the electives wing seemed the best place for this – I wasn't able to get more panels, since the ones I had were for the museum. Plus, I was thinking of ordering 15 panels – 5 more than the fall – and about 4 times the art.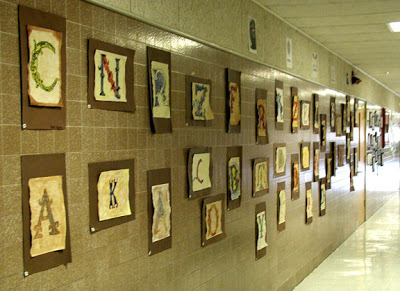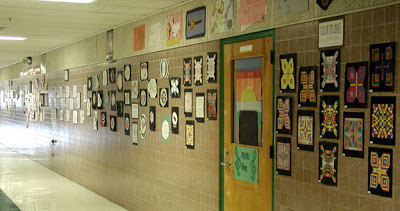 The hallway probably isn't the most optimal one, but we were able to have decent security, since the teachers were out in the hallway between classes. We have only had one piece written on, and the show has been up about 8 school days. Not as many adults see the show, but the kids are always stopping – biggest problem? "Don't touch the art!"
The illuminated letters have been the hit of the show. Almost every student chose theirs to be on display. I just wasn't able to get artist statements done from every student – which would have been a great addition, but I just didn't have the time.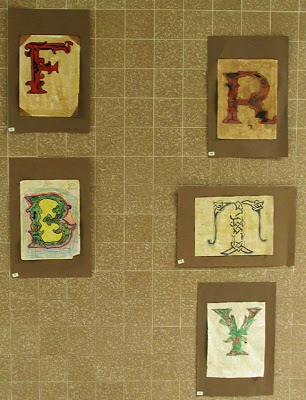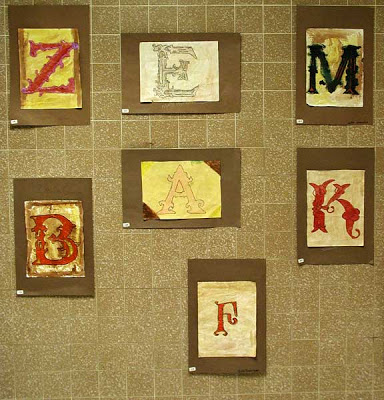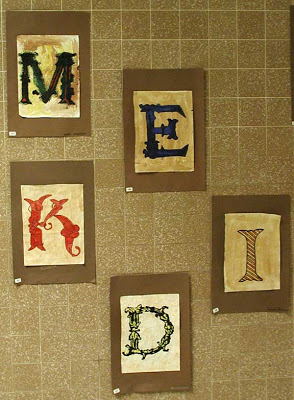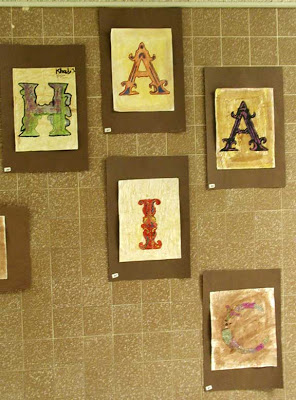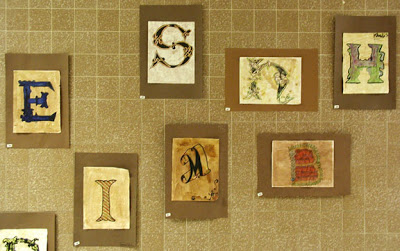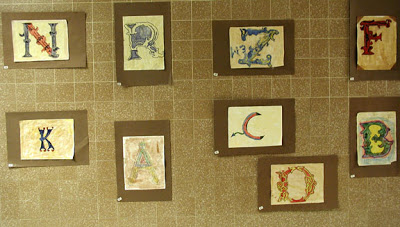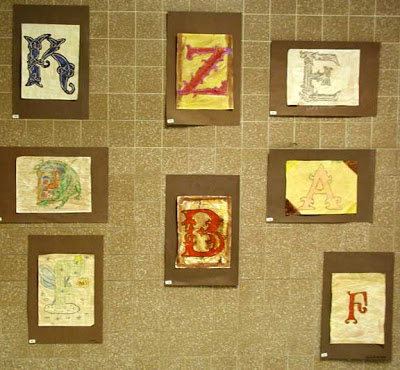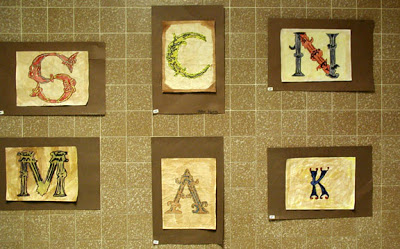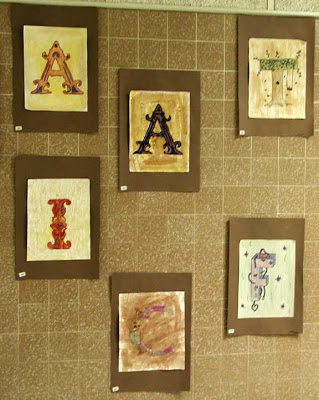 One of my seventh graders did a solo show – kids and teachers had trouble realizing he is not an adult artist – still a student. He did a great job, used a variety of media from class, and sould be absolutely amazing as an artist.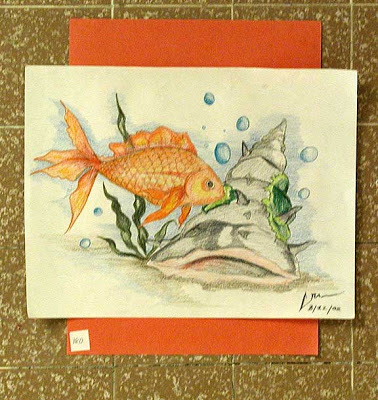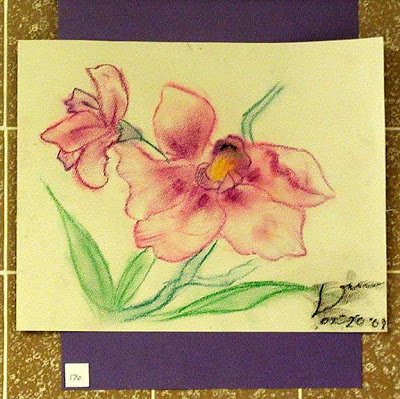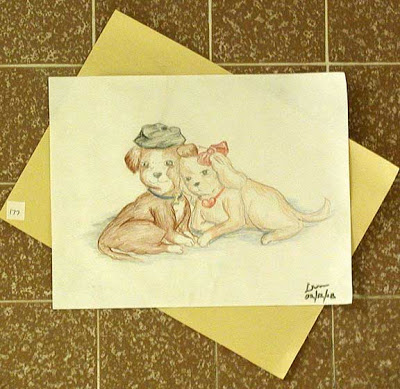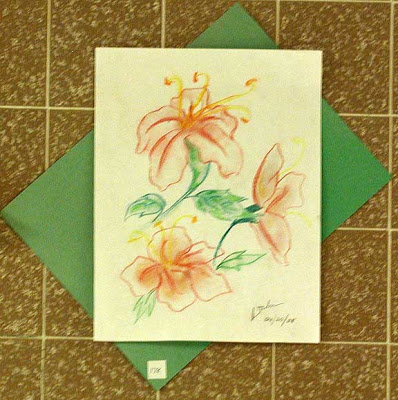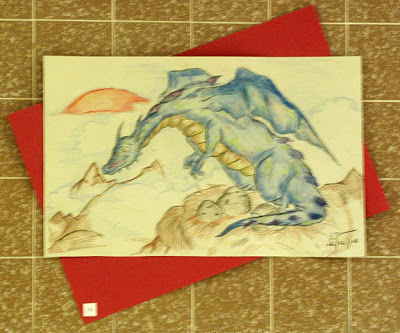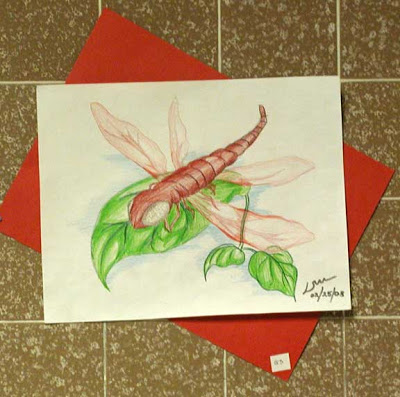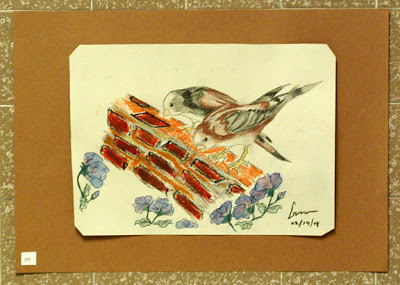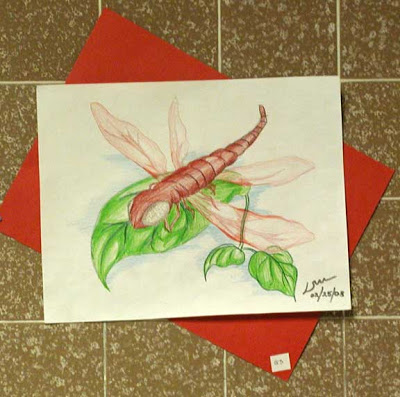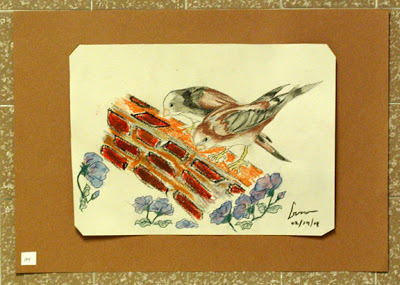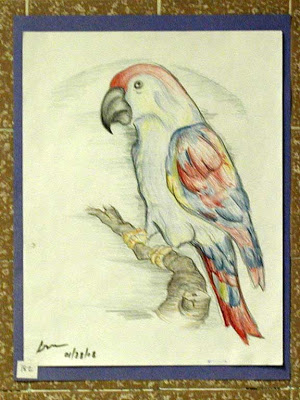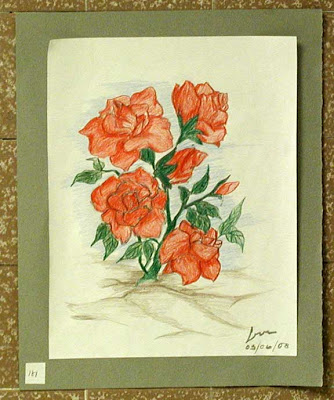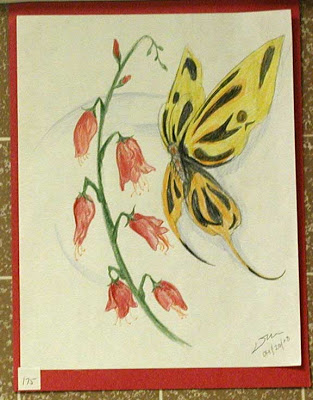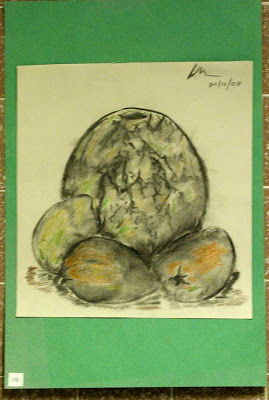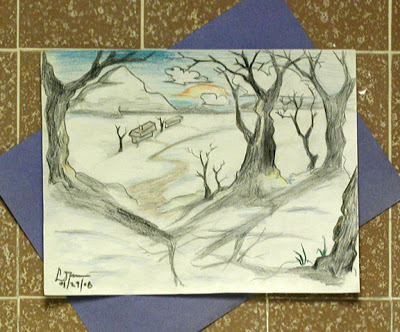 Then there were the color studies we did at the beginning of the semester – the kids voted on the ones they wanted that met the qualifications of the assignment.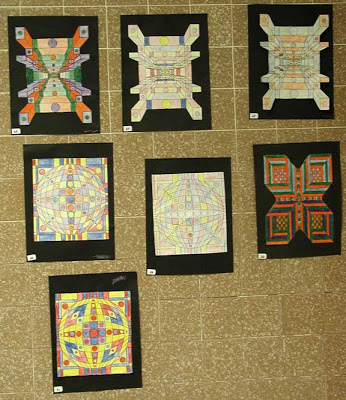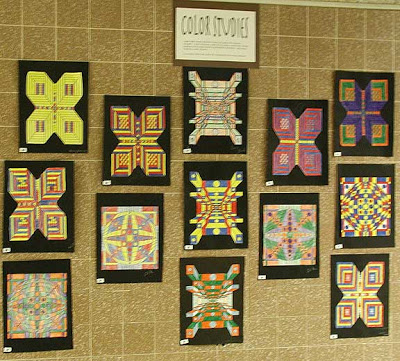 The dream rooms – learning how to use perspective – was an extremely successful assignment – for some students it was the only assignment they completed.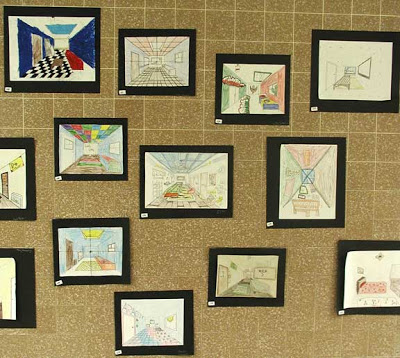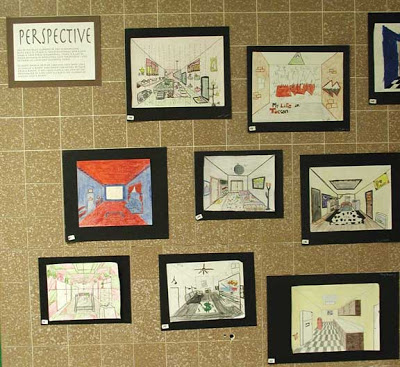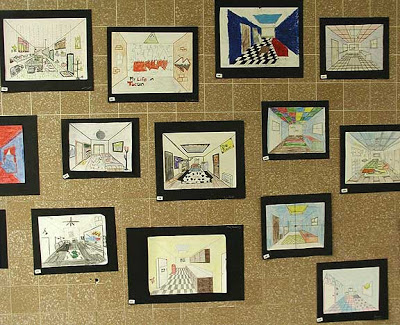 The doodles were the very first assignment, and again the kids voted on the ones they wanted displayed.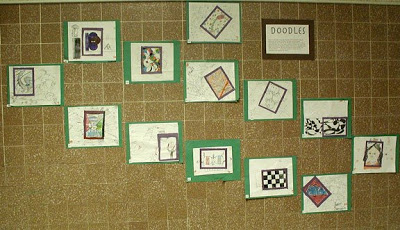 We did a type of contour drawing that held the kids' attention, except for those who couldn't handle finishing all the details. Each piece started with two letters, two numbers, two shapes, and some object.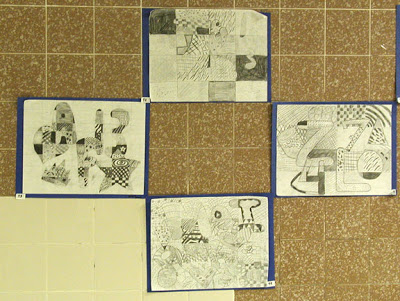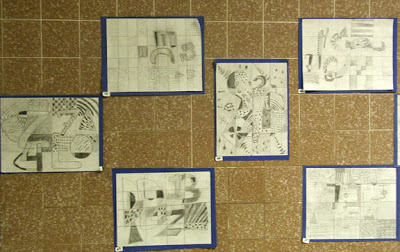 I'm really pleased with the mandalas, although there is less of a "personal" feel to these, as opposed to last semester. The kids really got into working with lines, so the work is just as good, just different.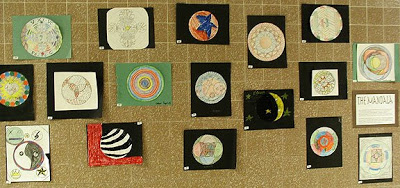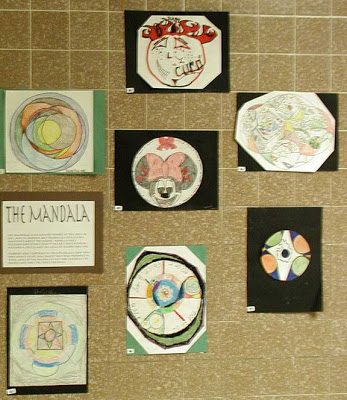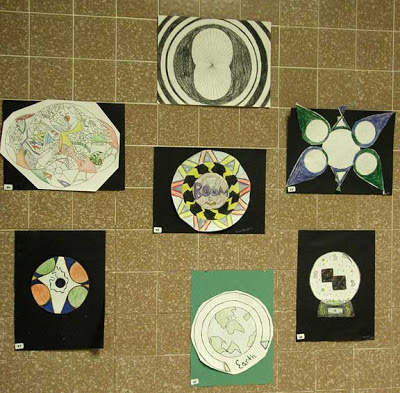 The work on perspective and shading really paid off – in their final exam last week, the amount of drawings with shading and texture increased ten-fold.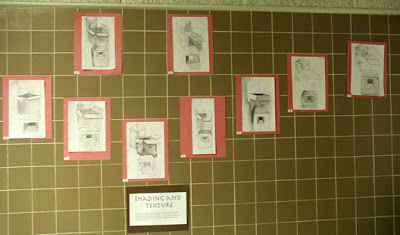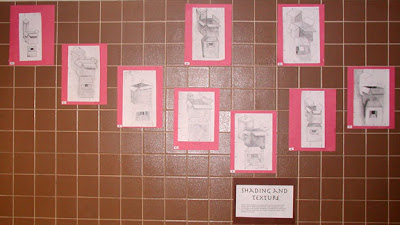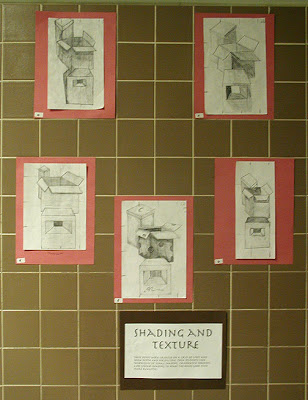 And finally – additional pieces the kids wanted in….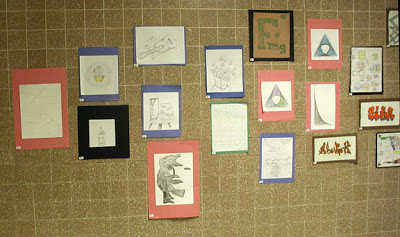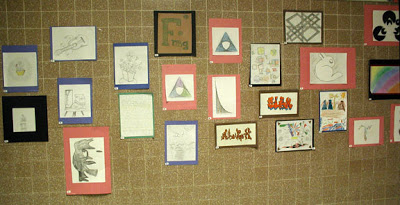 One of the newsletters I get is from Eric Maisel, and lately he has been writing about creative tourism – visiting a place for more than an attraction, becoming involved in the daily life of the area. I had that experience this weekend.
On Sunday, on the way down from the Grand Canyon through Oak Creek Canyon, we stopped at the overlook leading south into Oak Creek. The park allows vendors from the native tribes in the state, with a permit, to set up and sell their art. At one table this wonderful Navajo began to explain the dream catcher that was part of an ornament I was looking at, including the design around the sphere that told the whole story of the Navaho people. It was beautiful – how could I not buy it after hearing how it was made and what everything meant? Then he proceeded to play a Navajo flute for us. Here we are on this magnificent overlook, wind blowing through our hair and rustling the trees, listening to this music floating away on the wind. I felt tears forming because of the beauty.
Was he a great salesman? Absolutely! But I was entranced and chose to believe it was one of the magnificent serendipitous moments where art touched the soul.


…and what a month it was. Busy with moving, opening the museum, entering shows, creative festival, daily plans and kid issues – there are 13 school days left- not that I am counting….
The art of moving – oh, yes, it is an art. I figured out that in the almost 32 years that we have been married, we have moved…Vermont to Camelback in Phoenix, changed apartments in Phoenix, moved into a house, moved to Maryland, moved to Vermont on Pine Street, then into a motel because of the fire, then to Ledgewood, then Raceway, then Sleepy Hollow, then back to Tucson in an apartment, changed apartments, bought a house, sold the house, moved to a rental, moved back into an apartment, and this move – just changed a new apartment location. Not to mention the moves when I was in Hawaii – teacher cottage, house, apartment, second apartment, house, then back to Vermont to home, old crummy apartment, new apartment, and then the first move to Phoenix.
So I think I'm probably good at this. But this time – ai…I used to be able to set the place up in a weekend – in four years I have really slowed down! Two weeks later and we still have boxes, but I got the spare bed set up, the closet set, the bathrooms, finally found the iron…but still need to work on setting up the studio.


I have always believed in the importance of the arts in education. Having done theater with kids for so many years, I know how kids can grow with those experiences. I always intellectually believed in the visual arts, but I gotta tell ya, now that I am teaching art, especially these last few months, I have a whole new appreciation for art education.
I think there are a couple of reasons why I am seeing this now. First, I have taught lots of subjects. In history you can always pull in the art work and music to demonstrate life in a particular period. In math you can talk about line and shape, yet there is more to those concepts. You're not actually teaching the art, however.
Secondly, I am really trying to break the art assignments into easy segments so the kids can be successful. So it forces me to, one – do the assignment, and two – look carefully at how it goes together. My conclusion this week?
Parallel lines, Parallel lines, Parallel lines, Parallel lines, Parallel lines, Parallel lines, Parallel lines, Parallel lines, Parallel lines, Parallel lines, Parallel lines, Parallel lines, Parallel lines, Parallel lines, Parallel lines…
As we are doing all the boxes and perspective, the amount of math I am reinforcing is just amazing. I really had no idea.
And I don't think a lot of art teachers realize this. I'm not trained in teaching art, so I am fumbling along and learning. Art educators have specific goals in mind, and probably don't always see where the assignment is going, in terms of other disciplines. The only reason I can is because I have taught other subjects.
The other realization this week was the inability of kids to copy, or work with a set of directions. The kids weren't (for the most part) able to transfer from a small grid to a large grid, going step by step through the instructions. My Somali girls interpreted the assignment by drawing a different grid (and the arrows for directions on the grid) each time. Being able to look at a small piece of a design and analyze where and how those lines were created was very difficult.
This is an amazing skill that kids can get through visual art classes. Taking care in completing an assignment – I'm seeing that now that the kids are having success creating the basics – they are willing to spend the time finishing their work. This is so different than taking care in completing a math assignment – but it's bound to carry over.
So by cutting the arts – both visual and performing – we continue to short-change our children and their development, as well as that of our country. I think it was John F. Kennedy who said the mark of a civilization is in its arts. If you read earlier posts on this blog from the beginning of the school year, you will read my frustration at having to plan for yet another class. Yet this has been a blessing to understand on such a personal level just how valuable art is to children.
PS – I brought my own art supplies home this weekend – I want to do some of these assignments!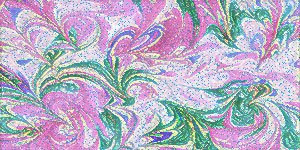 Some samples of the rooms from the perspective assignment – this first is an incomplete kitchen – this will be fabulous when finished!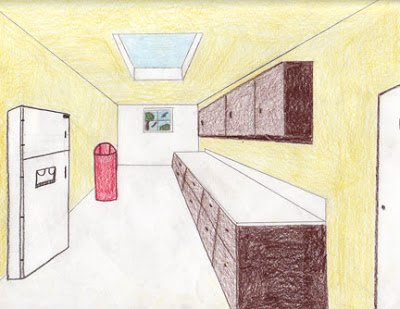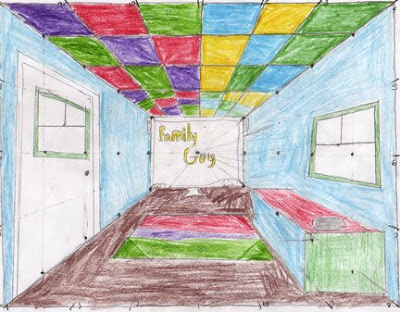 This next will be absolutely amazing when finished!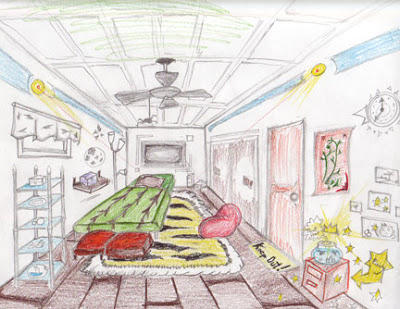 This next room has one of those fancy bead curtains – and you can tell this young lady really is treated like a princess.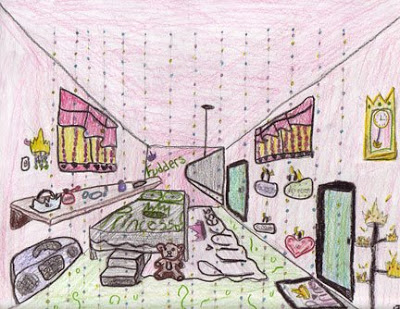 This next is part of the assignment on creating and shading boxes – a combination of perspective and texture. You can find the lesson here.