Archive for the 'Uncategorized' Category


I finished the baby quilt, and it is being wrapped for its trip to Prescott and the baby shower for my new great-nephew, due in May. I'm pleased with the design, and the different colors of dog fabrics really work together well. The browns for the frames work to unify the whole design. Good on me! There are lots of dog fabrics, plus some fabrics that were in her sister's baby quilt, like the fabric that used to be wrapped around Grandma Moran's Pringles cans to us all at Christmas. Gosh, how I miss my in-laws. Mom Moran would have had a ball making things for these great-grandchildren.
Here's the finished product: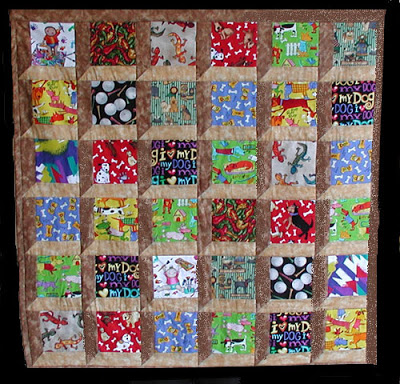 What a gorgeous Sunday in the Old Pueblo! Should be near 90 today – perfect weather for March. We are planning a drive today to air ourselves out before a hectic week – probably up to check out what's new in Casa Grande and then back through one of the reservations to admire the coming of spring to the desert.
One of the nice things about checking Sunday's email is the weekly newsletter from Eric Maisel, well-known author and creativity coach. Two summers ago I bought his book "Coaching the Artist Within" and stumbled on his incantations for centering oneself. I like to try these things, so I practiced the six he recommended and found myself really able to calm my mind. Much better so than regular meditation – which I like, but these quick incantations spread over 10 seconds each are more immediate and really fit into a hectic life.
I took advantage of his offer for free creativity coaching as he had a new email class starting, and I meet Kathleen Gilday of Write into Your Life. http://www.writeintoyourlife.com What a great couple of months it has been! Kathleen has been helping me slowly recover my artistic self after a severe two-year drought of artistic activity. Great suggestions, wondeful support, and a kindred soul in artistic endeavors. And a New Englander to boot! Sharing ideas, struggles, small – and large – successes – it is wonderful to have a kindred soul peeking over your shoulder as you recover your artistic self. I'm sure when our coaching time is done we will stay in touch.
Between Eric's newsletters, creativity coaches, workshop groups via emails, and his wonderful books, this is a great resource for artistic souls of whatever bent. http://www.ericmaisel.com
The great outdoors is calling! Taxes and lesson plans wil have to wait!
What a long week! Every time we have a half day for the kids because of conferences, the week just seems to stretch endlessly. Since it's been such a hard week, we decided not to marble, since we don't want the session to be a "chore." We had so much fun the last time, we want to be sure we always do this for enjoyment.
So tonight I finished up part 2 of week five's lesson – I still needed to play around with buttons and aligning objects on my business card, so I created a new one from scratch – as though I needed a new card for tutoring. Decided on color choices – liked those, had fun playing with type styles – the ability to just arrow through type styles and sizes is a real plus.
Then came the buttons. I am getting better at layers, and now I had to be sure things were labeled and linked together. Which I did. But then as I read further, I realized I was going to need to do some different linking of layers in order to get things to align. That was much easier once I labeled the layers and knew what went with what!!
Overall I am pleased with the design – again, a certain amount of order. I am so predictable. What an array of tools within this program. Just amazing….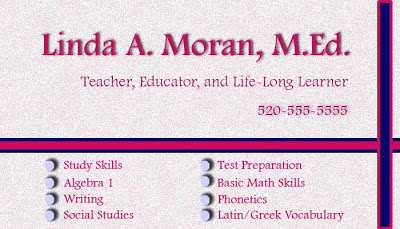 I spent a good chunk of the weekend working on a baby quilt for my niece Jamie, who is due in May, but the shower is in three weeks. I have a pleasing design – kind of a cross between an I Spy quilt, with lots of dog fabrics, and an Attic Window design. Plus some of the fabrics from her sister's first baby quilt are also included.
Carie's quilt was a Bottle quilt, a very definite pattern with lots of paper piecing (you can see the picture on the website.
I wanted this one to be more of a unique design. I like designing original quilt patterns, with some elements of tradition, mixed with unusual fabrics. I had thoughts a number of years ago about designing a line of patterns that would use our marbled fabrics, but I had trouble getting the patterns pass a potential distributor – nothing really creative about them. I ended up selling the rights to a web designer, so I made my money back.
Traditional patterns have an appeal, because I like to use different fabrics, and then practice my quilting skills on the finished top. I do a lot of fiber art with the marbled fabrics that are more art pieces, but the quilts enable me to practice actual quilting skills and try some new materials.
Speaking of materials, there was an interesting section in the book Art and Fear in chapter 2 about the use of our materials. When you work with fiber – fabric, threads, battings, and all the rest – you have to take into account all the specific properties of the materials. What if the threads don't work for quilting, do you have the right needles, what about tension for newer threads, and the like. I think one of the things I like is the variety of materials – more than just "tubes" of paint, although rationally I know there's lots to be said about various colors and tubes.
Now that I am back on an even keel with my art, and feeling lots better, I am getting more time in for art. I want to finish this quilt, finish the beading on the "Road" piece, and get started on the glacier piece for the Cordova, Alaska show. Lots to do!!
This week's lesson has as its project making a business card. Now, I love the business cards we already have – a small piece of our fabric, and nice, clean, crisp information. But this lesson has loads of ideas I have been wanting to try for YEARS – really. But I had a heck of a time getting started on this lesson, because once again it was scanning fabric and determining sizes. I think now I am finally starting to get pixels and sizes.
I also realized I can't change the opacity of something unless it's a copy of a layer.(Ask me how many times over the years I have tried this…..) I copied the background layer and then clicked the original off so I could change opacity. I love how the type automatically appears on a separate layer. No wonder I could never change part of previous business cards, as I didn't realize about the different layers. And I enjoyed working on the different effects of the layers.
Overall I am pleased with what I learned in setting this up this card. I need to try another one so I can work with bullets and rulers, but that will be at the end of the weekend. I have a baby quilt to finish!!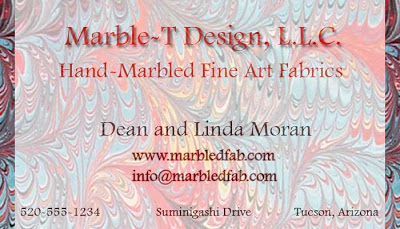 I'm finishing up lesson 4 in Photoshop from myJanee.com. This is on red-eye and pet eye. The iPhoto program on my Mac has a red-eye function, but my CS doesn't, so I went to the painting way of fixing the red-eye. Interesting, to say the least. I think this would have beeen neater, had I not already done some adjusting on the photo over vacation before I knew about preserving layers and saving as psd.
Here's the son of a very close friend, with typical red-eye.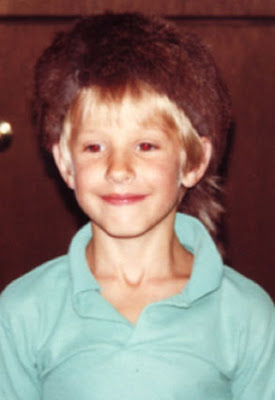 And here's Tucker with the eye correction.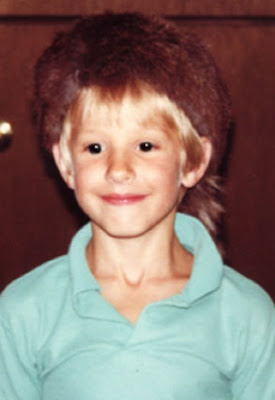 This is an interesting process. I had trouble controlling the brush with all the pixels zoomed in. I'm thinking it's because the photo was already a jpg and missing details. I can also see other uses for this process.
Now on to lesson 5!
Lots of stuff in this week's lesson! I decided to use a photo from the Hawaii trip that Suzan and I had originally played around with. Here's the original of the Blow Hole on Oahu: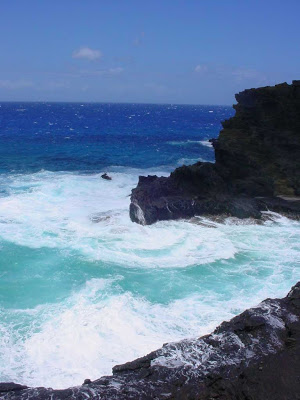 This seems to be a great photo as it is. When Suzan and I were doing our Tag, I started with this, and then Suzan added a marbled piece as a new layer. I thought that was too distinct a layer, so I added the ocean ripple filter – without doing a new layer, because I didn't know any better at the time. Doing a destructive edit – now I know! Ths is what we ended with: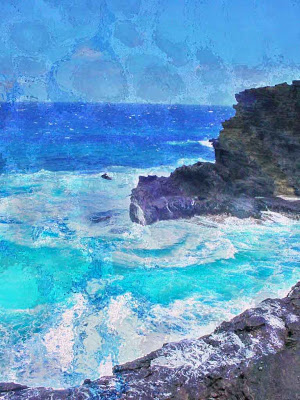 I ended up putting this photo in Betty's Christmas book (done with iBook from iPhoto – what fun that was!) And it was a hit as a present!! I still am quite taken with the results of this one. The underlying layer is a piece I did for Betty's 75th birthday, called Sonoran Tidepool, marbled just for her and then quilted to emphasize the tidepool effect.
So I took the original photo and started playing around for this week's lesson, using the polygonal lasso tool – which I kept having to redo, because I would go too quickly and then not select enough of the area. I enjoyed trying different filters – each on a different layer – I am learning! Tried all kinds of filters – love the effect of wooly mammoth horns (twirl) – or the sea monster's tail as he heads for a meal…..Here's the results: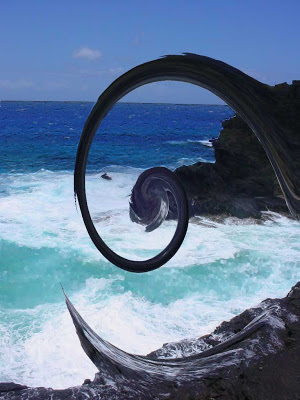 Then I read further and discovered the Magic Wand – wow, does that make a difference! Selections in no time!! So I played around with each of the sections, and with the fill feature and different colors, using the dissolve. And the results: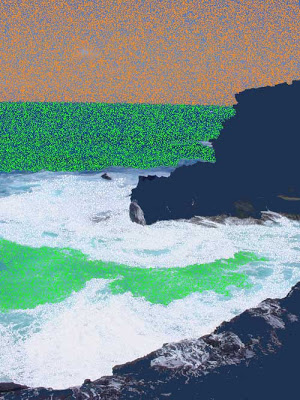 A great Rodeo weekend – lots of productivity on my part, the baby quilt is coming along – all in all a great creative few days!