Lots of stuff in this week's lesson! I decided to use a photo from the Hawaii trip that Suzan and I had originally played around with. Here's the original of the Blow Hole on Oahu: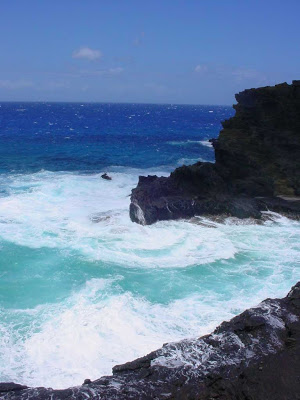 This seems to be a great photo as it is. When Suzan and I were doing our Tag, I started with this, and then Suzan added a marbled piece as a new layer. I thought that was too distinct a layer, so I added the ocean ripple filter – without doing a new layer, because I didn't know any better at the time. Doing a destructive edit – now I know! Ths is what we ended with: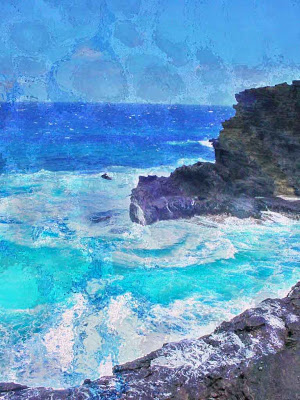 I ended up putting this photo in Betty's Christmas book (done with iBook from iPhoto – what fun that was!) And it was a hit as a present!! I still am quite taken with the results of this one. The underlying layer is a piece I did for Betty's 75th birthday, called Sonoran Tidepool, marbled just for her and then quilted to emphasize the tidepool effect.
So I took the original photo and started playing around for this week's lesson, using the polygonal lasso tool – which I kept having to redo, because I would go too quickly and then not select enough of the area. I enjoyed trying different filters – each on a different layer – I am learning! Tried all kinds of filters – love the effect of wooly mammoth horns (twirl) – or the sea monster's tail as he heads for a meal…..Here's the results: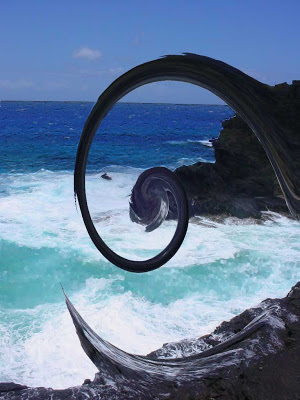 Then I read further and discovered the Magic Wand – wow, does that make a difference! Selections in no time!! So I played around with each of the sections, and with the fill feature and different colors, using the dissolve. And the results: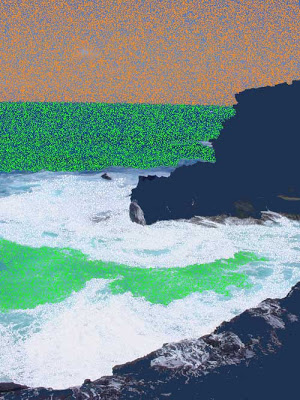 A great Rodeo weekend – lots of productivity on my part, the baby quilt is coming along – all in all a great creative few days!