there's been an interesting thread on the Studio Art Quilt yahoo group about studios. Some were talking about dedicated spaces away from home that operated as both gallery and studio, all the way down to a dining room table that gets cleared when company comes. Pretty much everyone agreed that if you are going to improve your work and your quantity of creativity, you need some kind of dedicated space. And most felt that a dedicated room in your home would be sufficient.
I agree. As much as I liked LOVED Mary Fisher's space in Sedona, Arizona, there's no point drooling over it with a case of the "I wants" because it isn't going to happen. You can see the post of her studio here. In the year since I retired, I have made over my studio space twice, once  unplanned because we ended up moving. I'm like many artists – the dining room table was my sewing area for so many years. Supplies were stored in boxes and other forms of makeshift storage. It worked until I got really serious about my work. Then I took over the spare bedroom, like so many. I had two dedicated bookcases and some plastic bins, and a very large closet. But there came a time when I said, ya know, no one ever comes to stay except maybe once a year. Why did we need that bed? Primarily I would sleep in the spare room when I had a cold and would snore. Solved that by hubby getting ear plugs. So the bed went on Craigs List and I had a whole room.
The problem was still one of organization. Lots of plastic bins, all of which had to get dragged out every time I wanted to search for fabric. And a lot of stuff was hidden out of sight in the closet. I had to set up the ironing board every time I wanted to do something. And the design wall didn't always happen. A year ago, after visiting friends in Sedona who had some GREAT Ikea shelving, I decided I wanted to remake my studio. Here's a "before" post, with the cubbies I spent my retirement gifts on from Target. At the bottom of this post you can see the remake. It worked pretty well, still small, and I wasn't happy with the design wall being part of a closet door.
And then we had to move again…..(9 moves in 18 years), but the space was bigger……and there was a garage…….took about a week to get the new studio in shape, and the space has been fabulous. I can leave the ironing board set up, I have two design spaces, and I was able to reclaim the dining room table into the studio. We can both easily work in the space, and there is still room in the one closet.
Here's the new space: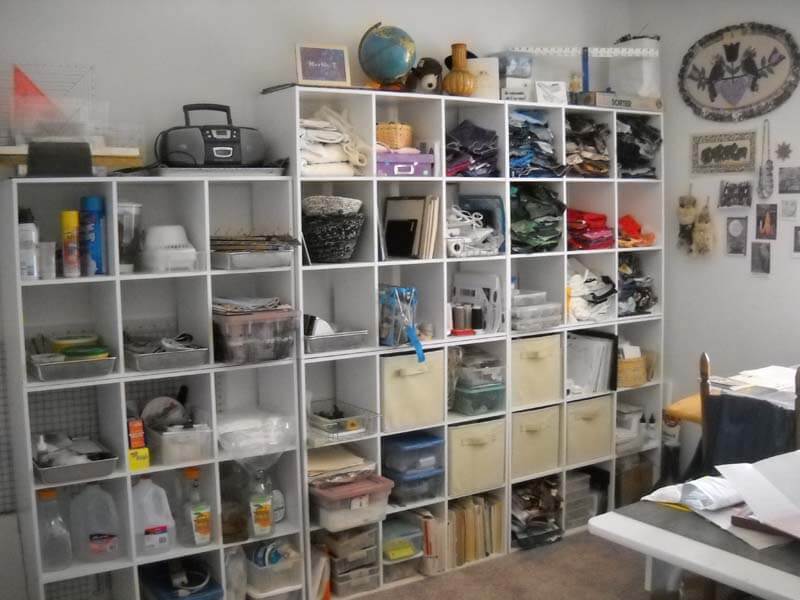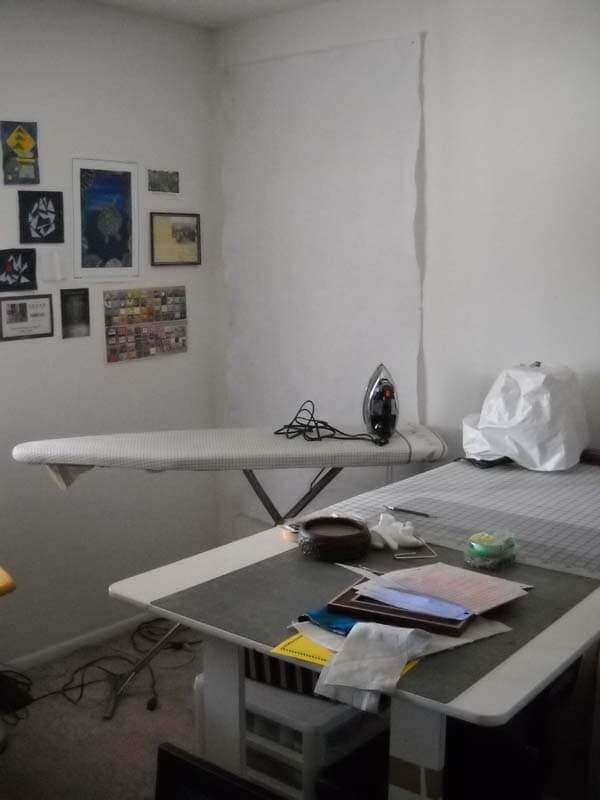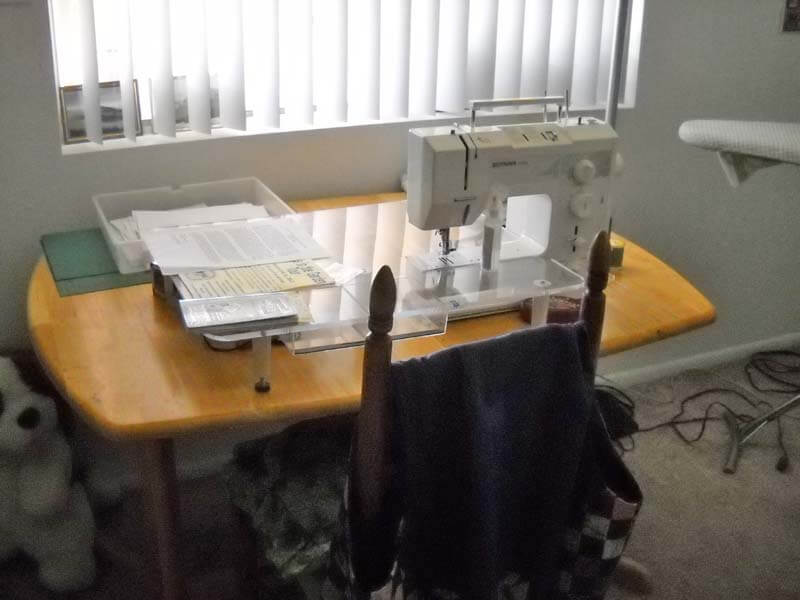 (No it doesn't always look this clean….)
Plus…the new landlord is going to get a laundry tub in the garage, so I will have a "wet" space for dyeing fabric. It'll be a couple of months, and that's not a problem, as it is now over 100 degrees, and it will no doubt stay that way until October. New shelving and a dedicated table for surface design. Can't wait!
Would I love a work space connected to a gallery? Sure, but we need to work with what we have. The reality is then I can't work whenever I want in my jammies……