Archive for the 'marbling' Category


I have decided to document this new piece that I am working on. I have had the fabric for almost two years. It came about as a result of an online group of partners, Sarah and Karen. We were looking at mythology, and I had some ideas for a piece that would be very wintery, in looking at the seasons. This piece came out very icy, and I knew it would make a great glacier or iceberg. But that was as far as it went. It has been in my mind as a piece for the Cordova Fish Follies show, and I was trying for it this year – never made the deadline.
In the meantime I was collecting possible stones for the piece. At the gem show I found some aquamarine that I thought would work well to accent the berg. Then two rows later was some amazing craquelated quartz, and I bought two strands, all for this piece.
Today I finally found the piece – hidden in a drawer of "never sell" pieces. And the background is a piece I bought three years ago for something totally different. So here goes – the iceberg fabric.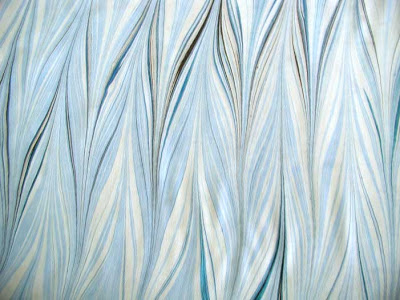 The backing fabric –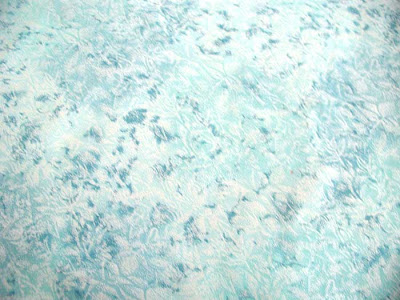 And the threads – there are four potentials, two variegated and two that are some shiny shades of grays. It will be interesting for me to decide which thread goes where – usually I have one thread for the whole piece.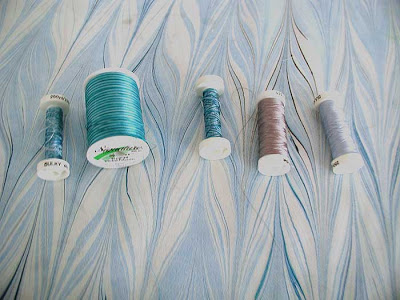 Suggestions are greatly appreciated!


I finshed a piece almost two years ago – a piece I called Low Tide. I was pleased with it to begin with, but the more I looked at it, the more I felt it was missing something. The original is a piece of linen that was marbled in a traditional stone pattern. i used a multicolored silky thread to do the quilting, emphasizing the rocks you would see at low tide. Then I found some really wonderful yarn that looked like foam, and so I sewed that along the piece and that brightened it up – but it still wasn't enough.
Over the nearly two years I looked for beads and found some multicolored stones that reminded me of shell pieces. I knew they were destined to go on the piece. When I finally started to rework the piece this summer, I found I had a great set of small blue beads that would be perfect. And then I realized I wanted some glitter to reflect the "sunlight" on the water. I have this great glitter in two colors that worked perfectly. Now I am really pleased with the piece. Within the month I will get these new versions up on the website.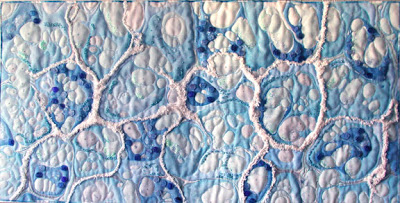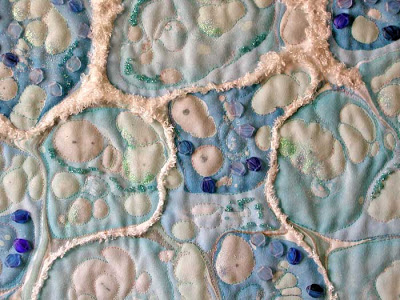 The fabric from today is just so gorgeous, I had to do some playing around with it! The blues ocean piece you see is a good half-yard in length, and this is just a small crop of a really cool spot. The levels helped bring out the white that is in the piece. This is a very watery, ocean effect, which Patty wanted to remind her of a special spot along the coast in California.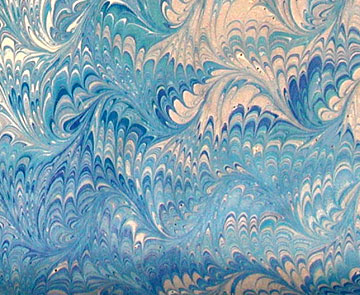 This is the piece with more of a blue cast, thanks to a photo filter. Much more watery, deeper ocean with sunlight on it.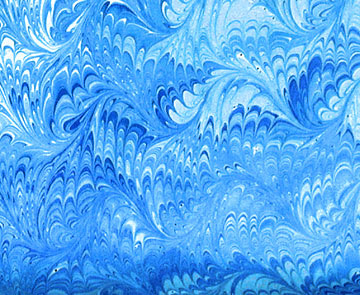 This is the copper gradient, with the dissolve effect just slightly added. A forest, with just a light snowfall?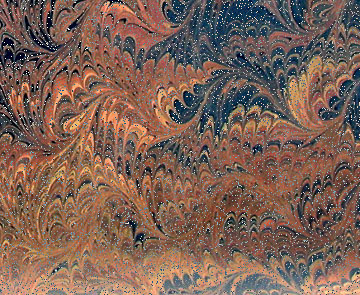 I embossed this first, and then looked at manipulating the colors – to me it reminds me of Folklorico dancers twirling around and around.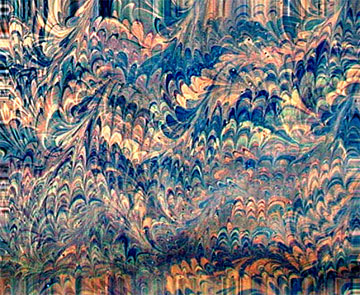 Again, this one reminds me of dancers enjoying themselves .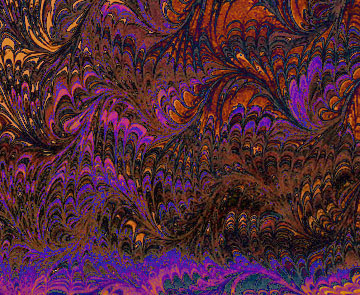 It is amazing how much fun you can have marbling. We did the big tray today, and for three hours everything worked perfectly. The silk, the satin – nice, clear, crisp patterns. Both of us were working well with colors. Did some unusual stuff, tried to come up with some other ideas for marketing the work. It's so good to have everything working again. Now we are talking about doing some colored cottons again, to get back to our sets of fat quarters that we used to sell.
I'll post some pictures tomorrow – I am looking forward to playing the the satin piece in blues we did for Patty. But I wanted to write today – I've had the blog for 6 months, and I've really been enjoying it. I like the artistic record I have of the year so far. I feel like I have actually accomplished something artistically!

I managed to let almost three weeks go by, what with still being sick and finishing out the school year. I am still waiting on my final for the last Photoshop class, before I sign on for the next one. I still need to do some playing with the tutorials to stay in practice. So what I have here is some playing around with all the skills to adjust the new piece that now is winging its way to its new home with our surrogate son.
The piece is called "The Road Not taken," with thanks to Robert Frost. It is a traditional stone pattern, marbled on a piece of brown faux suede. The paths are quilted and then embellished with a series of semi-precious stones – tiger eye and a couple of types of jasper, as well as some small seed beeds in a shiny bronze.

Here you can see a close-up of the marbling, the quilting, and the stones. I did nearly finish another piece, but I have to search for more yarn to make more foam. Hopefully this week I will get it posted.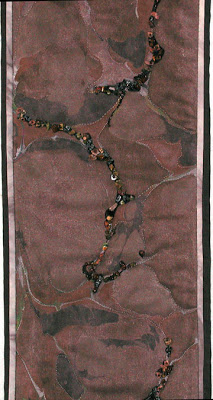 We spent yesterday setting up to marble (which always takes so long, with pretreating and actually setting up the liquid bath), but then today we got to play – marbled about 6 yards of fabrics, and once again everything went really well. It is so nice to be back in the large tray again – we actually feel like we are creating art again, not just little pieces to sell. Yet again today we were talking about how much of a void there was in our artistic lives when we couldn't create large pieces of fabric. When you define your art this way for over 14 years, it really is distressing to lose the skills.
Especially nice is the fact that we are working with other fabrics. Tried some larger heavy-weight silk that worked wonderfully, as well as some faux suede pieces, and the velveteen also worked. I still need to treat the velveteen to soften it up, but overall extremely pleased. Still haven't been able to do the chiffon again – those people who bought that two years ago certainly have one-of-a-kind pieces!
We want to marble more often now that things are working again. It is SO GOOD to be creating fabric again! We even are revisiting marketing and revving up the business end because we are turning out really great fabric. The disadvantage is that our bodies have changed enough that we can no longer go for six hours straight, not including clean-up. There was a time four years ago when we could do 60 fat quarters in a day. Can't do that any more, and we also discovered we don't like turning out fabric that way – we would just as soon do a smaller amount and have a chance to play on each of the pieces.
We are still looking for a particular fabric that we used for so many of our art pieces – we used a poly-satin that kind of worked, but not to the detail we would like. I found an old piece that we'll use in checking around fabric stores. All the really great pieces are from bridal fabrics, so we just have to shop around for those.
This piece that I've scanned shows the incredible detail you can get on the poly fabrics.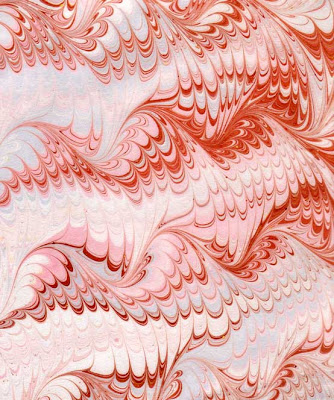 Then I started playing with some of the new tools from the Photoshop lessons. This next is with the Shadows and Highlights adjustment. I particularly like the neon effect on the orange.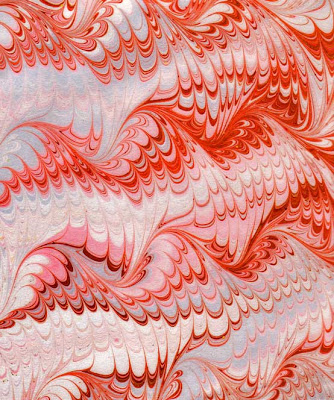 This next is playing around with the eye dropper tool and the white space. Each gives a different feel, which is why I have wanted to learn Photoshop for so long. I want to be able to take a really great piece of fabric and use it to create lots of other images, so the particular piece doesn't have a short shelf life till someone buys it.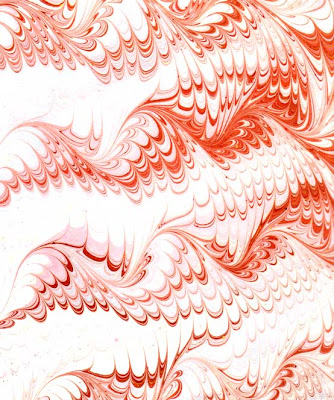 And finally – the joy of playing with filters in Photoshop! Take a look at what happens with the emboss filter with the same piece! Reminds me of maps of the Continental Shelf.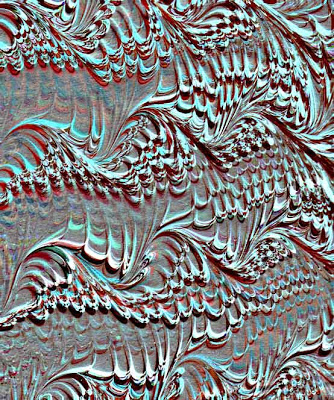 All in all, a great way to spend a day off from school (Rodeo days here in the Old Pueblo)!
We marbled in our big tray today – first time in two years. What a great time – after running into all kinds of chemical problems two years ago when the water boiler in our complex went, we have been fighting the marblng process, trying to figure out why – literally overnight – we couldn't do what we had been doing for 12 years.
But we are back! And thrilled – we can do large pieces again!! It just seems that we are really back to being "artists" again, and not just sellers of small remnant pieces on eBay.
So why is this blog called Marbled Musings?
See just one of our creations from today….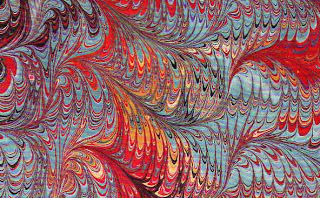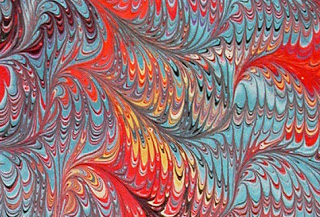 Now a question for the Photoshop gurus – the top photo was scanned directly to Photoshop. The bottom photo was from the digital camera, downloaded into Photoshop. The top photo has all the "lines" of the fabric, a heavy-weight cotton. We lose those lines when it is not directly scanned. Can you explain that?