We marbled in our big tray today – first time in two years. What a great time – after running into all kinds of chemical problems two years ago when the water boiler in our complex went, we have been fighting the marblng process, trying to figure out why – literally overnight – we couldn't do what we had been doing for 12 years.
But we are back! And thrilled – we can do large pieces again!! It just seems that we are really back to being "artists" again, and not just sellers of small remnant pieces on eBay.
So why is this blog called Marbled Musings?
See just one of our creations from today….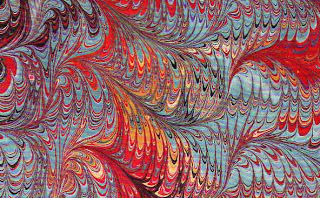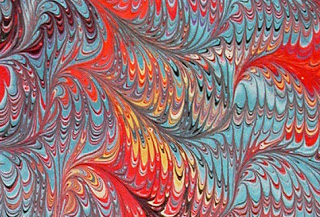 Now a question for the Photoshop gurus – the top photo was scanned directly to Photoshop. The bottom photo was from the digital camera, downloaded into Photoshop. The top photo has all the "lines" of the fabric, a heavy-weight cotton. We lose those lines when it is not directly scanned. Can you explain that?