Posts Tagged 'Sreven and William Ladd'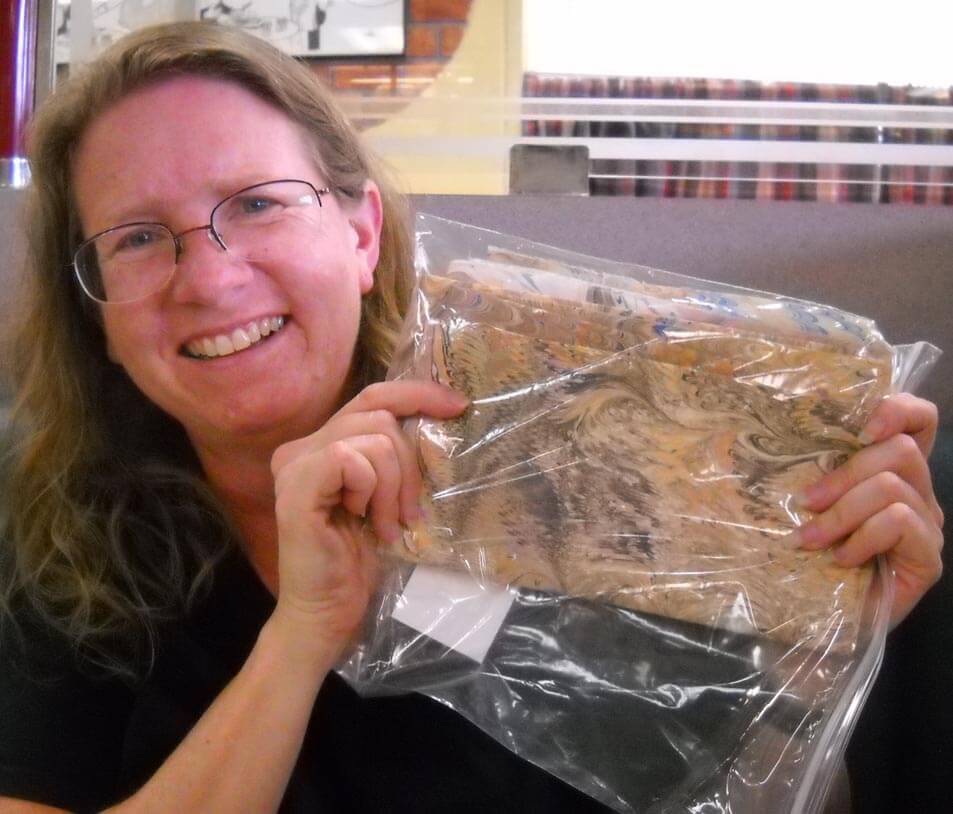 Yes! One of my favorite art quilters actually does exist beyond a blog!!! Kathy NIda (long i, as I have been pronouncing it wrong all these many years) is an artist I have been following for well over a decade, and it's not just because she uses our marbled fabrics in her art quilts. She is one seriously cool lady – and amazing teacher to boot. We finally were able to get together on our last trip to San Diego, as she was also on school break. What a fun two hours! Laughing, lamenting, giggling, telling stories, talking shop – a fabulous time was had by all. Even better, I got to see one of her works at Visions Art Museum, and by far the best in the exhibit, which I didn't really care for, especially after having seen the exhibit of fiber at the Mingei (yes, Kathy, everyone is right – you MUST go see this show!). But it was so cool to see the actual art quilt up close and personal, as I am in awe of her technique. Here are a couple of photos shamelessly borrowed from her blog (kathynida.com).
Here's the quilt being dried after a washing (something about pet hair….) – our fabric is the pavement. Second one is a closeup. I so loved seeing an actual quilt of hers, because her process is so intricate, and seeing in person how it all came together is fabulous.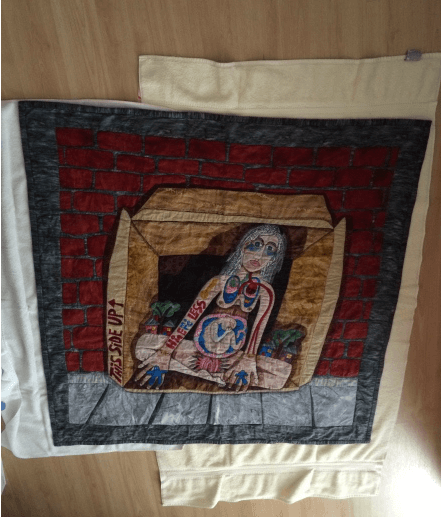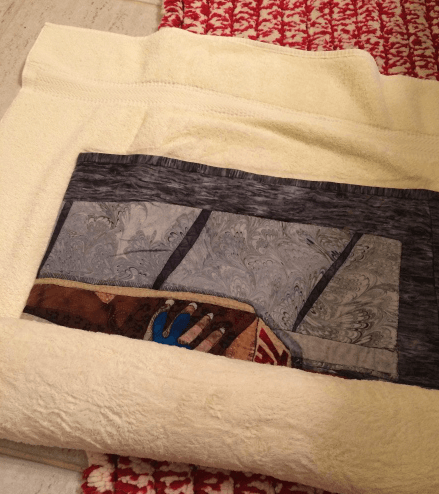 Now, about the exhibit at the Mingei at Balboa Park in San Diego – one of my favorite museums – the emphasis is on "every day objects," and this time the exhibit was two brothers, William and Steven Ladd, who work with beads, fabric and boxes in developing labor intensive, meticulous and abstract work that expresses their shared memories of family life in Missouri. )from the website) While some of the work I didn't "get," I was in awe of their use of unusual materials. This is from their website, explaining their "towers."
Towers
A Tower is a stack of approximately 24 hand sewn boxes placed into a specific configuration.  Towers are often constructed of fabric, found materials, and board.  Each box in the stack measures approximately 9" square and can be closed or open.  When all of the boxes are open, they are  laid out into a specific grid-like configuration.  Textiles and found objects are meticulously sewn into the boxes and often resemble organic structures such as trees.  The Tower originated as a convenient way to stack and store boxes of the brothers meticulously constructed objects.
Each Tower has a story attached to it that is rooted in Steven and William's shared memories.  Volcano, 2008, explores memories of extreme exercise while sharing a studio in Williamsburg, Brooklyn.  Explosive muscle building and marathon running evolved into forms that resemble volcanic structures.
Volcano, 2008
Archival board, fiber, beads, metal
Closed 13.25 x 19.875 x 18.875 in.
Open 39.75 x 19.875 x 8.5 in.
These are examples, and the top is a detail – needles, pins, metal ants, rolls tapes and biases….a feast for the eyes!