While I love the shopping opportunities at a large quilt show, I am there for the art. I was certainly not disappointed at road 2 California. Oh my goodness (and I said that a lot…), the quitls were wonderful. So much so I went back to walk through everything three times. So I have a LOT of pictures. We'll start slowly.
Sherry Reynolds created "America, Let It Shine," and what a beauty it is. From her statement: Tribute to America and its foundations and values, with the hope that they will guide us to a brighter future. 5121 Swarovski crystals represent the words of the Constitution, Star Spangled Banner, Pledge of Allegiance, and age of America. The 13 colonies are represented by using 13 points on outer blue rays and red triangles. The 50 states are represented with the ring of 50 stars. Designed on graph paper, free motion quilted on a Bernina 1001.
Sherry was there Saturday with her original graph paper, and I loved her comment. "No one told me you couldn't do all this quilting on a big quilt ona  domestic machine." Gives us all hope!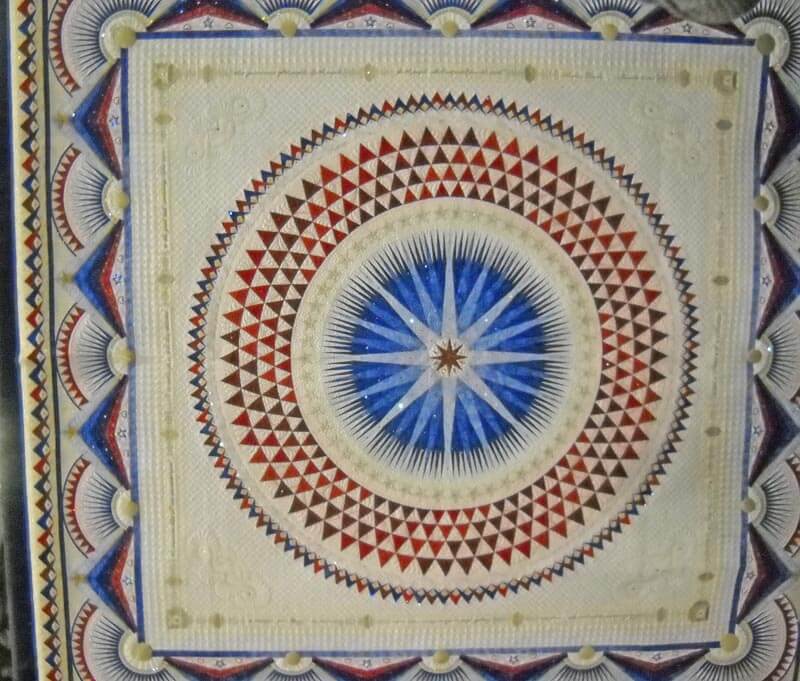 (It's really hard getting a good picture with a crowd around…).  And here's the back….also pretty amazing.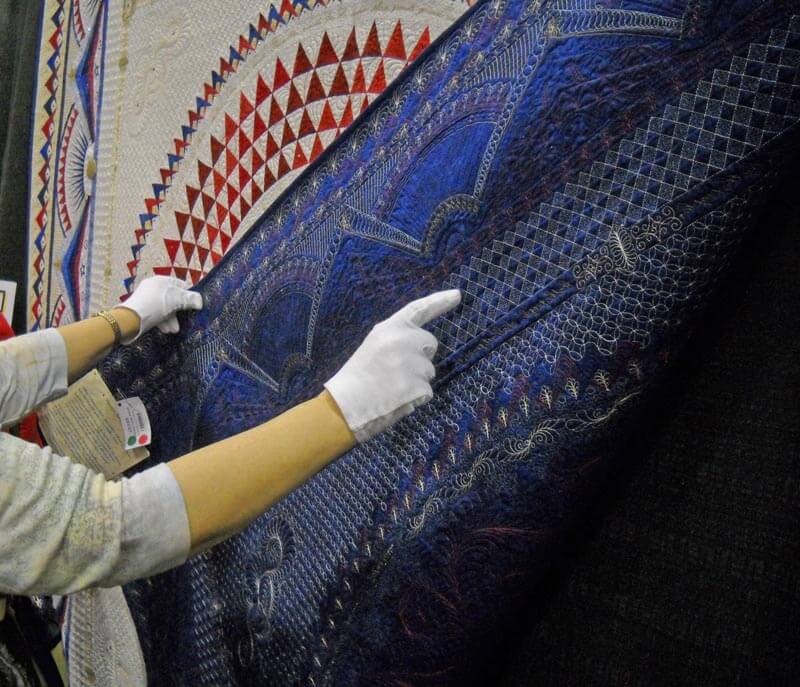 Sherry won one of the major awards – just don't remember which one…..
There were a group of "slice" quilts, where a picture is cut into so many pieces, and a different person quilts each piece, and then the whole is recreated. These were the Klamath Basin Vistas. I really enjoyed taking a look at all the exquisite details.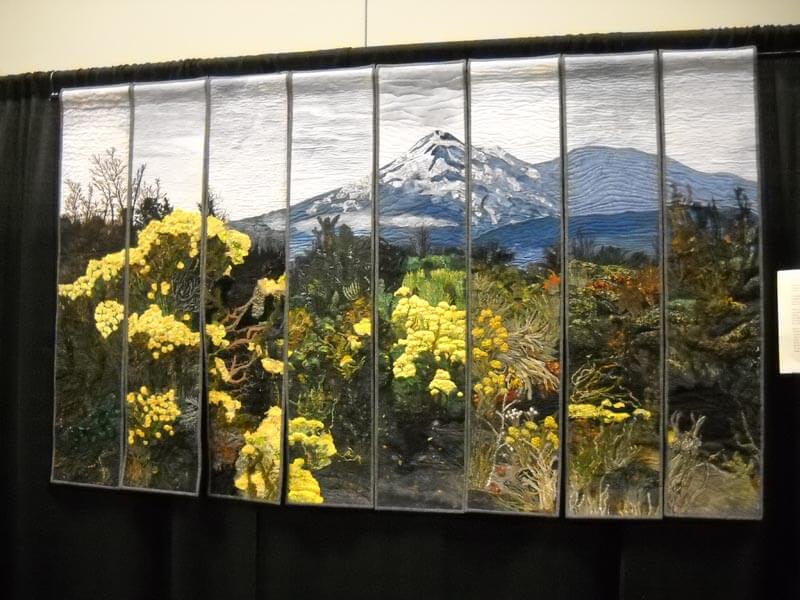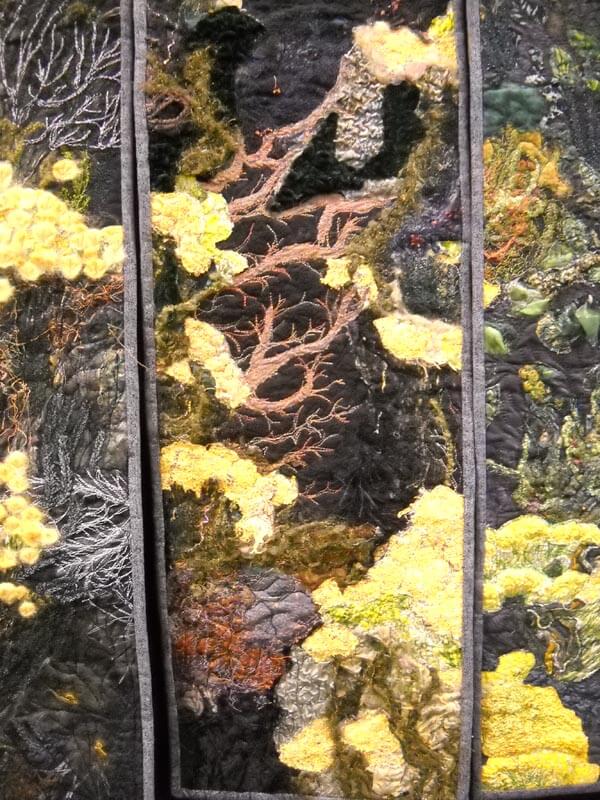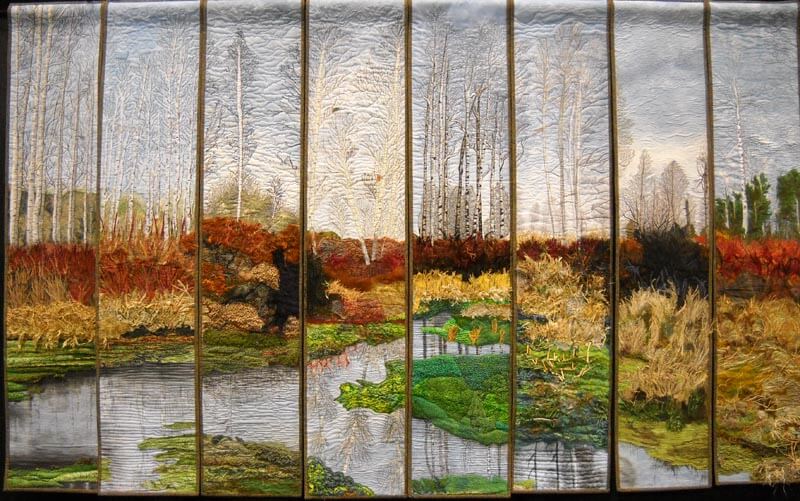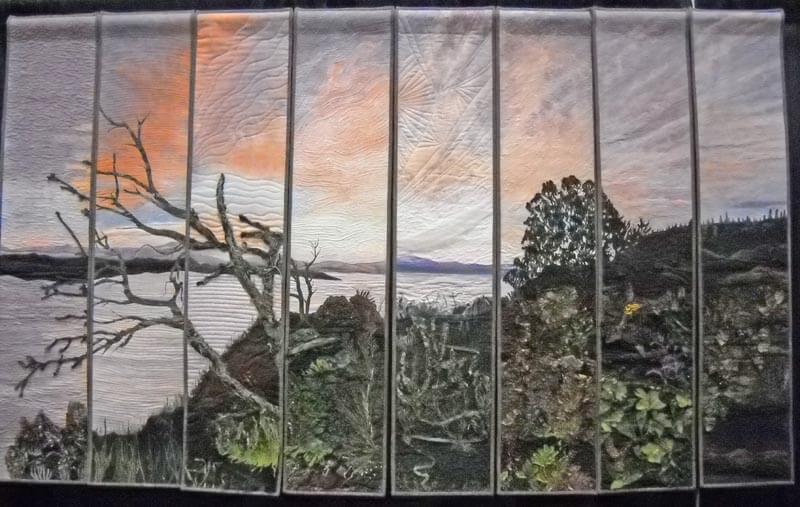 Another favorite (more winners later…) is this one from Diane Steffen called "Rare Catch." I love the piecing in each of the lobsters, as well as the pieced boards, and the addition of a net.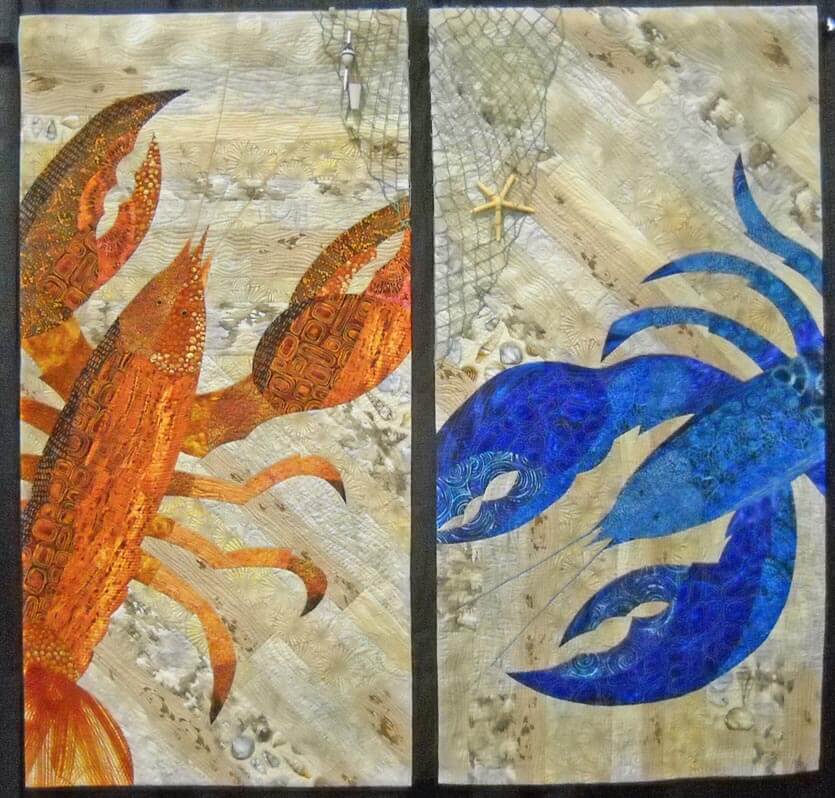 Lisa Sipes won for her "BeDazzleder!" I loved the vibrant colors, and the trapunto and quilting was exquisite.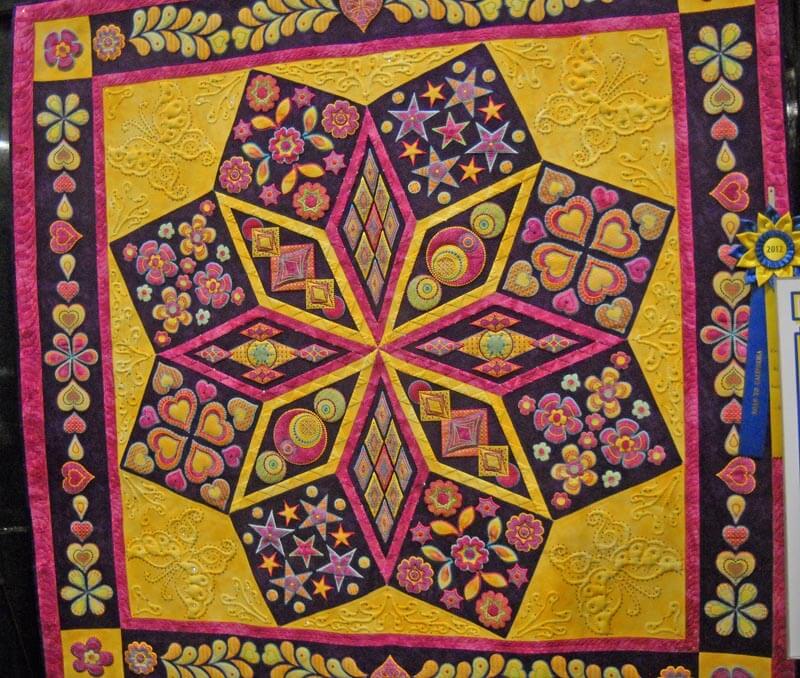 "Ring Toss for Spring" by Heidi Lund – vibrant blues.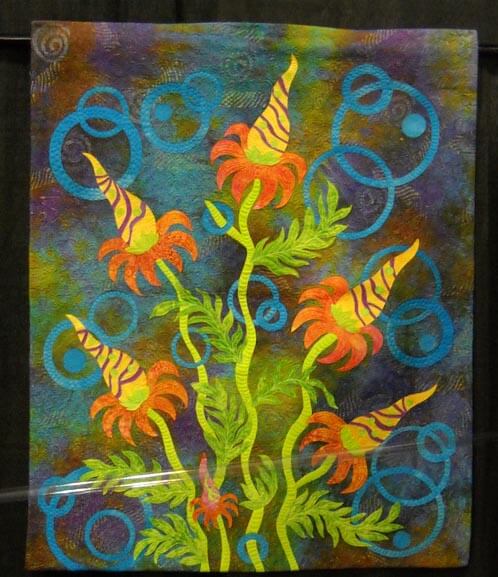 Betty Busby gave us "Welcome to the Jungle." There is so much hidden detail in here – couldn't get the whole lizard in at the bottom…..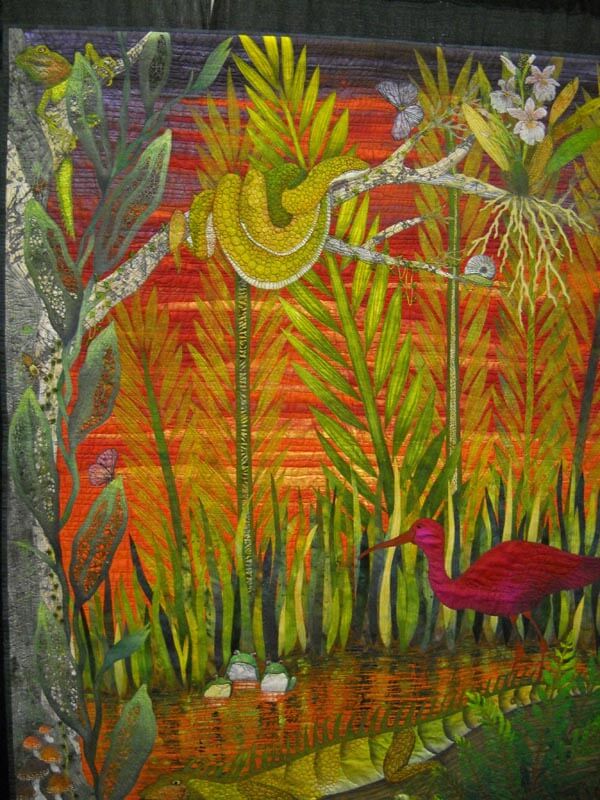 Amazing bromeliads by Barbara Beatty: "Ethereum Botanica: Bromeliads." (Way more amazing in person than this pic….)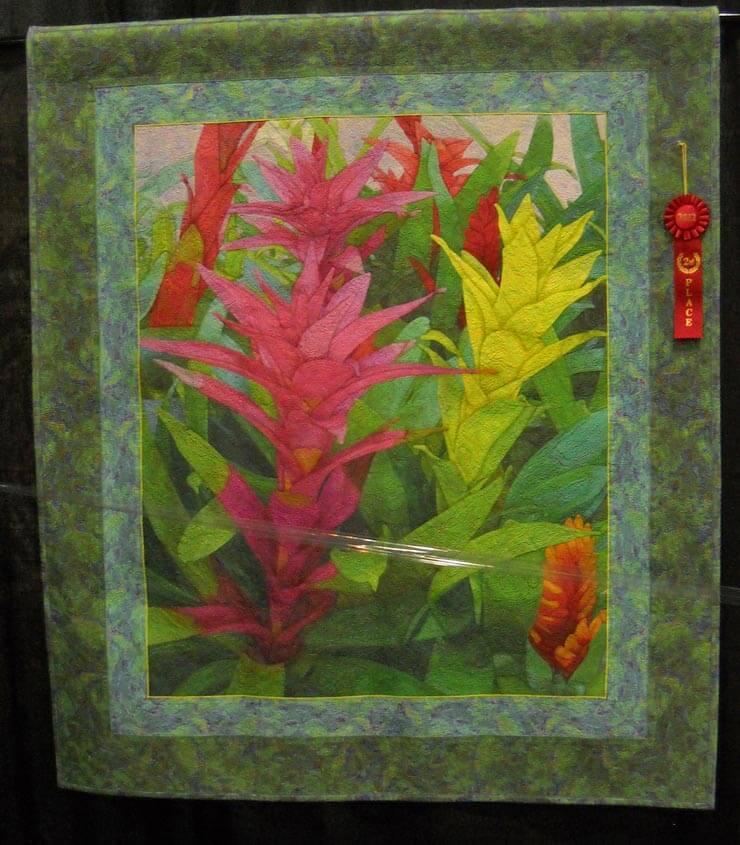 From Suzanne Marshall comes "Deruta," which is a town in Italy known for its hand-painted ceramics.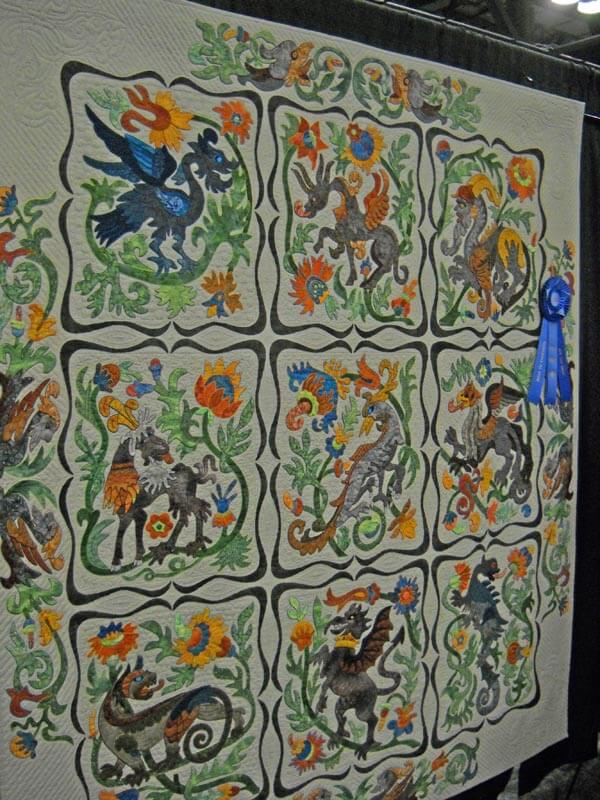 From Bonnie Keller comes "Creme de la Creme," an amazing whole cloth based on the work of William Morris. She used trapunto, embroidery, beading, and inks. The detail was amazing, and I've just included a detail shot.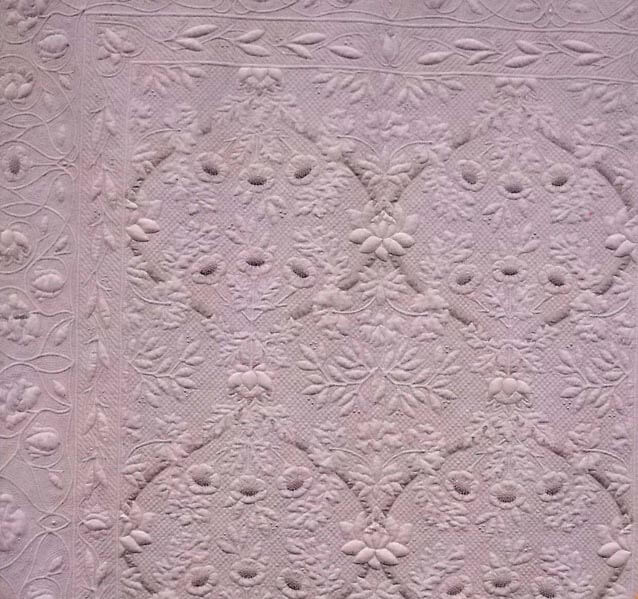 And from Molly Hamilton-McNally and Cindy Seitz-Krug comes Best of Show: "Everlasting Bouquet." The colors are spectacular.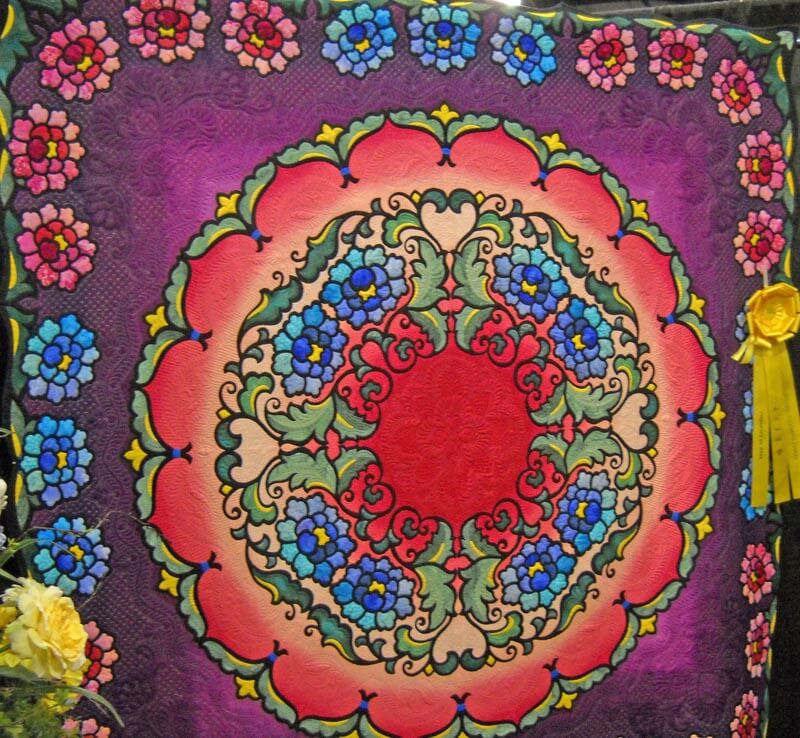 More to come as I get them sized, labeled, and get to a few other things on my massive list…….