Oh my goodness, oh my goodness, oh my goodness…..and I could go on! What an amazing four days of art we just had….and we did quite a bit of marketing along the way. We just returend from Road 2 California – my first large quilt show since Market in 2003, and hubby's first large quilt show. Two days of amazing quilts (photos to follow this week, after I get myself reoriented to basic life here….), plus a day at the Getty Museum – and coping with I-405….interesting experience there……
One of the best things I did in preparation for the show was bring three really great fat quarters with me, just in case someone was "interested" in seeing marbled fabric. One fat quarter went to the "quilt royalty" that was at the show, and one went to Susan Else, the guest artist – she will definitely have something different to use in her sculptures.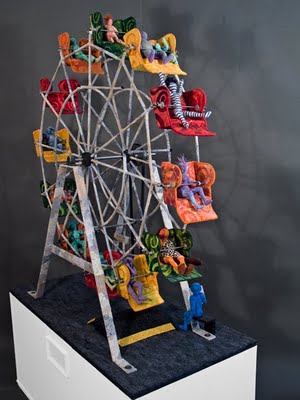 It was really helpful as we were looking at some of the cool tools to pull out the actual fabric and ask questions very specific to its use. This was particularly true at the Pellon booth, as we were talking we began to realize that if we are to take our fiber work to the next level, we need to seriously consider what is used in between the layers. We looked at embroidery machines, as I really would like to include some machine embroidery in the new pieces, and we had a fascinating discussion with the Brother people that could potentially lead to some licensing opportunities.
I collected a lot of business cards, as there was either a really interesting tool or embellishment I want to share. Hardly any book dealers, which is why I may need to consider Market this year or next. Speaking of books….I got home to about 300 emails, one of which was a request for photos to be in a book. That's definitely a follow-through for this week. Renewed my Quilt Show membership so I can keep up with what's happening in the field.
Interesting marketing observations. One company with really interesting hand-painted fabric doesn't have a website. They only sell at shows. They don't want to photograph fabric so people can see exactly what they are going to buy. I understand that; that's precisely why there are some online venues that won't take us, because they feel the need to photograph every piece of fabric. That's why we sell on eBay and Etsy – what you see is what you get. We have a note on our ordering page on our website about why there aren't pictures. We don't get many orders off the website, but that's okay, because we have other venues. No hand-marbled fabrics at the show, but there was a booth with commercial marbled fabric; nice line of fabric, much more subtle than what has been released by major companies in the last few years. Lots of quilts made up – using a stained glass approach – using the marbled fabric. Interesting to see.
Some booths had absolutely no information, beyond a business card with only an email. I tried making notes, but I figured there's no way I'd be sharing that information. No web presence, and no pictures allowed to let people know what was available. Hopefully they make enough doing shows to make it worth their while. We couldn't do that; the press of making fabric for our Seattle trip is enough.
It's probably the most fun to put names and faces to cyber contacts and to ooh and aah at the gorgeous artwork. We went through the quilts twice, making sure we didn't miss anything, and trying to find time to just enjoy the quality workmanship. I wouldnt have been able to take this amount of time had I not been retired…..
And after all that, as I was perusing and cleaning out emails, I stumbled across this older email that I hadn't read, from resident web guru Suzan. I know there are more applications to marketing than meets the eye, but since we artists rely on our hands to make our art, this seems interesting food for thought. A Brief Rant on the Future of Interaction Design.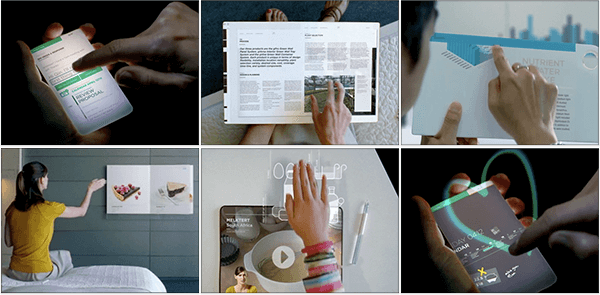 Stay tuned – lots of pictures in the works!!!
3 Responses to "Monday Marketing"