Wow, what a crazy couple of weeks it's been – and that's a good kind of crazy! A bunch of marketing items came together over this last month, and the marbling tray has been busy creating customized fabrics.
First, the tutorial and giveaway for SewCalGal's Fun Friday Giveaway broke on May 18, and we are still seeing comments, newsletter sign-ups, and orders from the tutorial. In case you missed the post, you can see it here. If you want it direct to your box with all the pictures and links, please leave a comment on the post and I'll get it emailed to you. One of the participants in the Free Motion Challenge, Jenny Lyon, sent her finished piece of marbled fabric. It is absolutely amazing! Jenny has given this such a lovely rich feel. You can read her blog post about the quilting here.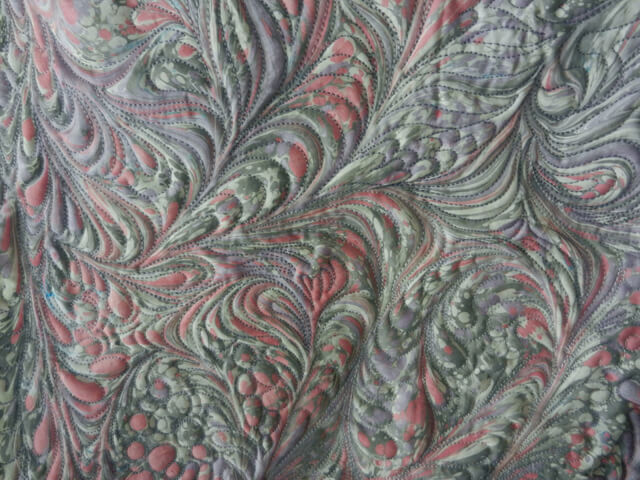 I am now a weekly correspondent for the blog Handmadeology, and last week's post was the beginning of a series of marketing for niche markets. You can read it here. This looks like it will be a lot of fun and be of some use to those folks who have very specialized markets. Already a lot of good comments on the post.

I've started selling on Tophatter. I know, there are a bunch of places I'm trying to be on line, and it is obvious to me I have to determine which ones work best for me and concentrate efforts on those. So Zazzle is going to be out, and potentially Cafe Press. But I'm selling on Tophatter – just trying to get listed in decent auctions and not having to be on Standby all the time. But if I stay with it, I should be in good position for the holiday buying season. There is SO MUCH jewelry in the auctions. It would seem to make sense to list the fabric in "supplies," but what is already there is pretty much supplies for jewelry. Well, the site is still relatively new, so we'll see how it works.
I've made my second month of getting a newsletter out. It was a major loose end for all of the first quarter, but now I seem to be on a roll. There was a bit of a learning curve using Mail Chimp, but I think I've got the hang of it now. You can sign up to get the newsletter "Out of the Marbling Tray" in the upper right hand corner of the blog.
The Facebook page is having more activity, thanks to the tutorial, and I am making regular comments on it. It is so much fun to connect people with the joy and beauty of marbled fabrics.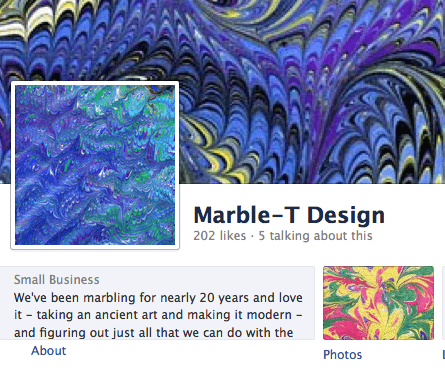 And…a couple of deadlines have passed, and now I am looking at my list of projects for the year, determining which one to do next. After 100 dollars in entry fees, and two rejections since March, I'm not sure the entry circuit is going to be for me. I had decided to try again, since my work has really improved, but still no luck. One more show to hear from by mid month. We'll see……Going to be a busy month, and the lists are working out well. Plus, time for some fun!