So for this month's Free Motion Quilting Challenge, I set myself the task of remaking hubby's lap quilt. I made this quilt about 16 years ago, when I was just getting into some serious learning to quilt. Oh my, have I learned a lot since then! Three hours of taking out all the stitches…think back to just how old that invisible thread was…..and how bad really cheap batting was (which was all I could afford at the time….). Yup, I was pretty appalled at what I had. Here's the original – very square, emphasis on the squares. All stitch-in-the-ditch.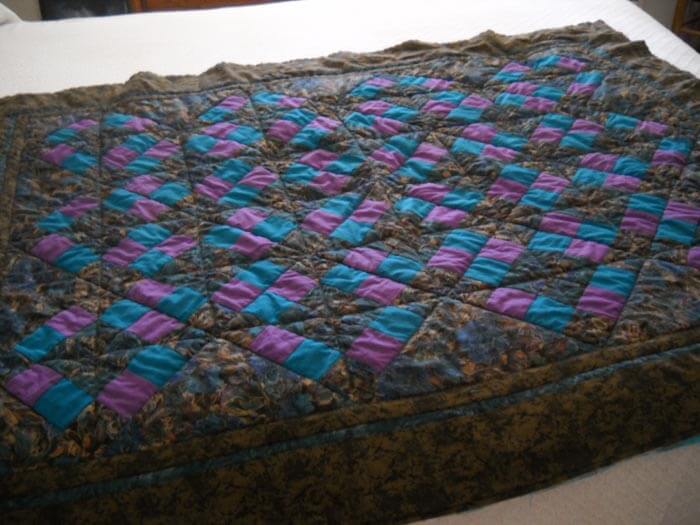 I used the pattern from this month – Leah Day's wavy stipple, which I really liked. I was using a variegated thread, but then I decided it was too obvious, so I changed to a blue that blended in with the fabric. Much happier.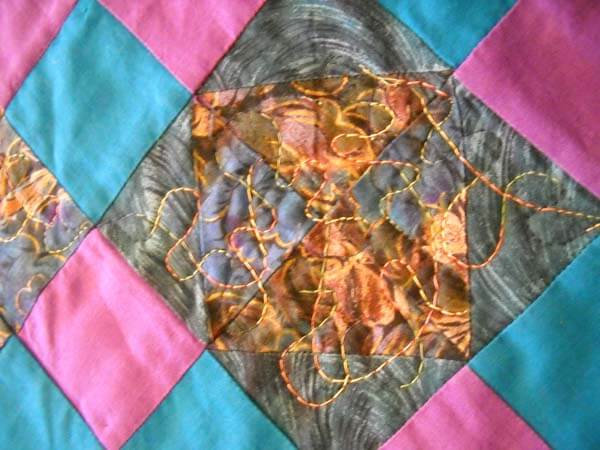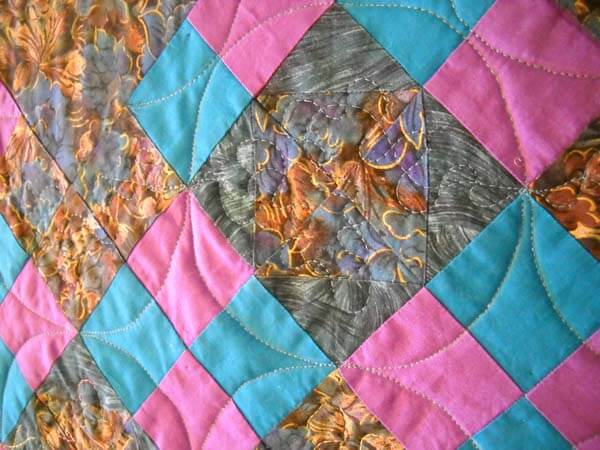 I'm really partial to what is happening with the backs with free motion. Here's a couple of shots of the back.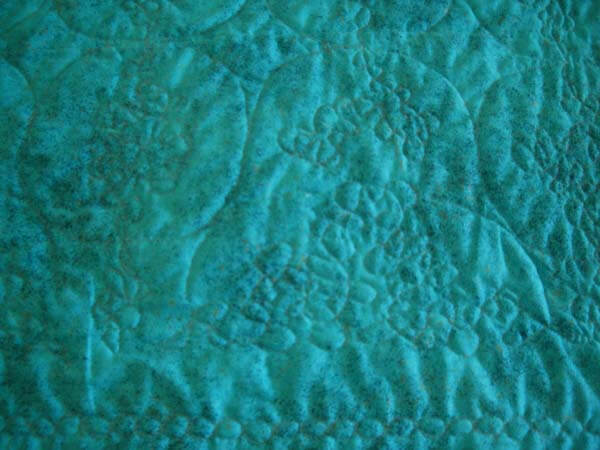 What's becoming obvious is how 16 years ago I used to "iron" as opposed to "press." had a lot of squaring off to do…..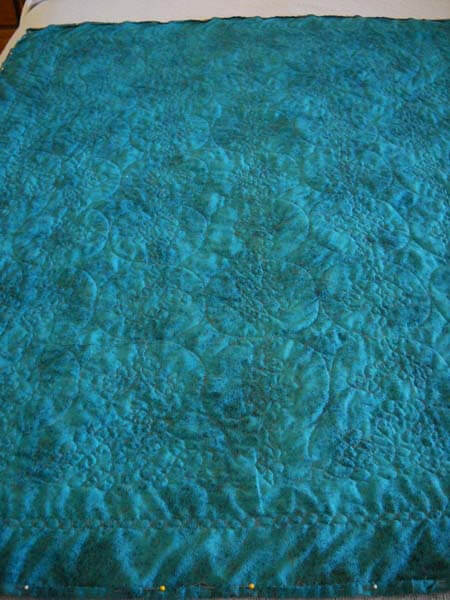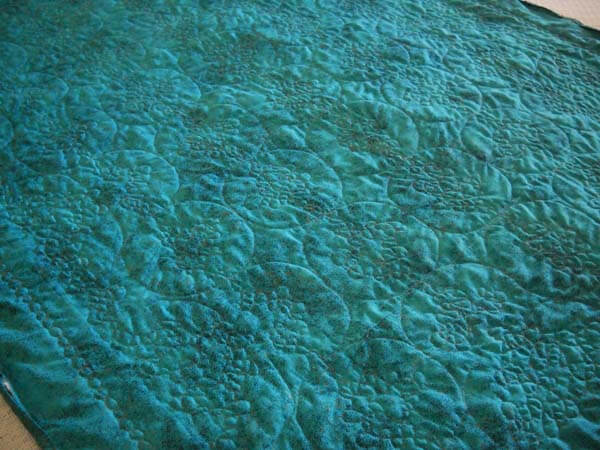 I really like what's happening on the back.
And now for the front…..for the first time I actually marked some of the quilt top. I wanted something in the purple/blue blocks to offset the square-ness, so I marked all the curves.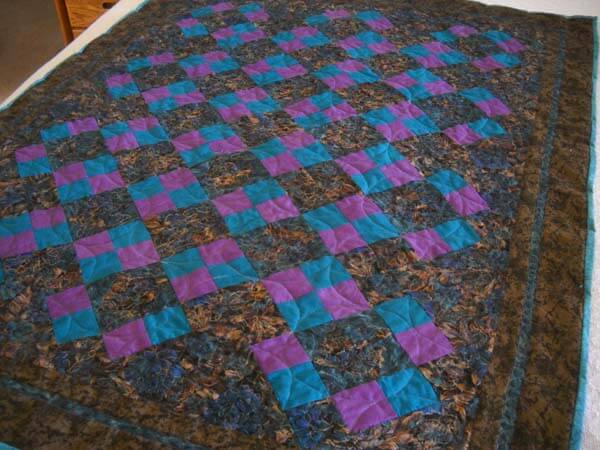 I am very pleased with more curves showing in this quilt.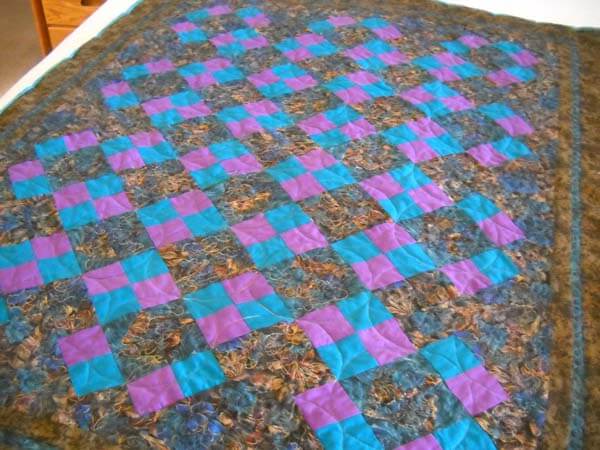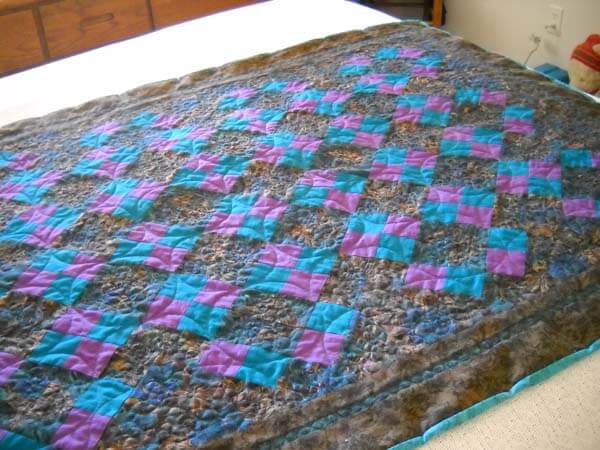 I did some pebbles in the first small blue border, which I like. I was going to quilt the leaves from January in the outside border, but I didn't like it. One of the things I found at Road 2 California was that it seemed like a lot of quilting was done just because the quilter could do it. I opted to leave the border as it was.
I ended up cutting off about 1.5 inches all around to square up the quilt, so I had extra binding, which was good…..but oh my, how I had bulky binding…..Now I just have hand stitching for S&B tonight with friends. And then it gets put away till next winter, when it's finally cool enough for lap quilts. I have enjoyed taking apart old quilts so that I can practice on them. Let's see what Cindy Needham brings us in June!
One Response to "Work in Progress Wednesday – FMQ!!"