Once again I have to say I am really hooked on Photoshop. The effects and possibilities really stagger the mind – however cliche that is. But first, some notes about our marbling session. We did about four yards of fabric, bath worked well, we just need to be on the lookout more carefully for bubbles before we lay the cloth. We did a custom piece for a woman working on a quilt with a "tornado" feel – the colors were perfect, and we got in some good swirls for "vortex" effects. The fat quarters worked really well, and I love the old-fashioned Japanese silk we still have – that stuff marbles like a dream. I also had done some work on serged edges in preparation for a larger silk order, and those seemed to work well- lightweight silk, cotton serging on the edges to be sure it takes the paint and hides the "hem." So we seem to be ready to go once that order comes in. Both of us are sore today, as the physical process of marbling can be tough.
Then yesterday afternoon I spent more time on – three guesses – Photoshop. I made some changes to my flower, particularly changing the colors and adding a frame. I was pleased – it's almost to a "wow" for me. Here's the final product: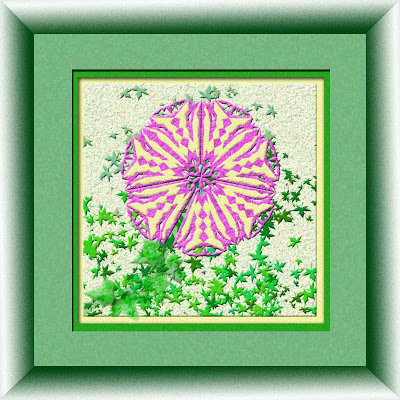 Then I started the gradient tutorial, as I don't really understand that whole manipulation. I was pleased with the final output, once I started playing around. This is a very mathematical manipulation, judging from what I am reading. One color is read, a formula applied, and then final results look totally different. I'm uploading a couple of different variations of the same piece, with layers added and subtracted. I am enjoying the tutorials, but I want the next lesson!!!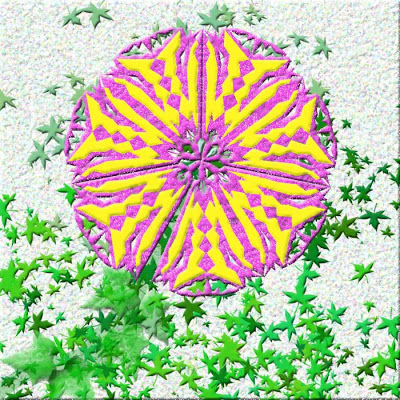 I spent a lot of time today trying some more ideas in the "snowflake" design – I ended up with a fairly nice flower and some other interesting effects – didn't feel like it was lousy, but it certainly wasn't a "wow" – it was just nice – and I could look at it realizing what I had learned. What I would change is the bright colors in the "flower" itself – perhaps more subdued, and I think I know how I could do that.
The fun part came later when I decided to try the frame tutorial from myjanee.com. A little confusing at first, but, boy, has my confidence with color improved! I started playing with mats, filters for the mats, and then tried the frame. A few missteps, but I ended up with something I really like. It amazes me just how much is in this program.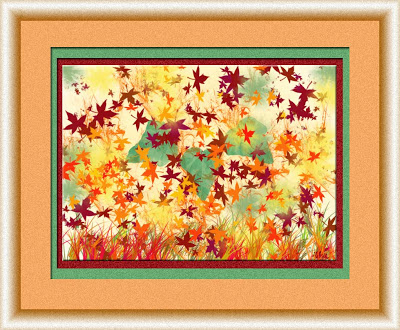 Then after dinner I just had to try framing the winter piece, with another totally different look to the frame – I started with picking up a metallic color from the last mat, but then went to the silver look, and with adding one more filter to the frame, got a burnished nickel look. I am thrilled! Tomorrow I am going to try framing the new flower, and then maybe the spring piece. And maybe another tutorial….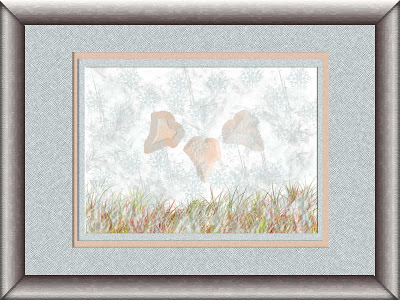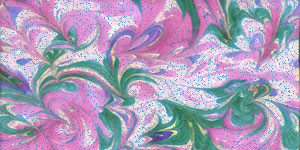 It's been an interesting 24 hours thinking about art. I tried my "fix" yesterday and got it to "kind of" work. I knew what else to do to complete the fix. So I created it – but big deal. I wasn't happy with it, I was just overall frustrated with it. Now I know rationally that all this is an excellent exercise in creativity and sticking with art. But this was the first time I had gotten "stuck" with Photoshop and didn't have something that "wowed" me.
Why is this such a big deal? It seems to me that in the past when I have gotton "stuck," I tend to just stop with art-making for a while. I sense all kinds of "bad" things about my art, about me, that aren't true, but it becomes a while till I start again. I am thinking this goes back to the fact that I am a perfectionist and everything has to be "just so." When it isn't "just so," then I figure I've made some serious mistakes and things aren't good. I know I am still "learning" through this whole process, but I can't get over the fact that something didn't work out and then just move on. However, I will say that this is improving with time. The last three years I have been able to "let go" with perfectionist issues much easier.
So this is a good lesson. I still learned, even though I wasn't happy with the product. When I am working in cyber space, no big deal – I haven't spent any money, like working with actual thread and fabrics. Maybe as I ponder this, I will be more willing to get back to serious creating with the fabric. I feel progress in all this….


Now that I am on spring break, I have time to sleep and do art. But I managed to end the evening in a state of frustration because, once again, I ran into something I don't know how to do with Photoshop. I have to keep reminding myself I have learned lots and I have to just be patient.
Last night I started with another Photoshop activity, trying to improve my skills with snowflakes. I discovered I made the sections too big, and I got frustrated, trying to figure out how to shrink the image. Then I tried a new one, made lots more progress, and discovered I had stained glass tiles rather than snowflakes – which is fine, as I am thinking of doing some math work with tesselations.
The problem came when I tried filling small areas with the paint bucket. I kept redoing the spots, and kept having the same problem. Frustrating…..
This morning as I am pondering the problem, I think I have a fix for it – I need to fill everything (on a new layer, which I kept forgetting to do last night) and then move the layer so only the color I want in the spaces I want shows. I will try that tonight.
Meantime, I have some serging to do, as we have a new silk order coming in, and I need to experiemtn with edges on silk. This could be a nice break for the business. That's why I bought that really ugly frog in Chinatown in LA. Come on, feng shui!
Who knew I would stay up late last night and watch The Bachelor – I need to get a grip and do art instead! That said, I was thinking today at lunch that I could take the Autumn piece that I really like and change it to be a winter piece. Maybe have a set of four that work with the same motif. So I did it when I got home – I love all the new brushes!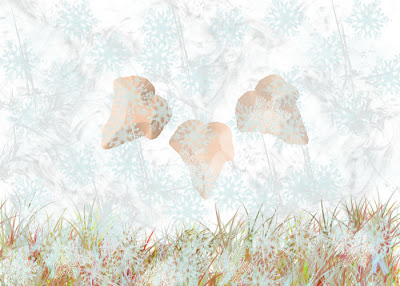 I an enjoying keeping track of all my successes so far this year, and actually keeping a journal of all the work I have been doing. I like the fact there will be a concrete record at the end of the year.
I hurried home from school today, wanting to enjoy the wonderful weather, sit and relax, and play with Photoshop. I guess I am truly addicted. All I know is that there is lots to practice while I wait to start another course. I am noticing that the freedom to try ideas and create something is much easier in this program, and I am wondering why. There are plenty of tools right at hand, so you don't have to buy anything or wait for something to arrive. And you can easily erase – even better, you can eliminate layers just by "turning them off," and still make decisions or change your mind. Much more forgiving than the pen and ink I used to work with as a teenager. Makes me wonder at how willing I was to "commit" to art when I was younger, since pen and India ink is so unforgiving – no mistakes there! And I still have a number of the pieces I did when I was younger, including the big piece I gave to my dad (and he had framed) as a Christmas present. Maybe at the time I was still exploring and hadn't had the creativity suppressed to the point of always being a "good girl" and never trying anything out of the box. Well, that has sure changed!
I tried the snowflake tutorial again, from myjanee.com. There are still some things I need to work on, and certainly some things that I learned. I need to work on not getting extra background as the main one. I am pleased overall with the cutouts. Then I had some fun playing with filters. And I figured out a few more ideas with the Magic Wand, so I ended up with an interesting set of colors – more desert in the colors, so hence – my desert snowflake.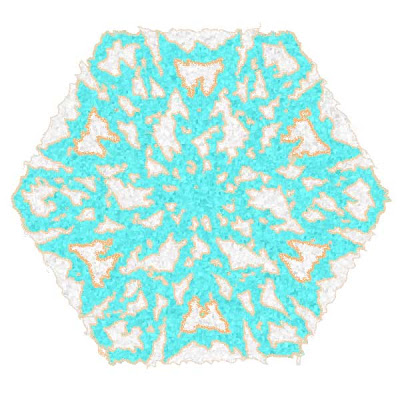 I'm having more fun on a very lazy Sunday afternoon. Sat outside and read lots, but still wanted to play with Photoshop. While I still can't do some things I really want to, I am practicing all the new skills I have. After thinking about the spring effort, I thought about doing a line of seasons cards. So herewith are autumn and winter. I may change my spring to summer, depending on what happens with the "summer" design!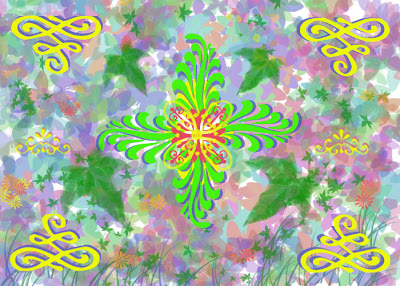 It's April already, and the mesquite are beginning to bloom again, so the desert is slowly getting greener – at least as green as the desert gets. Nothing like a Maryland – or Vermont – spring. So spring is on the mind – and this is my afternoon tribute to Spring.
Photoshop A is done – boo hoo – and I am just playing around with what I have learned. This is an exercise in working with brushes, layers (and remembering to name layers), free transformation, and opacity. I couldn't have done all of this two months ago! By the middle of the month I hope to start in on an independent study of Photoshop B. I figured out how to download new brushes – wowza, what fun playing with the new ones. But I can see I am going to need to get them organized soon – I have some favorites that I can see I will use all the time.
Creativity has really been flowing, especially where school is concerned. Made a proposal for next year that could be really exciting for the kids, so it's just wait and see till we get approval. We have less than two months left in the school year – quite a quick year it has been. Spring break this coming weekend, and then AIMS testing across the state.
Last Sunday we went to Phoenix to see the Body Worlds (http://www.azscience.org/) exhibit. What an unusual exhibit! Definitely science; you can't help but also see it as art. Amazing wonder, the human body – the interconnectedness, and the beauty – no wonder man (in the broadest sense) has been fascinated with this marvel since the Middle Ages. Still in Phoenix until end of May if you are interested.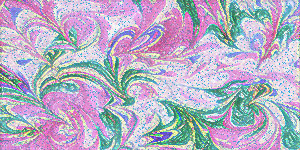 Yes, I know – a rhetorical question, as time marches on. But I managed to let 10 days go by without posting. I can blame part of it on my California trip – the ASCD conference in Anaheim, which was excellent – more so because I got to go to the GETTY!!
ASCD is a yearly conference that focuses in on all things in educational leadership and curriculum. I had a chance to go this year (last time was 1997 in Baltimore) and had some fascinating sessions, as well as a chance to meet up with people I haven't seen in a while. I love browsing the vendors – on Mondays you get loads of freebies, as publishers don't want to pack everything up again! So I found an old series of great reading comprehension materials that are being reprinted – and I got them for free! I had a session on project-based learning, as well as a wonderful man (a great nerd with an amazing sense of humor) on technology.
But by far the best part was Michelle, Pam and I finally deciding to rent the car and drive the 42 miles (2 hours in LA traffic) to the Getty. I could feel the tears starting as I climbed the stairs through the fountains to the entrance – a museum on its own mountain top. I will most likely never get to the Louvre – this is probably the closest I will get. The facility is truly amazing – the building is a work of art, as are the gardens – and everything else. We want to do a ladies' road trip and come again, and include the Getty Villa in Malibu – with all the antiquities.
I got to sit for 20 minutes in front of my most favorite painting – Van Gogh's Irises. I was mesmerized just to see it in person. Over the years I have been lucky to see some of my favorites: Renoir's Boat Party, Seurat's Sunday in the Park, a great Monet collection – it is so wonderful to see the originals.
By the end of our first 2 hours at the Getty we were all in agreement that we wanted to bring our eighth graders for a week at the Getty. Well, we got so energized by the ideas, that we are making a proposal to our principal to do just that. We spent Sunday night on a working dinner sketching out a complete plan for a project-based learning environment that would culminate with a trip to the Getty,
So this is a great creative time for ideas about the classroom. With everything else I want to do, it will be a very busy spring!
…and Albert Einstein's birthday! I own my very own Albert Einstein Action Figure – which makes me a serious math geek, according to my students.
Here's my tribute to Pi – and I'm working on a few other Photoshop effects as I learn more – t-shirts next year for all the 8th grade math teachers!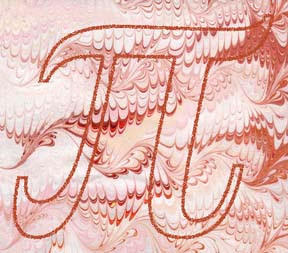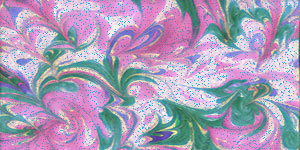 I realized very early Sunday morning that I had a lot of things that needed to be done before March 25, so I carefully made a list yesterday and have been attacking each item. I am going to Anaheim for a conference this weekend, I had a research project due for a publisher, my Photoshop class, grades for the marking period, and a baby quilt. I am getting there!
I really enjoyed this last lesson. I approached it from the point of view of creating a marketing piece for the digital art I have started to do. Lots of filters for the background – mainly the glass. Each of the pieces of art are heavily adjusted, based on the actual pieces of fabric. Lots of playing around with what we learned this class. Same for the type. And I played around with the framing. I want to try the framing tutorial while I await Launchpad B. Here's the work: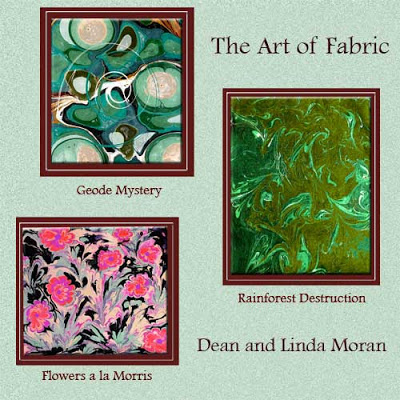 The bevel and emboss is certainly a fun tool. I wanted clean and crisp, as though the photos were already on a gallery wall. I am pleased, and I definitely want to do lots more! Janee – absolutely great class!!!!


I finished the baby quilt, and it is being wrapped for its trip to Prescott and the baby shower for my new great-nephew, due in May. I'm pleased with the design, and the different colors of dog fabrics really work together well. The browns for the frames work to unify the whole design. Good on me! There are lots of dog fabrics, plus some fabrics that were in her sister's baby quilt, like the fabric that used to be wrapped around Grandma Moran's Pringles cans to us all at Christmas. Gosh, how I miss my in-laws. Mom Moran would have had a ball making things for these great-grandchildren.
Here's the finished product: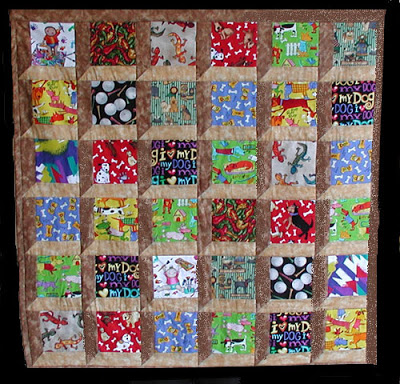 What a gorgeous Sunday in the Old Pueblo! Should be near 90 today – perfect weather for March. We are planning a drive today to air ourselves out before a hectic week – probably up to check out what's new in Casa Grande and then back through one of the reservations to admire the coming of spring to the desert.
One of the nice things about checking Sunday's email is the weekly newsletter from Eric Maisel, well-known author and creativity coach. Two summers ago I bought his book "Coaching the Artist Within" and stumbled on his incantations for centering oneself. I like to try these things, so I practiced the six he recommended and found myself really able to calm my mind. Much better so than regular meditation – which I like, but these quick incantations spread over 10 seconds each are more immediate and really fit into a hectic life.
I took advantage of his offer for free creativity coaching as he had a new email class starting, and I meet Kathleen Gilday of Write into Your Life. http://www.writeintoyourlife.com What a great couple of months it has been! Kathleen has been helping me slowly recover my artistic self after a severe two-year drought of artistic activity. Great suggestions, wondeful support, and a kindred soul in artistic endeavors. And a New Englander to boot! Sharing ideas, struggles, small – and large – successes – it is wonderful to have a kindred soul peeking over your shoulder as you recover your artistic self. I'm sure when our coaching time is done we will stay in touch.
Between Eric's newsletters, creativity coaches, workshop groups via emails, and his wonderful books, this is a great resource for artistic souls of whatever bent. http://www.ericmaisel.com
The great outdoors is calling! Taxes and lesson plans wil have to wait!
What a long week! Every time we have a half day for the kids because of conferences, the week just seems to stretch endlessly. Since it's been such a hard week, we decided not to marble, since we don't want the session to be a "chore." We had so much fun the last time, we want to be sure we always do this for enjoyment.
So tonight I finished up part 2 of week five's lesson – I still needed to play around with buttons and aligning objects on my business card, so I created a new one from scratch – as though I needed a new card for tutoring. Decided on color choices – liked those, had fun playing with type styles – the ability to just arrow through type styles and sizes is a real plus.
Then came the buttons. I am getting better at layers, and now I had to be sure things were labeled and linked together. Which I did. But then as I read further, I realized I was going to need to do some different linking of layers in order to get things to align. That was much easier once I labeled the layers and knew what went with what!!
Overall I am pleased with the design – again, a certain amount of order. I am so predictable. What an array of tools within this program. Just amazing….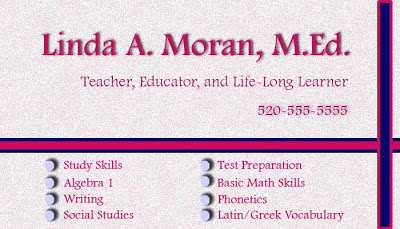 I spent a good chunk of the weekend working on a baby quilt for my niece Jamie, who is due in May, but the shower is in three weeks. I have a pleasing design – kind of a cross between an I Spy quilt, with lots of dog fabrics, and an Attic Window design. Plus some of the fabrics from her sister's first baby quilt are also included.
Carie's quilt was a Bottle quilt, a very definite pattern with lots of paper piecing (you can see the picture on the website.
I wanted this one to be more of a unique design. I like designing original quilt patterns, with some elements of tradition, mixed with unusual fabrics. I had thoughts a number of years ago about designing a line of patterns that would use our marbled fabrics, but I had trouble getting the patterns pass a potential distributor – nothing really creative about them. I ended up selling the rights to a web designer, so I made my money back.
Traditional patterns have an appeal, because I like to use different fabrics, and then practice my quilting skills on the finished top. I do a lot of fiber art with the marbled fabrics that are more art pieces, but the quilts enable me to practice actual quilting skills and try some new materials.
Speaking of materials, there was an interesting section in the book Art and Fear in chapter 2 about the use of our materials. When you work with fiber – fabric, threads, battings, and all the rest – you have to take into account all the specific properties of the materials. What if the threads don't work for quilting, do you have the right needles, what about tension for newer threads, and the like. I think one of the things I like is the variety of materials – more than just "tubes" of paint, although rationally I know there's lots to be said about various colors and tubes.
Now that I am back on an even keel with my art, and feeling lots better, I am getting more time in for art. I want to finish this quilt, finish the beading on the "Road" piece, and get started on the glacier piece for the Cordova, Alaska show. Lots to do!!