This has been a very long week – and it's still only Thursday. On Tuesday I was thinking it was Friday because I was doing so much cleaning during 7th period. The days have been packed, and I am trying to stay ahead on planning, as well as get caught up on all the papers. I don't want to end the marking period behind like last time. And speaking of the end of the marking period, as of December 21, I will only need to do 26 more sets of grades before I can retire…not that I'm counting…..
The holiday wreaths are a big hit. The eighth graders realized if they stayed with it, they made good progress and could see just how great they looked. I am just hoping that nothing happens to all the ones stored in the extra room. Just one more reason why I am looking forward to the art room – more storage!
I have arranged for help during the set-up next Thursday and Friday – hopefully nothing will get in the way of the Atlas teacher being there for extra coverage. My art students really don't know what to expect – most have NEVER had any kind of gallery experience, and above all I am determined to give them a good experience so they can see just how special art can be. I just need to stay sane……


Wednesdays are always busy, since we see all the kids for shorter periods. I was late getting to work, and it seems that no matter how hard I clean, the room is still a mess. Hopefully that will improve when I get into the art room – and I don't have to have supplies strewn around my room. The kids really got into making the holiday wreaths, and of course I have tissue paper from one end of the room to the other.
I don't remember how I first learned to make those wreaths, but I know I was making them my first year in college – so that puts it at 40 years – eeekkk. I used to do them with candy stuck into styrofoam with pins – that sure wouldn't work in today's world. The tissue paper is cheap, and the kids seem to enjoy them. There are more kids who want to do t-shirts with their art work, as a result of seeing the ones I ran off yesterday. They need to bring a dollar, plus a clean t-shirt, and on Monday and Tuesday we'll iron transfers.
I got so tired during 6th period that I kept having to sit down – I was pooped – Wednesdays tend to do that. But all in all a good day with the kids.


After a lot of angst in trying to figure out how to get the art show hung, I called the Educational Materials Center for the district – problems solved! They will be shipping ten 4 x 6 feet panels to the school next week, so we will be able to hang all the work in the front and have it look great. I need to get the invitations set for the kids to color and deliver to those they would like to attend the show.
Also, I had good luck in starting to print out the digital doodles, as well as the t-shirt transfers. It's going to be very cool to see the kids walking around wearing their art. This will probably become extremely popular, so if they didn't sign up by the deadline, if they want to pay a dollar, I can buy new transfers – I already bought the first set, and Sam has donated some.
Overall, I am extremely pleased with how things are going. Most of the kids got additional grammar lessons from me as they were writing their artist statements. One of my students, very quiet and unassuming, got into using a variety of blues in his digital doodle, along with the liquify brush and other filters to create some interesting footprints hidden among other shapes. It will be very cool. And – I will be taking photos next week to post.
I showed the kids the deal I got from Michael's crafts – five bucks for a 130-piece set of art supplies, pastels, crayons, markers. A great deal, and we looked up all the addresses for the local Michael's. One of the kids gave me a smaller set of supplies at the start of the year, and the kids love using the oil pastels. Also, several of the kids really got into the markers and were drawing chocolate covered cherries. Looked pretty yummy!


I went and tried to make a difference- tried to make my school district better. They are undergoing an audit – and tonight was a public hearing to get responses from the staff and community. So I wanted to raise a couple of curriculum issues. In talking with friends from around this district, they are all overwhelmed by the demands on them from the district – most are fine with the individual schools – it's the incompetence of the district.
It would be nice if they actually listened to what the audit team finds…..


I am trying to finish my third Photoshop class, as I have gotten sidetracked into all the other work. This lesson called for us to create an animated banner. So once I got past the "oh what will I make", I settled on a falling leaf for autumn. The creation of the animation was pretty cool. Hopefully this will work…..(I am on the second…third…fourth…fifth upload…)



I do, I do. My whole computer history has been with Macs. I started in 1989 with an Apple GS – didn't pay the extra to get a hard drive – who needed one? The whole package was $3000, even with educator discount. I think even then I knew I wanted the capability of graphics and school software (which at the time was almost exclusively on Macs). Then 6 years later I bought a Performa 6300. Wow – that machine (which was incredibly heavy) got me on the internet for the first time – and on that machine I learned to do my first website – with Pagemill2.
Six years after that I went to my first iMac – all in one, and I got it in "snow," because I couldn't see what the big deal was in having them colored. Again, six years later I bought my current machine – which seems like an amazingly fast machine -and much lighter in weight! When I was doing all the changing of files (buying Pro Care is a great deal), the young computer guys kept referring to my old machine as a dinosaur – wow, had things changed.
I love this Mac – I love iBook, iTunes, everything that comes with it. Last year for the holidays I made my first iBook for our second mom. It was wonderfully received, and last night we just finished our second iBook for her, based on her Italy trip. I've learned so my – I just wonder where this computer will be in another five years – since that seems to be the trend…..


It's a rainy day in Tucson, which happens rarely, so a good day to go out and about for shopping. Our destination was Michael's, so I could get tissue paper for wreaths, iron-on transfers for the kids' t-shirts, and a gift card for my niece – and ended up with a $5 paint/pastels set, charcoal paint for marbling, transfers……no gift card. At least I remembered it before we drove out of the parking lot. The mind – going rapidly……
I want to let the kids know about the paint sets on sale – some of them could afford the tools. And – I probably should pick up one or two for "Best of Show" in the art show – as I don't think we are going to get framing…..
Had a sugar drop – unusual for me – at least I think it was a sugar drop – felt better after lunch – now I understand what Dean goes through.
I'm hoping to look at more of the tutorials on NAPP – also, I am showing Dean some of the cool stuff on Photoshop. Here's a piece he played with: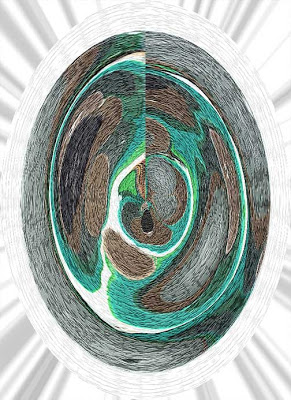 I love it because it looks like it have been stitched with thread.


We had a full day of inservice on mathematics in reading, which was better than I expected. Since I do a lot of professional development, especially in Connected Math, I wasn't looking forward to doing this, but the literacy information was helpful. We were working on vocabulary strategies, and going through the division problem from Bits and Pieces 2 was good. I never realized just how fine the line is with sharing and grouping when it comes to division. In fact, I never realized until just recently that there was a difference. Quite a lot of finesse to those words, and two different situations. I was concerned about spending that amount of time on two vocabulary words, only to find out that there is a lot of prior knowledge build in Bits 1.
The great thing about Connected Math is the building of prior knowledge; the problem is that until you teach the units, you don't really see how everything fits together. Which is what the district is refusing to see, especially when it comes to my school and having to show immediate progress this year in math scores.
Overall, an interesting day. I want to have more time to plan my lessons, so I can really begin to incorporate the strategies I have been learning.


We have finally gone and done it – after about three years of talking about doing digital art from the marbled fabric, we have entered our first show. The Los Angeles Center for Digital Art has a deadline of December 5, and yesterday Suzan sent out the entry. I think the three photos are exceptional. I will post them once judging is done and we know what happens. It is nice to see that shows are taking digital entries instead of slides – which is to be expected if it's a digital show….duh…..But too often still for fiber shows especially you have to have slides, which means a roll of film and hoping you get a couple of good ones.
When we lived on San Andreas we would nail black fabric to the outside workshop wall and photograph outside, several pictures per piece and hope they worked. Digital is so much easier, and we can retake any time we want. I still have my old slide projector which I got for Christmas in 1974-ish, but Kodak no longer makes bulbs for them. With all the stuff I used to do for school, a slide projector gave me a lot of flexibility. No longer – in fact, most people don't even remember those huge opaque projectors we would use to show pictures from books to kids. And the mimeo smell….and all the crosswords done on stencils and dittoes – goes waaayyyyy back to "ancient" days of teaching – the 70's.
And I think about how hard it would be to teach without my Powerpoint and Promethean board…..I need to get Dean's slides of Champlain graduation put onto disk…….


I have two students who are harassing me. I had this problem last year with a student who was always making rude, unkind comments to me, and the counselor pointed out that the student was guilty of bullying and I could file paperwork on him. I called the student on it and things got better. But I am having the problem again this year, and I'm not sure what to do. The students are not hearing what I am saying to them, and I am not the only teacher. There are enough pressures on us to do everything and then some to meet the district's whims. Being attacked verbally by students, to the point of feeling physically threatened, is unacceptable.
That said, we had another fight. Man, middle school girls can be vicious. We had a fight two days ago that was ugly. There was the usual crowd control issues, and today's fight led to the parents bringing charges. Which is a good thing. Teachers have so little power these days, that we need to get parents to do their part.
Our district is being audited concerning their management by a company out of Texas. I'm thinking if we do not get our contracts soon, as well as our backpay, the management company needs to hear about some of these ridiculous things. It seems like we have no way to bring about some positive changes, and there are days when I think there is no way I will last for 6 and a half years till I can retire……


I had all sorts of ideas during the school day of things I wanted to post on the blog. Most of them have since gone away, but I do have some thoughts on art for next semester. When I start with line as the first visual art element, I will have Photoshop on so the kids can do examples and begin experimenting with the program. I should get some amazing digital work from the kids next semester – assuming that the school gets the Promethean board hooked up in the art room. Given the emphasis on technology in schools, it surprises me that we can't get Photoshop put on other computers. I know there has to be a district site license for the program.
I'm also hoping to have the old scanner in the art room, so we can scan work right away. And I will look at using Photoshop to teach color as an element – we can use a lot for value, tints, and hues, so the kids can understand that better.
I will break out the paints next semester, as I want to expose the kids to that medium, assuming I am in the art room and not my classroom. We should start mounting and collecting pieces for the second semester art show. Now I have to get materials ready and visit the frame place for mat board.


I just finished some school work with preparing questions to prepare the kids for the benchmark tests (which I absolutely hate). But now I am free to try a few more things. I took a piece of fabric and worked directly with the colors and pattern. Here's the original: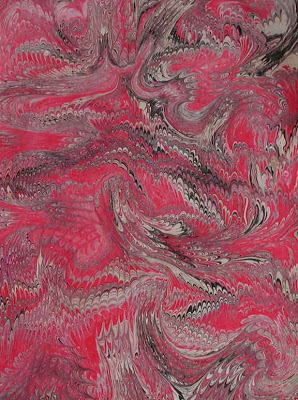 This next is with a normal blur, not the edge for the line drawing.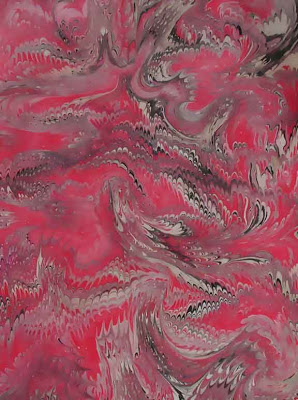 This next is an invert adjustment.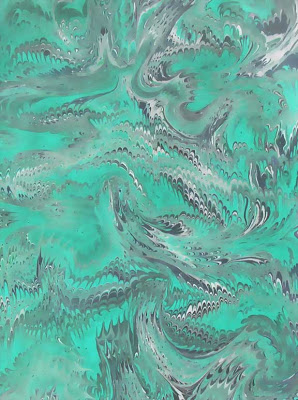 This is the same invert with the difference layer.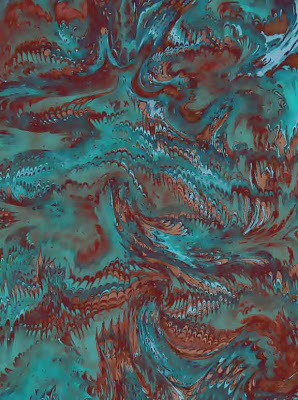 Then I tried a different light filter.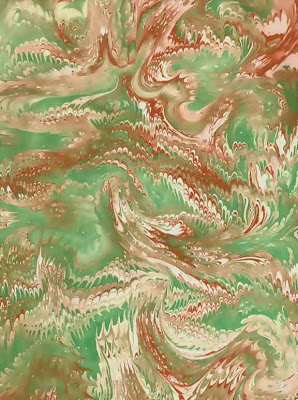 And I don't know exactly what I did for this last one, but it's pretty cool. It is very interesting to see how the various gradients and layers work together.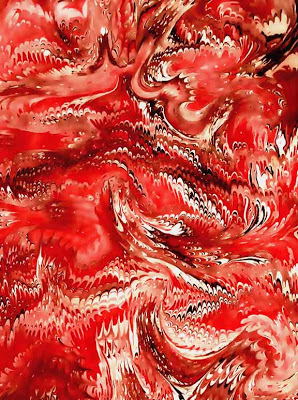 I tried to do some more tonight with a new piece, and I was moving in one direction and really need Suzan for input. I have a couple of interesting ideas, but nothing really clicking like the earlier piece. So I decided to save that and go down to the original piece of fabric and work from the pattern, rather than the line drawing. Here's the first – interesting, but not a "wow" yet.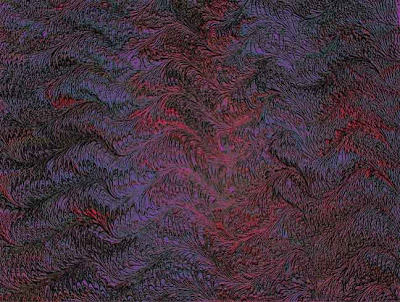 The next attempt looks like a satellite photo of growing cities – I used the ocean ripple and another effect to get this, which I think is interesting and has potential.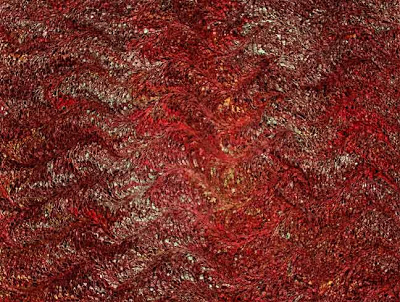 The last reminds me of looking from above at a reef of coral. I like the softness and movement in this, but still not a finished piece.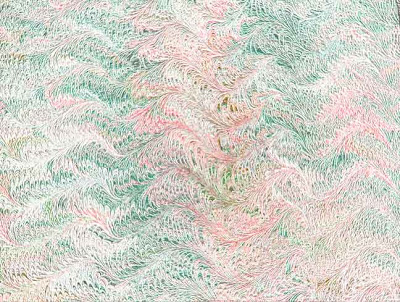 I think it's bedtime…..


I cannot get over how exciting the last few days have been when it comes to art. I am so enjoying all of it – the highs, the creativity, the drive to create more. I am trying to analyze it, and maybe I shouldn't, but I feel like I have stumbled on the perfect art form for me. It's quicker than the quilting, with much more immediate gratification, and it's a lot easier to get rid of "mistakes."
So it will be interesting to see what happens with the quilt art as a result of this new direction. I'm sure I will feel like getting back to the sewing machine, but right now I am enjoying the glow of digital art.


So I survived the day, thinking that I couldn't wait to get home and do some more on the computer…..even though I brought papers home. So I have a deal with myself – I will work until dinner, then do my school work (marking lots of papers) and then come back to the computer. In the meantime,I played around with the previous one, trying to add and subtract gradient layers to see the differences that show as the layers interact with each other. Too much fun!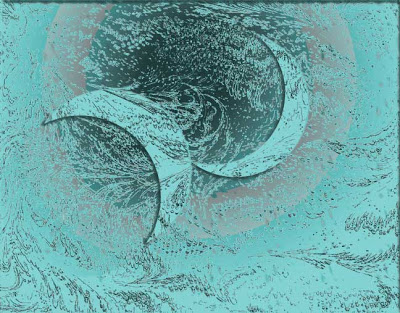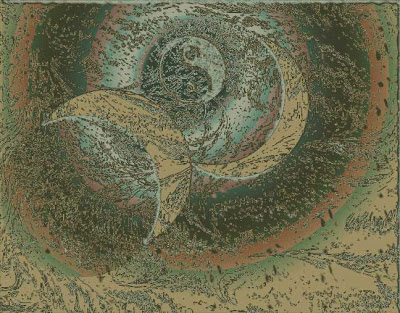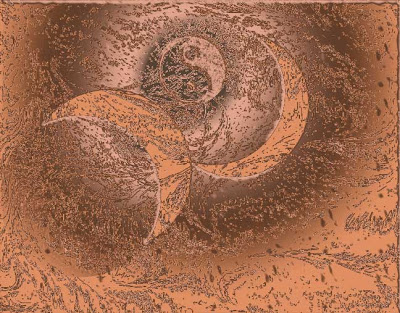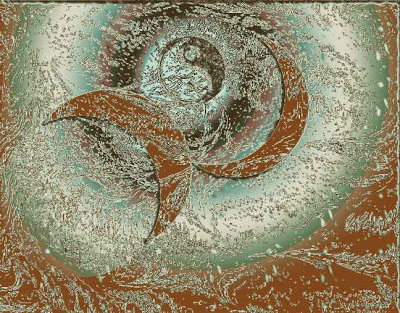 I never did get to the cloud brushes….