It's a rainy day in Tucson, which happens rarely, so a good day to go out and about for shopping. Our destination was Michael's, so I could get tissue paper for wreaths, iron-on transfers for the kids' t-shirts, and a gift card for my niece – and ended up with a $5 paint/pastels set, charcoal paint for marbling, transfers……no gift card. At least I remembered it before we drove out of the parking lot. The mind – going rapidly……
I want to let the kids know about the paint sets on sale – some of them could afford the tools. And – I probably should pick up one or two for "Best of Show" in the art show – as I don't think we are going to get framing…..
Had a sugar drop – unusual for me – at least I think it was a sugar drop – felt better after lunch – now I understand what Dean goes through.
I'm hoping to look at more of the tutorials on NAPP – also, I am showing Dean some of the cool stuff on Photoshop. Here's a piece he played with: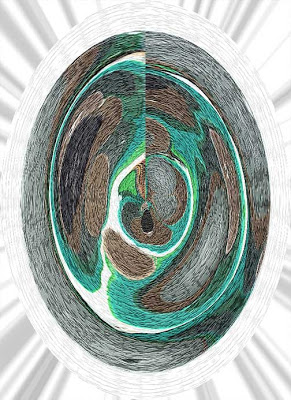 I love it because it looks like it have been stitched with thread.