…is definitely increasing! Made lots of changes, been thinking marketing and art almost constantly when I am not in school or marking papers, and am scheduling some events and shows. It definitely feels good to be somewhat in the groove.
Latest project is the Tidepool Project. Got the URL off a social networking site Fiber Arts Mixed Media which looks to be a very helpful place. Decided since we have a couple of good images, and I have some marbled fabric that looks like tidepools that we should do something.
Betty Hupp (my second mom) and her friend Marilyn Monroe have written a book about tidewalking, called The Edge of the Sea of Cortez. They did all the photography themselves. Betty sent me a couple of images to play with, and this is the Spiny Urchin against a backdrop of a marbled pattern called Italian Vein.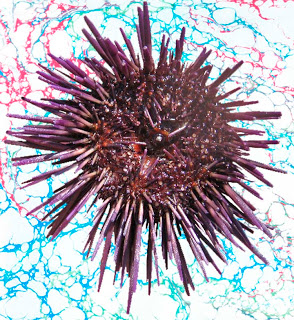 Here's the Gulf sand star – which on the black background of the book is absolutely spectacular. And the second is a tube worm…just some of the many intriguing critters in Betty's book.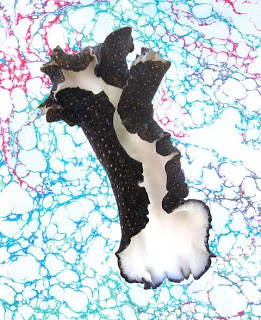 I hope this is just the beginning of fun times working with her great pictures. I also spent some time today getting a set of cards ready to go up on Etsy. Might as well take the plunge and see what happens with all these ideas floating around. I will need to put together some more images for postcards from Vista Print, although I am hearing their colors have been dark lately. Won't know till I try….
My big assignment for me this week- well, actually two assignments – is to meet with Suzan and make some plans for Fish Follies, and to work with Raquel to get some photography done for submission jpgs for two shows. That's gotta happen – my resolution is no more missed opportunities this year – carpe diem!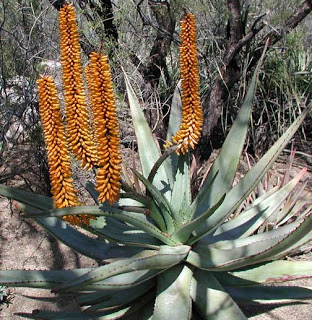 I am not a gardener. Never saw the appeal in gardening – too much dirt under the nails. Walk around and look at plants? You must be joking. Did planting in Phoenix around our house, but caliche is an interesting clay to plant in. Had a nice backyard in Tucson at our house, but never did much with it.
Now I can see the appeal. We spent another morning at the Tucson Botanical Gardens, and it's just gorgeous in spring. Now I understand the appeal of just walking and looking, especially here in the desert. I had no idea just how many different plants that flower are planted here from South Africa and Australia. The blooms are so different.
The iris garden is almost in full bloom, with not a tiny iris to be seen. I find myself staring at the mix of colors and the changing textures. The garden has become a kind of art walk for me. I notice things I've never seen before. We've been to the gardens probably 5 times in the last two months – each time there are new things – blooms, budding cacti, trees – that I haven't noticed before.
Julia Cameron writes in The Artist's Way about the importance of regular artist's dates. This has become a regular date walk. Jasmine smells today, two weeks ago alive with the scent of orange blossoms. The saguaro hotel with the birds flitting in and out, the cactus blossom loaded with feeding hummingbirds.
I need to be sure that in developing this "Garden Fantasy" show that I balance the flowers – not just what I see and like from the East, but the unusual variety that is Tucson. Maybe I need to change the name to "Desert Fantasy" to capture some of the surprise people have at seeing some of these plants in the desert.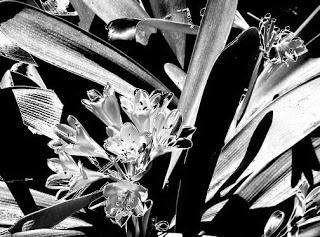 I plan to continue with these, hoping for feedback and some strokes of inspiration. I fell in love with gradients early on in my Photoshop work, once I figured out how to play with them. The effects can be really intriguing, especially if you keep running through the various selections. I'm very partial to the copper gradient, but it made the flowers on this one look very indistinct. There's something about black and white/gray that is so dramatic. Probably why I love Ansel Adams.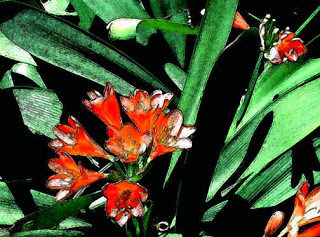 I discovered the fresco filter with an earlier piece and I really like the effect – sort of like water color, but not quite. I had learned that "fresco" was a type of painting done on wet plaster, and then the paint would dry with the plaster and become part of the wall. I love the "vagueness" that comes with this filter. The orange color is also deeper with this image.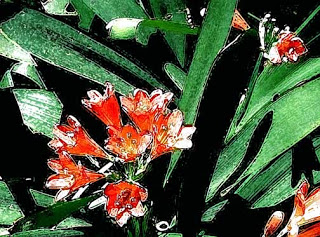 I like the dry brush, but not with this image. Nothing really seems different, not a hint of "wow." But one thing about Photoshop is that you never really know when something will work out. And – the orange washes out….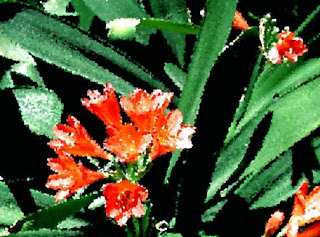 The crystal filter here is interesting – seen close up, almost as individual pixels, reminds me of the hydrangeas from back East, which I always loved. In terms of fantasy? I think the gradient achieves that, but I'm thinking I'm not done with this set of images….


In the midst of talking about learning, and folks on Facebook celebrating their 100th posting, I thought I would go back to the beginning of this blog. It was originally set up to record my work in a beginning Photoshop class. Now it has become my creative journal, and as I build my audience, I really am hoping to get feedback on a regular basis about some of the things I am trying. That said, here's one of the first attempts…and I was so proud of myself!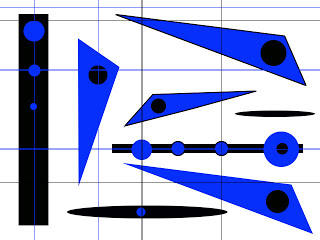 The beginning exercises were to help us learn about layers and basic drawing tools. I spent hours playing around with them. I knew I wanted to go much further, but while the initial learning curve wasn't too bad, I felt I plateau'd with filters. I need to get back to the NAPP tutorials and try to expand what I can do. I went a long time between images, and I found I had forgotten a lot of the steps, like importing patterns from the marbled fabrics.
Dean went back the the Gardens yesterday to fnd irises and roses galore! He took some great shots. I picked this one to work with, and cropped it to this image. I'm liking the off-center images, especially since I have always been SO linear and symmetrical.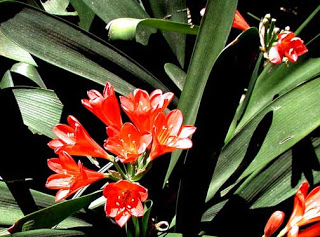 Keeping in mind I am trying to develop a set of 12 to 15 images to fit the theme of Garden Fantasy, I get the basic cropping and adjustments done, and then I start to play. So this is the first attempt-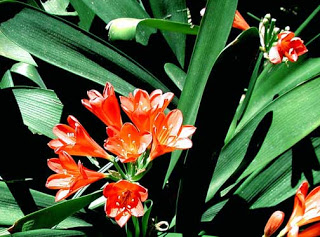 What I notice, now that I can see them both (note to self: work at tiling on the desktop…) I adjusted the bottom one to enhance the greens, and it seems like some of the deep orange was lost. I will need to relook at that. This one also has the use of the clone tool to eliminate some "flaws" on the leaves.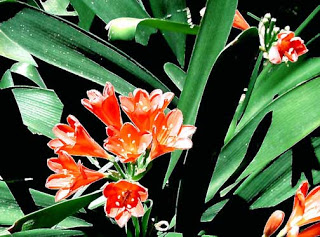 This is a filter – the blur filter, and generally I like the effect. Again, I have to watch the color – these flowers really are a deep orange. But I like the blur effect….
More tomorrow – I have papers to grade……
…..but I just discovered Picasa……


I'll preface this by saying I'm really tired tonight. We had testing, short classes, and the other usual loose ends. I planned what I thought was going to be a good short interesting lesson in introducing functions. So I started with the old IBM punch cards (googled the old images), and talked about the changes in data entry jobs, and how one card had information coded on it that wasn't on any other card. Then we talked about hotel cards that are keyed to only one room, ATM codes, and other similar things.
Now a function is a math relationship where 1 input has ONLY 1 output: a hotel card will open only one specific room. I thought I had a good way to lead into this rather difficult concept. From the codes I then went into a quick look at binary code and how computers operate. Since we have just finished working with powers of 2, I thought base 2 might be interesting, and we could play around with translating some numbers.
All I was after for the kids was to see some practical applications of math concepts in everyday life. Silly me. I had students in each of the classes keep asking why we were working on this and when we would ever use it.
Aside from the fact that I was just trying to present an interesting introduction, I thought it might just be interesting material. But no. The kids overall saw no point to it.
Which brings me to my rant…..whatever happened to learning just because something is interesting? Granted I work with a very at-risk population, and I really make an attempt to show the practical side of the math they are learning. But sheesh…sometimes things are just cool.
Maybe it's age. I still love to learn, and I don't need a reason – "just because" is enough for me. It's so sad that this love of learning just doesn't seem to be spreading – everything has to have a reason and a purpose.
I'm a dinosaur….


The time has come to seriously work at marketing. I already have a few events set up for these next 12 months, which is more than I have ever done. Now I need to find a way to balance marketing and blogging with actually creating art – so far blogging is winning….
I also need to think deeply about the relationship between the blog and creativity, with marketing the website and actually selling some art. While we are slowly solving our marbling problems, in reality I have plenty of large fabrics left for probably 15 new art pieces – as well as 1 or 2 just needing a few "extra" touches.
Part of the last few days has been exploring Google Analytics and Delicious, as well as a few others. I do read some blogs, but evidently I will need to do more commenting in order to build up my own following. So lots of thinking ahead in a totally different kind of creativity. Speaking of which, time to mark some papers….
I would love to hear from others as to how they balance marketing, thinking about marketing, 9-5 job, and making art….and why isn't AdSense working???
Check out this SlideShare Presentation:


What a glorious day! Even though it started with an MRI, we ended with a great walk through Agua Caliente Park, a series of small ponds and a wonderfully restored 50's ranch house. There also is a wonderful little gallery there, and we try to check each month to see the new artist. We are scheduled as the artists in 4 years – never too soon to start planning! The weather also was amazing today – why we come to Tucson for the 70's and gorgeous blue skies! We also looked at an exhibit of Mata Ortiz pottery at the Tohono Chul park – rapidly becoming another favorite haunt, but we keep forgetting our camera each time we come!
I spent last night going through iPhoto at the shots Dean has taken at the Botanical Gardens. There are some pretty great ones, so I pulled those up and started doing cropping – in most cases I think the cropping made for a more interesting picture. Now I will slowly play around with Photoshop to see what I can create for my Garden of Fantasy, one of the shows I would like to see get curated.
So here are some of the ones I have chosen, along with some comments about some of them. I haven't really decided what to do – this right now is a lesson in working with Photoshop and learning more – and hoping for a few "a-ha's" along the way.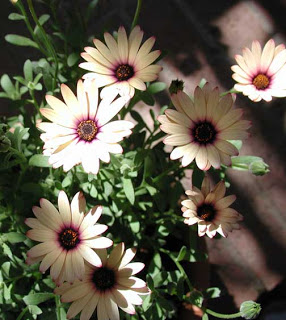 I'm quite partial to these daisies, especially with the lines of shadows running diagonally through the picture. There's straight, round, diagonal – a nice mix of shapes. And the close-up of the flower centers has gorgeous details.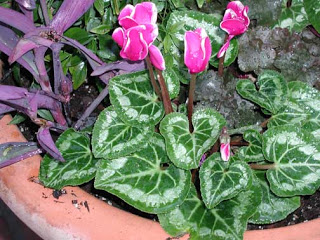 I love cyclamen, but I can't grow it! This is (I think) spectacular for the water drops – taken by me on an early morning at the Gardens after a rainy night. You don't find dew often here in the desert!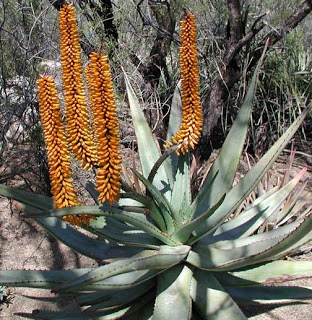 With my new backyard, I plan to have lots of agaves and aloes. This one is huge, so I am aiming for the smaller type, but I love the blossoms.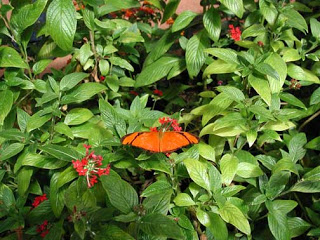 Butterfly Magic at the Gardens – the orange amid all that green is beautiful.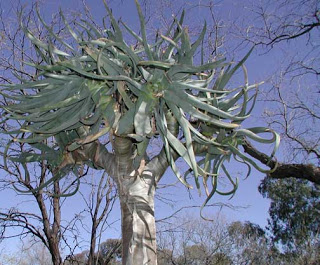 This is a really intriguing plant – it's as tall as a tree, with a trunk like a tree, but with succulent leaves. I cropped out a lot of the background to get a better focus.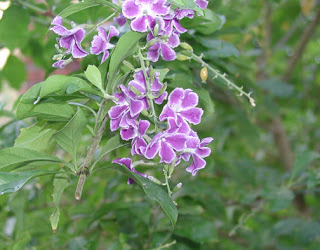 This color is spectacular. I'm curious if I can improve on it….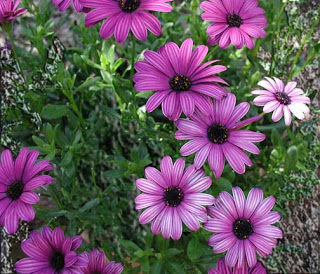 To see this in person just takes your breath away. I've started "roughing up" the background to accent these petals even more.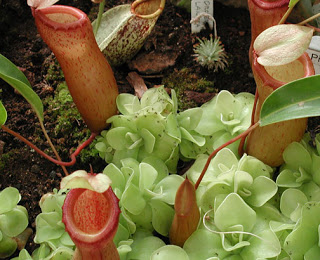 I absolutely love the mix of colors in this – these are pitcher plants – carnivorous plants that eat bugs. They are intriguing-looking plants.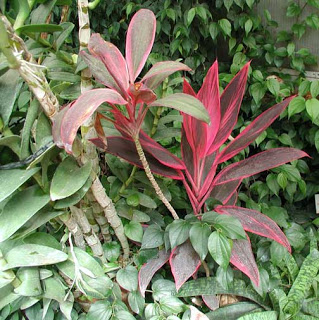 This photo doesn't begin to do justice to the red of these leaves. That will be my challenge.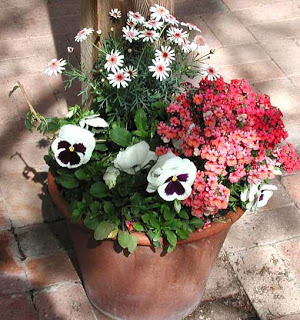 I love this one – nice mix of colors.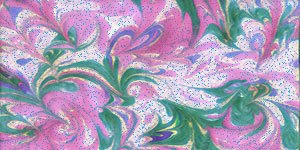 I just finished my evening walk, and as I strolled I reviewed the Spanish vocabulary on my index card. I have started the Rosetta Stone program for Spanish and am really enjoying it. What I discovered today is the need to figure out some conjugations for verbs, so I can get a handle on how verbs go together.
I have always loved languages. Thanks to Joan Daniels, who introduced me to Latin my 9th grade year in high school. I fell in love with the language and the woman who would be one of the most important influences in my education. She understood the meaning of gifted education way ahead of time. She suffered from psoriasis, and I think she was single her whole life. She had a superb sense of humor and a great singing and comedic talent – she would participate in the faculty talent shows each year.
Moving to New York state the beginning of my junior year meant the end of Latin for me. I did get back in the late 60s (Sterling in 1969 applying for a teaching position), and then again in 1986, both times to thank her for how much she meant. And both times she mentioned to present students that I was the only person she ever had who took second and third year Latin at the same time. I dearly miss the woman, but at least I had two chances to say thank you.
This was the beginning of my love affair with language. Latin 1 was so easy, and I loved the translations. The beginning of my 10th grade year, it was obvious that I remembered all my Latin and didn't need review, so she added me to the third year class. It meant having to come in an hour earlier for the class, which was fine with me. I also took French 1 at the same time. And I ended up representing the school in the state Latin contest for both second and third-year Latin. This was so important for me, because it was some of the only validation I got for my intelligence.
I still can conjugate and do declensions, and I pull in the vocabulary piece of Latin constantly in class. I can compare some simple sentences, so kids can see the similarities. Now it's all coming back as I work with the Spanish, knowing which verbs will probably be irregular, agreement in case and number, and so on. Some of the words for nouns are similar, but I am wondering where "pasto" for grass came from….
So Miss Daniels – I hope you are looking down from Latin heaven to know just how much you meant to me! All my love – Linda Lemke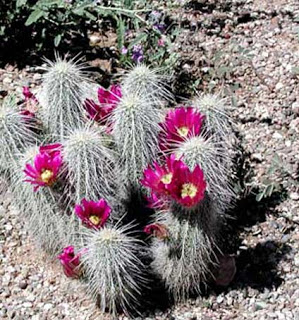 This is the original of a cactus in bloom at the Gardens last weekend. It's smaller than I would like, but it still would make a good small print. I tried a lot of different filters and cropping and adjustments, until I was satisfied with this one. This is the "dry brush" filter, and I like the effect. It would not have worked without the bright pink blossoms for contrast.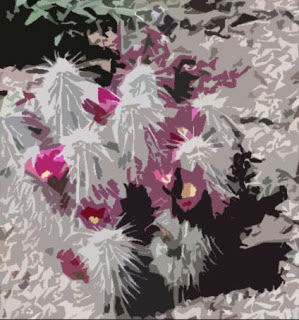 Then I decided to take one of the pieces of marbled paper and see what I could do. This is a pattern, a variation of a chevron, that we have been trying to do and having no success with. So I might as well get some mileage out of this piece of paper. One example is the dry brush, after some color adjustments, and now I have a piece that could work with water. It seems like once we get a really good background we can then play with possibilities for a foreground image.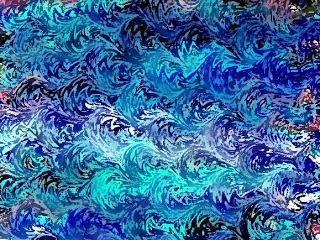 Here is a different chevron pattern. I did a lot of different filters and wasn't satisfied. I reoriented it and was somewhat happier. I need to go back to some earlier lessons and review how to get a basic line drawing to work with – evidently not the "sharpen" filter – I think it's the "blur" and then an "inverse."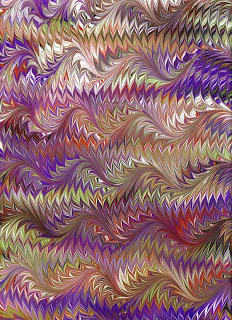 Then I really went to town with copying pieces of the pattern and putting them on a new layer and adjusting that layer, as well as using a few gradients. This is tentatively titled "Swimming Upstream."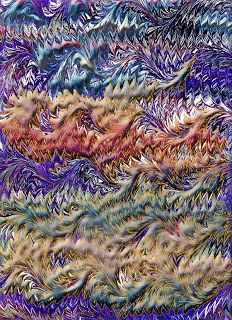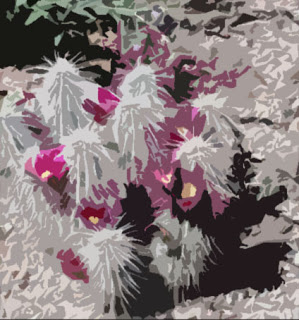 So I managed to let a week go by, and I said I wouldn't do that again. I want to write about Rosetta Stone. I had it installed on my computer at school so I could learn Spanish. And I love it! It is so different from how I remember learning French in high school, and since I spent time learning about structured English immersion, I find I am experiencing many of the same stages.
Yet it's different. I am so used to working with grammar, memorizing vocabulary, and having to think through from Spanish to English, and then back again. With Rosetta Stone, after 3 lessons, I have a good vocabulary, an ability to speak in complete sentence (still present tense), and I don't seem to need to translate from Spanish to English. The program is strong repetition, all accompanied with pictures, so you are constantly hearing and seeing without having to think about it.
So I am hoping by the end of the school year to have a full year under my belt, and then spend time over the summer listening to some of the Spanish stations. Hey – I passed my math test, now I need another hobby!


Another good school day, but I would rather have been at home working on art! I feel like some momentum is building, and I finally started some lists, mostly to organize and give me a jumping -off spot. My list from yesterday was very reasonable, and today I chose a few items from it and started to expand on them.
I checked on a fabric show in Colorado – I have had work accepted there before, and what's even better is no entry fee. So I am contemplating Rain Forest (with a better picture), Pond, and On the Rocks. I need to read more on the prospectus so I know how many I can actually enter. What this process made me realize is that I don't have a lot of " new work."
Did get approval from Amazon for an Associates page, so I can start developing that. With one of the very early versions of the website, I had an Amazon page, and we actually made money from it. 'Course this was in the "early years" of the web and of Amazon. No clue how this will work now, but when I do the next newsletter, I will ask for suggestions, plus it gives me a chance to peruse Amazon – just have to remind myself that I don't want to get sucked into stuff that isn't actually making art.
Now for the reason for this entry. I was reading some old mail and deleting messages. I read The Future Buzz on a regular basis. This is one from February. 5 Simple Ways to Keep Your Mind Sharp. In a nutshell, here's the five:
1) Continue reading, absorbing knowledge and experiencing culture.
2) Learn a skill or craft you've never tried before like playing an instrument, composing music, painting, building a model airplane, or even coding computer programs.
3) To improve memory don't write everything down.
4) Give your mind time to assimilate knowledge.
5) Eat well, sleep well and exercise often.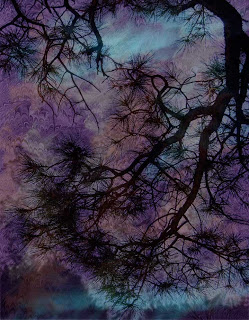 It's 5 PM, and it has been a productive day, especially for writing. Toured three studios for the Tucson Open Studios weekend – will definitely get involved next year – already have it on the list – note to self: set up a calendar of upcoming things….
One of the studios is a half-mile across the street, in a really funky old-Tucson outdoor living kind of space. Pool, great back porch, outdoor kitchen – and surrounded by loads of cactus. There was also a glass and metal artist in a new studio near us. At least now we have a dedicated space that isn't apartment, that can be entered separately from the living quarters, and would serve us well for visitors.
So the addresses are changed, the new pages set up, a calendar in the works, another show to think about entering, some website pages updated, a few more boxes sorted in the sewing area, eliminated custom work, put the printer up on Craigslist, and still enjoyed the outside. Need to start walking more…made plans for the Chihuly glass exhibit at the Phoenix Botanical Gardens in April over spring break.
Things are good!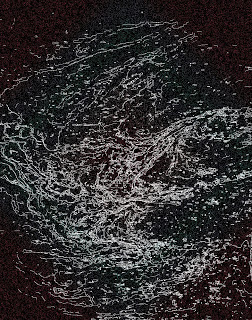 …maybe if I actually start detailing some of the projects I can make a start at something….
Website – change of address on pages, update links (not a priority), have Dean check to see all links are working, new work up (A PRIORITY), info page, garden page, start re-evaluating what will be for sale.
Which leads me to Cafe Press – make some decisions about what will actually be there. Amazon – do I want a list of books? – account is already set up – just work on my part (which is not working on MY art).
Look at Shutterfly and iBook for creating new portfolios (and stay away from family pics – just another delaying tactic). Where is it cheaper to get some prints of some of the new Garden work?
Actual art – work on Glacier – MAKE THE DECISION! This show or not????
Marbling – try out new techniques from workshop on fabrics.
Above all, stop trying to do things because you think you "should…" – (like the G-Team project from school)- I don't need the money (whoa, when have I ever said that??) and I don't really want the commitment. I want to come home, read, sew, sit outside and enjoy the yard, and relax.
So – Suzan, here I come….
PS – maybe I should switch the two photos. This one is the "line drawing" for the one before. This is more a "maelstrom" and the bottom one at least indicates I've moved somewhere….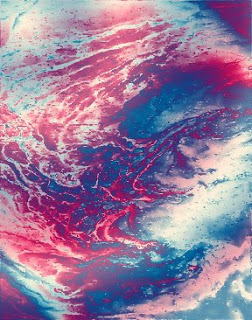 This is pretty much what I feel like right now – a maelstrom of ideas and lists and absolutely no idea where to start. The studio is set up and working wonderfully. I am sorting through sewing goodies (which I could spend hours on, not counting the fabrics, a classic delaying technique), school work is done for the weekend and a good chunk of next week. And I don't know where to start.
Deadline for Fish Follies of April 25. One piece is finished – just needs some tightening of beads. Glacier – who knows? It's waiting….and will probably continue to wait. Working on garden photos. Never sent in the trade name info (only been nine months). Want to scan old photos to preserve them. Want to purge stuff we don't need in the new place…..
So I am facing what most artists do at some time or another. How do I get to a place to do meaningful work again, that will move me along as an artist, when I am overwhelmed with possibilities. All through the move and the math test, it was "just wait until you're settled." Well, that isn't helping. I don't want to make a list of things to do (like the abortive business plan from 5 years ago that just hung on the wall) because I will get overwhelmed and have even less of an idea of where to start.
I read marketing stuff (Future Buzz) and know I should be building the art business – no telling how many opportunities I have lost because I can't get started……
I guess it's time to call Suzan and at least do the change of address on the website – that in itself is seriously out of date……