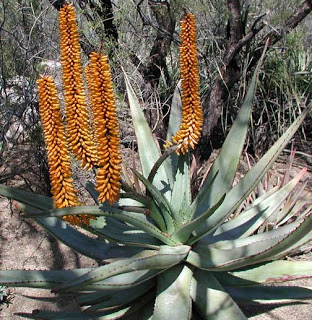 I am not a gardener. Never saw the appeal in gardening – too much dirt under the nails. Walk around and look at plants? You must be joking. Did planting in Phoenix around our house, but caliche is an interesting clay to plant in. Had a nice backyard in Tucson at our house, but never did much with it.
Now I can see the appeal. We spent another morning at the Tucson Botanical Gardens, and it's just gorgeous in spring. Now I understand the appeal of just walking and looking, especially here in the desert. I had no idea just how many different plants that flower are planted here from South Africa and Australia. The blooms are so different.
The iris garden is almost in full bloom, with not a tiny iris to be seen. I find myself staring at the mix of colors and the changing textures. The garden has become a kind of art walk for me. I notice things I've never seen before. We've been to the gardens probably 5 times in the last two months – each time there are new things – blooms, budding cacti, trees – that I haven't noticed before.
Julia Cameron writes in The Artist's Way about the importance of regular artist's dates. This has become a regular date walk. Jasmine smells today, two weeks ago alive with the scent of orange blossoms. The saguaro hotel with the birds flitting in and out, the cactus blossom loaded with feeding hummingbirds.
I need to be sure that in developing this "Garden Fantasy" show that I balance the flowers – not just what I see and like from the East, but the unusual variety that is Tucson. Maybe I need to change the name to "Desert Fantasy" to capture some of the surprise people have at seeing some of these plants in the desert.