Archive for the 'Sea of Cortez' Category


…is definitely increasing! Made lots of changes, been thinking marketing and art almost constantly when I am not in school or marking papers, and am scheduling some events and shows. It definitely feels good to be somewhat in the groove.
Latest project is the Tidepool Project. Got the URL off a social networking site Fiber Arts Mixed Media which looks to be a very helpful place. Decided since we have a couple of good images, and I have some marbled fabric that looks like tidepools that we should do something.
Betty Hupp (my second mom) and her friend Marilyn Monroe have written a book about tidewalking, called The Edge of the Sea of Cortez. They did all the photography themselves. Betty sent me a couple of images to play with, and this is the Spiny Urchin against a backdrop of a marbled pattern called Italian Vein.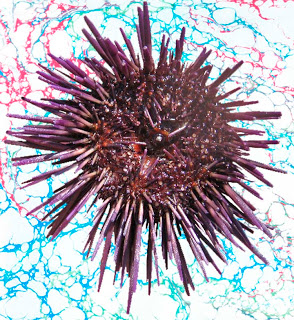 Here's the Gulf sand star – which on the black background of the book is absolutely spectacular. And the second is a tube worm…just some of the many intriguing critters in Betty's book.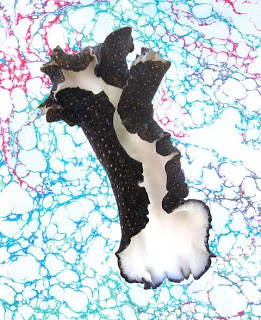 I hope this is just the beginning of fun times working with her great pictures. I also spent some time today getting a set of cards ready to go up on Etsy. Might as well take the plunge and see what happens with all these ideas floating around. I will need to put together some more images for postcards from Vista Print, although I am hearing their colors have been dark lately. Won't know till I try….
My big assignment for me this week- well, actually two assignments – is to meet with Suzan and make some plans for Fish Follies, and to work with Raquel to get some photography done for submission jpgs for two shows. That's gotta happen – my resolution is no more missed opportunities this year – carpe diem!