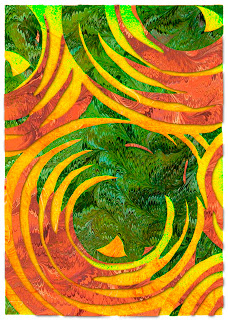 So since school has started, I have been lamenting the lack of art time – happens every new school year. Given being sick and the death of my mother, it has been all I can do to focus in on what has to happen at work, and basically forget about art. I've decided I have to let those feelings go – not just because there's not much I can do about it, but because the school year is my "work in progress."
I love what I am doing – teaching algebra to kids who have never had any success in mathematics at all, especially in middle school. This is my creative role for the next few years, until I retire. Then my creativity can go in another direction. So I have decided no more whining about lack of art time. I get to be very creative in a totally different manner each school day. The kids are desperate for knowledge, although in many cases they would be the last to admit that fact. Yet we do these small celebrations each day to recognize their learning. Trying to find yet another way to explain the same topic is a challenge I love. I even enjoy the paper work (but not on the nights like tonight when there are over 300 papers awaiting me) because I get to see who's getting it and who is still having problems.
So there – I'll do what art I can, when I can, and not stress. In the meantime, here's a continuation of Desert Heat: I added the batik border because it was so different, and it toned down the "heat" of the piece. As I completed the center square, the piece really seemed to be radiating too much fire, and the blues in these small strips helped tone everything down to a bearable (but dry…) heat.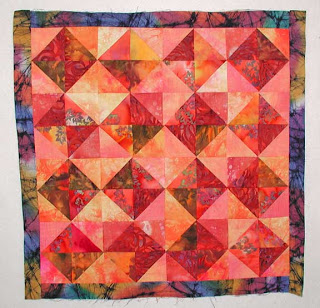 Now I started on the next border – rearranging my half-square triangles into another pattern. Once the top and bottom are added on, there will be a larger border around it, and then I'll figure on the quilting – going to be interesting trying to sew through some of those thick seams….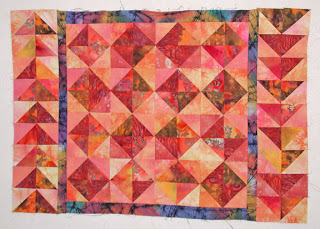 Now it's paper time….