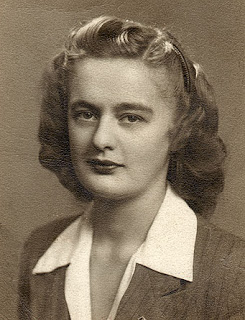 Betty Lemke Macfarlane, February 10, 1927 – August 23, 2009. My mother was a woman before her time. She was the first in her family to go to college – Albany Teachers College in Albany, New York, now the State University at Albany. She taught in Speculator, New York until she married my father, Eugene, home from the Merchant Marines and World War II. Her mother-in-law, my Nana, lived with the family, so she was able to be a working mother before that was the norm for women. She formed close relationships with teachers she worked with that lasted for many years (Lorraine Chudomelka, Geraldine Nicholson, Mary Maxwell, Jim Gallagher, Tom Benton, just to name a few.) She moved from teaching at Stratford Elementary (now Sam Yellin Elementary after the long-time sheriff) to Pine Hill, New Jersey, where she taught sixth grade.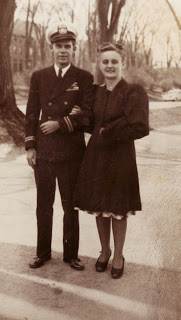 Her parents, Arthur and Dorothy Jones of Brewster, New York, were caretakers at Morefar, the Starr estate. Her father died when my mother was in her twenties – a remembrance of the kitchen in Staten Island when she got the news. When we were little, we would take the train to Brewster to visit her mother, sister Dorothy, and my cousin Bonnie. There were visits to the hen house and the "main house," especially to swim in the pool – a real extravagance at the time.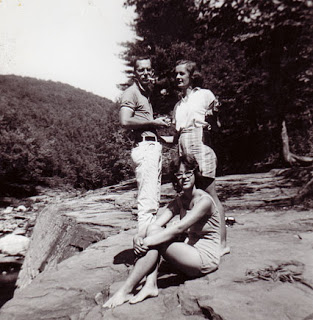 She followed my father in his insurance jobs, from living at "tirty-tree fif avnoo" in Manhatten to Staten Island to Stratford, New Jersey, to Glens Falls, New York, to Northfield, Vermont, to Middletown, Ohio. When my father died suddenly at 48, she returned to Vermont to teach, where she reconnected with an old family friend, Peter Macfarlane. A year later she remarried, returned to Brewster, and then retired with Peter to the Outer Banks.My mother knitted as a hobby. Everyone in the family always had sweaters of every design and color. In later years she turned to embroidery (finishing some of the pieces I started and let slide), cross stitch, and quilting. She was known for her whole cloth quilts, and we made a quilt together – I appliqued and she quilted. In later years she read voraciously until her eyesight started to fail because of cataracts.
She would visit family in Arizona and Texas, and as she got more into genealogy, she and niece Bonnie would uncover new (old) relatives, and she would visit them. She made a surprise trip to Vermont where I was teaching to come to opening night of "Peter Pan," the first musical I did with 80 middle school students. She traveled to Australia and Europe (many times), finding family in Scotland, and missing relatives in England. She visited Hawaii, a favorite, having been there first when I started my teaching career on Maui.
Rest in peace.
One Response to "In Memoriam – My Mother"