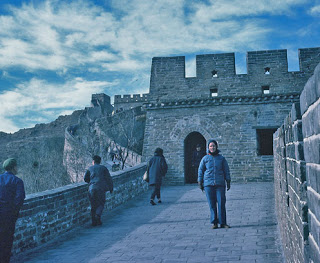 Me on the Great Wall of China! This was 31 years ago this October – I went with a group of 20 Americans as part of the US-China People's Friendship Association. I was there for a month, starting in Hong Kong, where we needed summer clothes, to Beijing, where we needed parkas! It was an amazing month. This was several months before Carter normalized relations with China, so in many cases we were the first Westerners the Chinese had seen.
This all came about when I was in Walgreen's last weekend, and I asked about converting slides to a CD. I had asked about three years ago and it was like $2 for each slide. Now it was $5.99 for 24 slides. So I picked through some of my older China slides – the really good ones are packed somewhere…..So for Top Ten Tuesday, here's my first 10 slides of China.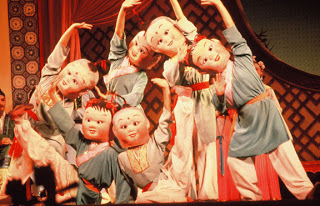 Throughout our visits, we were treated to all kinds of performing arts, mostly by students. Here's a group of gymnasts performing for us. The kids were so poised and centered on stage.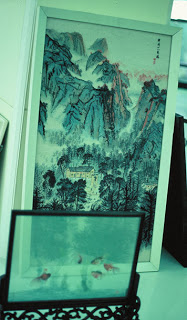 I bought several yeards of silk and wanted to buy some of the "double-sided embroideries", but I couldn't afford them. The bottom frame is of fish, and it doesn't matter which side you look at, you can't see a back. The back piece is an incredible needlepoint – such detail and small stitches!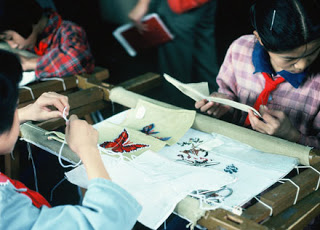 At the Children's Palaces, which were after-school daycare centers, students were learning and practicing needlepoint.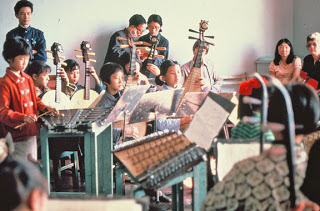 Also at the Children's Palace were beginning, intermediate, and advanced orchestras.
We spent time at the Ming Tombs, and I have better pics tucked away. Autumn in the northern part of China was just like New England. You can't see our fairly modern tour buses, but we always saw hand-operated carts and LOADS of bicycles! Wait till you see my picture of the traffic jam of bikes.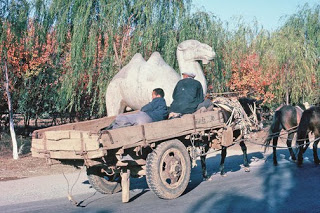 There are these wonderful stone statues leading up to the Ming tombs.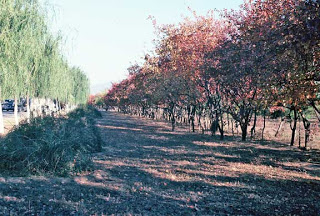 Guilin is undoubtedly one of the most beautiful spots on earth, These are just two photos, and yes, the river was really low. We were able to sail on the river only to a point, and then had to take a bus back to our hotel. Amazingly beautiful place.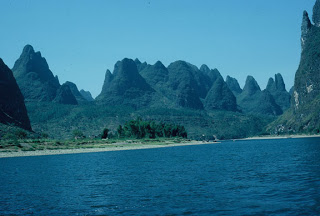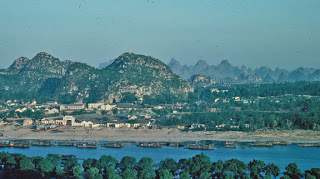 And finally, the Great Wall again. I started up, as you can see from the top pic, in my parka, and by the time I had walked about a mile up, I was stripping off jackets and sweaters and scarves!