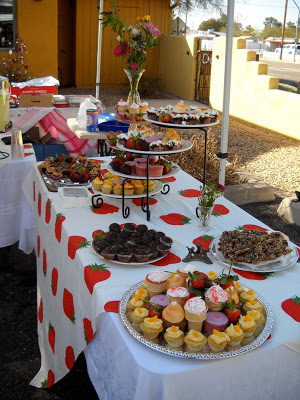 Nice way to start for Valentine's Day! We were driving around yesterday, trying to find a small art gathering we had gotten an invitation to, called "Cupids, Cupcakes, and Champagne." They did have quite a spread. This was a group of 13 artists who set up in the parking lot and offices of an interior design firm to sell their wares. It was done very well, and located close enough to the main street to get drive-by traffic. Not a lot of parking, but I think people would go out of their way to park and walk back to the group.
Our small mixed media group has talked about finding venues for our work, as opposed to doing the show circuit. We are doing our first show on March 6th, which will be the first for most of the members of the group. It will be interesting to see how we all do, how each of us does, and overall how the event goes.
So here's shots of Cupids, Cupcakes, and Champagne.