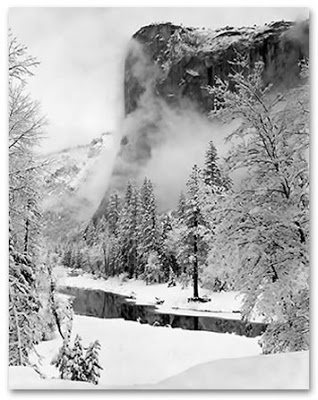 (http://www.ggibsongallery.com/artists/rare/RC_5.jpg)
The Tucson Museum of Art is winding down its exhibit of Ansel Adams, and we headed there today. First, let me say I think the Tucson Museum of Art is a really ugly building and gallery, and the lighting of the exhibit was (I think) appalling. It was really hard to see the photos, as all the gallery lighting was reflected off the glass of each photo. I got to see myself reflected in El Capitan and lots of aspen, and it detracted overall from the exhibit.
That said, these photos are absolutely amazing. One thing I was struck with was the commentary with each picture, mostly in Adams' own words – and he was quite expressive, quite poetic in his description of the scene. The pictures of Yosemite are spectacular, and we have started planning a trip over spring break. Amazing we live so close and haven't yet been there…yet we live seven hours from the Grand Canyon and let 20 years go by before visiting again.
I have some favorites…like this one of the rose with a backdrop of plywood. The texture of the plywood adds to the scene, and who knew plywood could be so expressive. This was an unusual photo, in that Adams rarely contrived the photos; he just let them happen.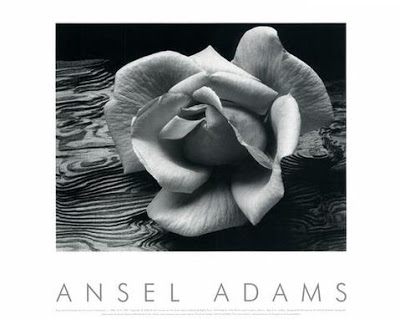 http://reneeashleybaker.files.wordpress.com/2007/12/ansel-adams-poster.jpg
This next was taken with a long exposure, and no wind, otherwise, as Adams says, it wouldn't have been possible.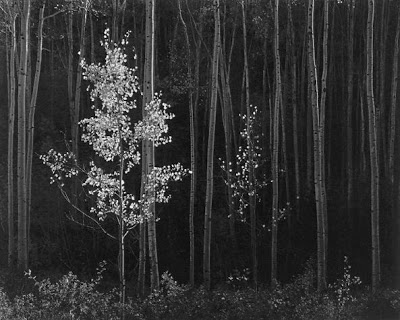 http://seto.org/photo/adams_aspens.jpg
There is such glory in black and white photography. And such masterful work in photo developing, which seems like a lost art, thanks to the digital revolution. To think Adams had one chance at a photo…he was a genius at the foreshadowing of a picture to come…wait and it would happen, and he was ready for it.
This next is considered one of his "abstract" photos – a frozen lake. If you look really closely, you see the water, the ide, the cliff, and the morain right at the water's edge. Really beautiful.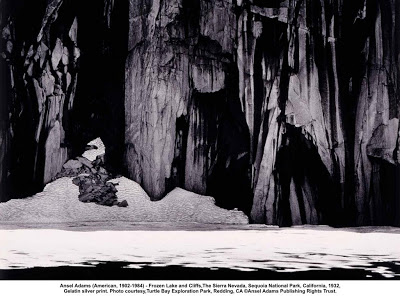 http://www.artknowledgenews.com/files2009b/ansel_adams_frozen_lake_and_cliffs_II.jpg
All in all, a gorgeous two hours admiring an American master.
2 Responses to "Ansel Adams Exhibit"