Posts Tagged 'The Quilt Show'

Well, this has been a week of learning experiences, including running the machine needle through the tip of my finger. I'm somewhat frazzled deciding on a project, since I don't have any looming deadlines. I do, however, have a list of projects that need doing, so I picked one from that list and then added another.
First, from the UFO list. Several years ago (going on three?) I took a class with a friend on a Judy Niemeyer pattern, Stepping Stones. You can see the pattern here. Originally it was going to be a king-sized bed quilt, but I was still teaching, so that got put on hold. When I reorganized the studio (twice), the blocks made it into the UFO pile, and when I made my list in May of projects, I listed these. But….I listed them as a potential table runner, figuring that way they would be done, and I could actually use the table runner, as we have a new dining room set (new to us – we're babysitting it for a friend). I would also have enough for 6 placemats, too.
Well, there were loads of problems. Could I find the black fabric I was using for connector strips (three searches)? Could I do all the matching, since it had been about 3 years? How would I quilt it? What would I use for backing? I got the four completed blocks into one runner, and then I spent the next three hours taking out all the paper….note to self: you still need to vacuum. The blue I thought to use for backing was a stretchy polyester that wasn't long enough, so plan B was leftover dark blue from another quilt back. Then I had to buy batting.
Finally everything is together and ready for quilting…..and I had no idea what to do for the quilting. Didn't seem like feathers would work. Didn't want to do a stitch-in-the-ditch. Tried some outlining, but I didn't like it. Then I thought about the overall loopy pattern from the May challenge, but ended up picking all that out. I realized I would need to go with monopoly thread, so the stitching wasn't obvious. And I was playing around with tension, including two more ripping sessions.
I tried doing some partial circles on each block, so it would look like rippled water. And then I discovered the settings on my machine were set for the decorative stitch I used in the black borders. Seems like I still had the setting on one of the decorative stitches, and I was trying to free motion and there was a lot of drag. I also discovered that I could use a variation of a zigzag stitch and still have the feed dogs up. Turns out I liked the ripple effect, and that's what I went with for the rest of the runner. Here's a pic: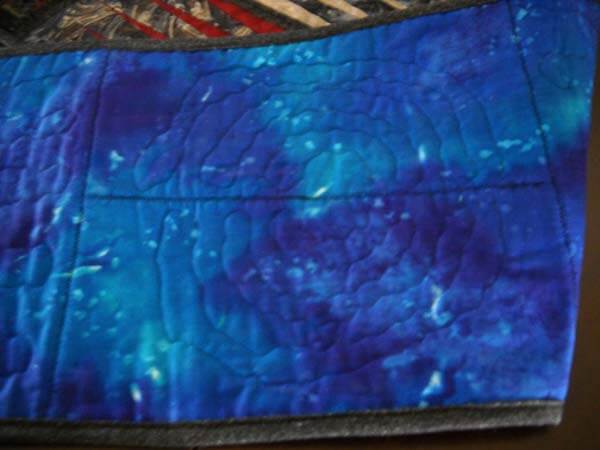 Here's the finished table runner, which is absolutely perfect on the table. It will work with any of the leaves when we put them in.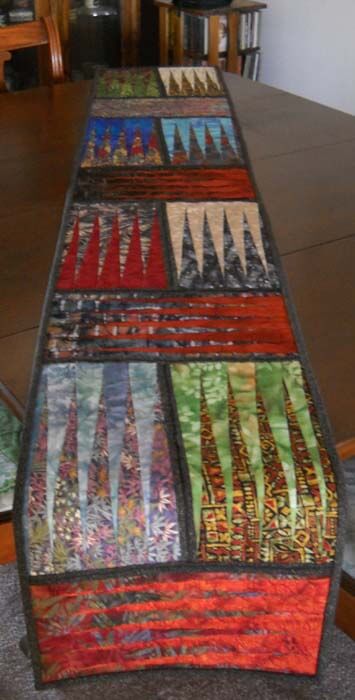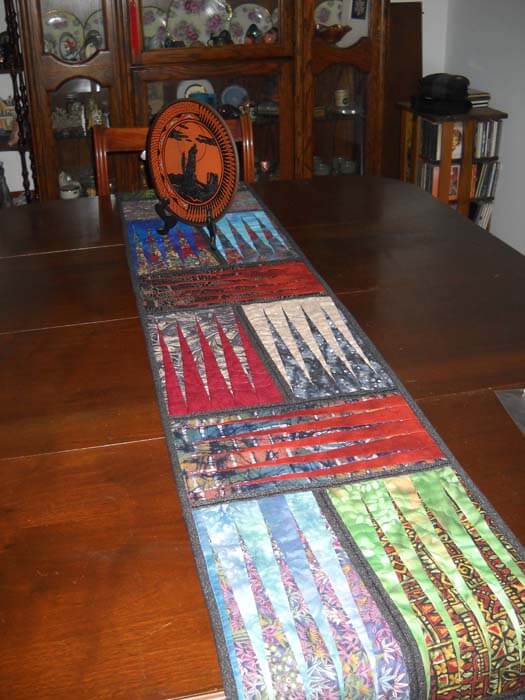 Then I was feeling somewhat at loose ends. I had been watching The Quilt Show and following the color lessons from Michelle Jackson. I decided to do the first color study, and again I learned a huge amount. The first lesson was really interesting, especially since I have a lot of trouble choosing and working with color. This was to take  a monochromatic color and determine dark, medium, and light. I chose greens, because I have a lot in the stash. I discovered that when I'm choosing, I really need to analyze tones and hues. I also need to be sure there is definite contrast. The first study I did was the one where you had a light, medium, and dark, with not a huge amount of contrast. I did not have enough contrast within those three colors.
I also was working with fusing for like the second time ever, and my pattern pieces were not always meeting up. I spent a lot of time trying to make this piece look like something – going back to linear me and not being able to just work without it having to be "something."
I finally got all the pieces ironed down, and I felt I was moderately successful. Mostly because I learned a great deal about choosing the colors. I was still trying to figure out what to do with the piece. Yes, it's just an exercise, but the linear part of me needs it to be "something." Ideally I want to be able to work with light, medium, and dark marbled fabric, but I can see I have a long way to go.
Again, I couldn't figure out what to do with quilting it. I tried out one decorative stitch and didn't like it. I reverted back to the satin stitch I was doing two table runners ago. All of a sudden I began to like the piece more. It began to look more "painterly," and pretty abstract in a pleasing way. I ended up binding in, and the piece would work as a nice little runner or table mat for a vase. It's going up in my Etsy store.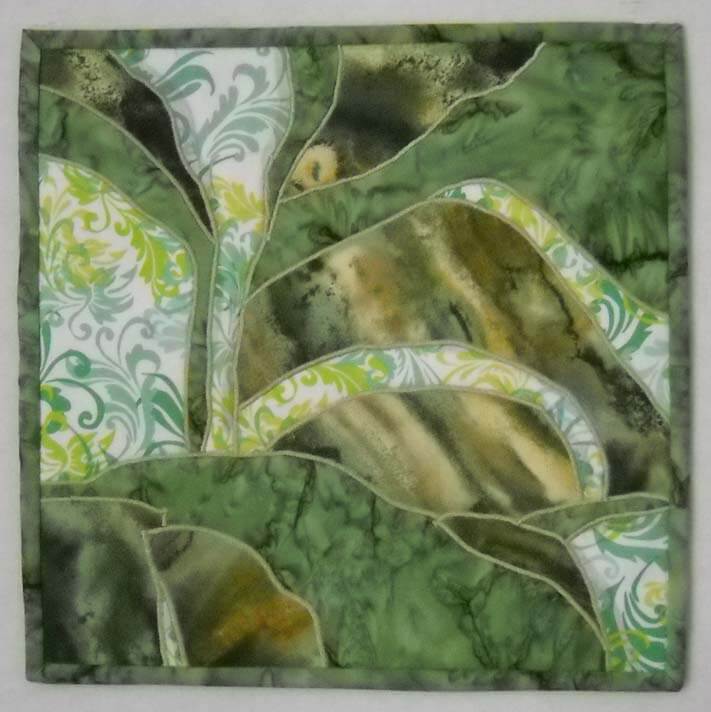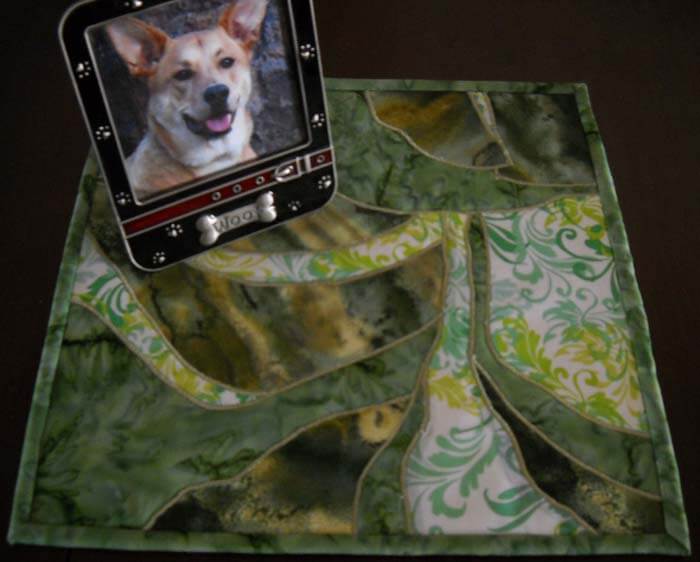 Who knows where I'm headed next? There are 6 placemats to finish…..

I think I'm really glad that blog posts slow down over the weekend, because it gives me a chance to get caught up on my reading! I go through the list about once a month to delete those I don't find as fascinating any more, but the problem is I keep adding at a rate faster than I can keep up with! Reminds me about all those lessons on exponential growth……
And….this is post 700! Who knew?
From the Best Article Every Day comes this little gem, and please click on it, because to show you a preview would ruin its sweetness.
This next is part of a TED talk, and the video is superb. Subtitled what goes on in your garden when you aren't looking……

From Letters of Note comes a wonderful letter by ray Bradbury (who will be sorely missed) about the initial writing of Fahrenheit 451. What a great example of creativity!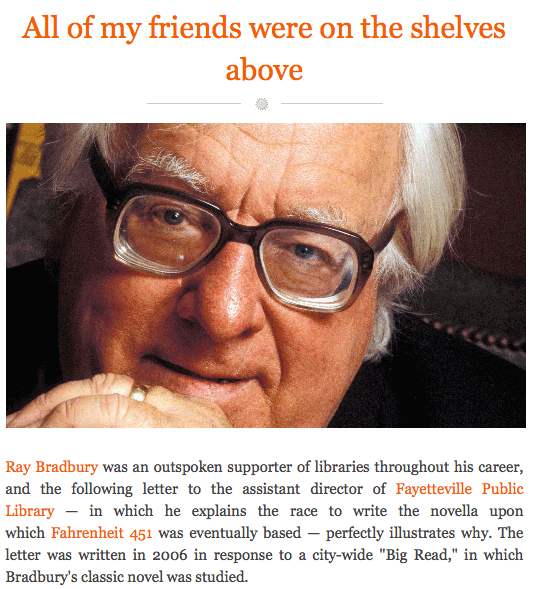 From 365 Project comes more fabulous photos. Love the colors and reflections in this one!
From Cool Hunting comes a really great idea for a family getaway!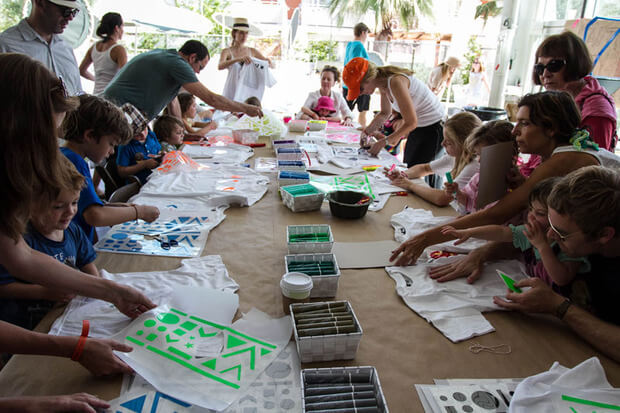 I discovered Ranae Merrill in one of the episodes of The Quilt Show, and oh my, is her work wonderful! She makes doing a spiral quilt absolutely simple. Who knew?

Speaking of The Quilt Show with Alex Anderson and Ricky Tims, I have been enjoying the currect episodes, on all kinds of new techniques, plus a class on color. Really outstanding material. Here's just a selection of classes: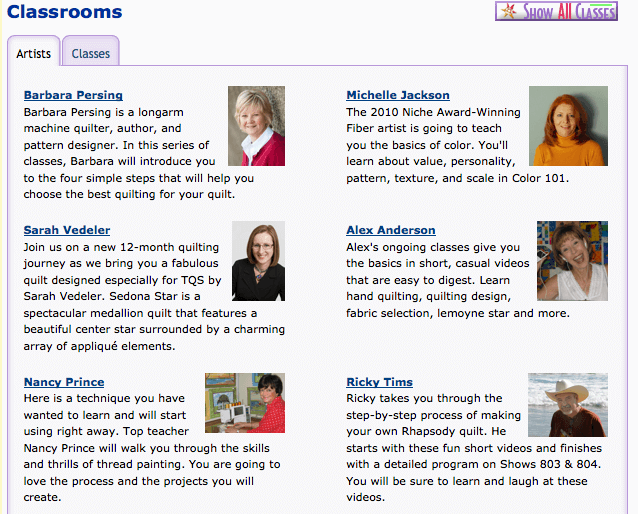 A great tutorial from Quilt Play on making some cool-looking "tree" blocks with paper piecing – called red herring blocks. I need to try this, as I can really see them fitting into a project I'm doing.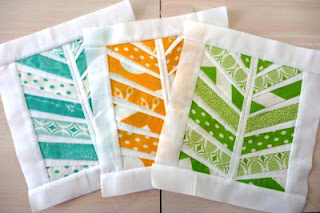 From the Bill Moyers blog comes the Peace Map, a way of looking at how peaceful countries are around the globe. Very interesting graphic, with some surprises – and some not-so surprises.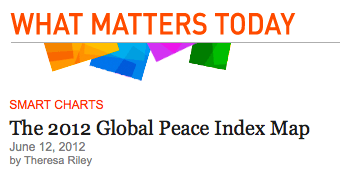 More eye candy, especially if you are in to hand dyes. Vicki Welsh does some amazing work, and she has a new gradient – rolling fog. I want me some of these!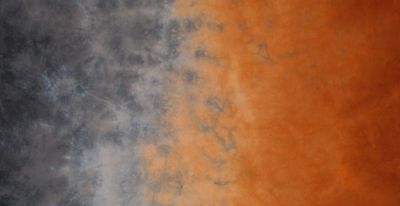 Have a great week – let me know what you find on line! Newsletter is coming in a week, so sign up in the block on the upper left if you want to receive "Out of the Marbling Tray."