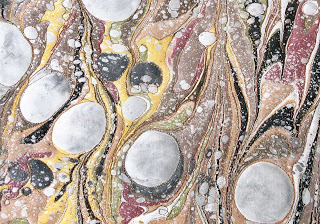 I had a couple of questions about one of the denim pieces posted yesterday. This is a piece of white denim, about 9 x 12 inches, marbled in a stone pattern and quilted heavily. It's a very organic design, and I wanted the quilting to reflect that. The piece is available on the website – and, hey – I'm willing to bargain….
Just got home from our monthly art group – we had a great time! I didn't want to go, as I was having problems with lesson plans for tomorrow (like the computer ate the finished copy and I had to redo everything), but since I'm the organizer, I felt I should be there….
We had a really good time! Lots of new show-and-tell. I brought a piece that has had me stumped with no Wow factor. Showed it, got feedback – everyone loved the marbled fabric – very serene – the suggestion was to change the color of the border and then the blues within the piece would pop. Perfect!
We have decided to do our first show together. One of the high-end shopping centers has their annual art fair in November, and with the 5 of us, we can split the fees and make it very do-able for all of us. Next month we are meeting at the home of our clay artist to talk about how we need to price our work. So this week I have a lot of planning to do to get the paperwork in and get everyone with a list of things to do prior to October.
We also had our jewelry artist, who is also an accountant by day, talk about some of the nitty-gritty of setting up your business. For the time being, we will be working under her business license until our other artists make some decisions about the directions they want to go in marketing. This way we can all see just how "happy" we are doing this type of show.
I feel like the momentum is back – but I know, since Thursday is a half day, that I will be spending all afternoon at school getting caught up for this week, so I can have the weekend free for ART!