Sometimes a piece of marbled fabric just begs to be used more than once – or find rebirth in a new form. That's how our Digital Marbling (TN) was born. Playing around with the fabric and Photoshop leads to some very interesting effects. One thing I am hoping for with all this playing around is the development of some fabric lines, so I'm working on the idea of repeats right now.
Over the last decade or so there have been several runs of marbled fabric designs among some manufacturers. While the patterns are bold and colorful, I think there is a missing element in designing marbled fabric. A variety of colorways, bolds and subtles, and patterns that look like they would be easy to work with. I know when I started making fabric in 1993 it seemed like I was only comfortable putting the bold colors with blacks and whites. I want more flexibility, and to a certain extent I have found it.
But as I work toward designing fabric, I'm using these new artistic creations as my learning. In our newsletter, I posted a pic of "Alaskan Whales," a piece my digital partner Suzan and I had entered into a show at the Cordova Historical Museum in Cordova, Alaska. It was our first really successful digital collaboration, and I'm going to pull it apart for you.
Here's the original piece of fabric. I am amazed at just how blah that piece of fabric was, yet there was something appealing…if just means you have to do a lot of playing around to see what happens.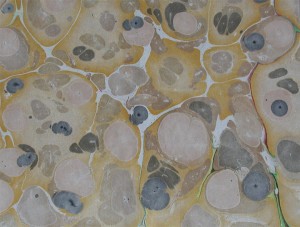 This is the same fabric with a duplicate copy and some adjustments added.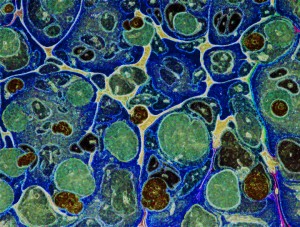 Now it's approaching the water effect we were looking for. Then we looked for a graphic to use. We liked the whales, just rotated them a bit. We also added some adjustments: bevel, outer glow, some transparency. It looks like there are extra colors added, but it's a transparency with some curve adjustments that adds in the extra colors. There are a few more things done to this piece, but I have an old version of Photoshop, so it doesn't show.
Here's another version, saved from the layers we chose not to use…never know when you will come across something unusual with stuff you didn't throw out, but just left "invisible…."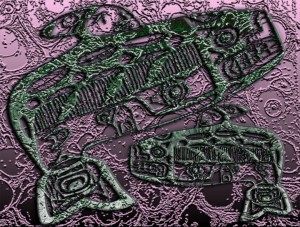 All in all, loads of fun!
Who's manipulating fabric digitally? I'd love to hear from you!
Don't forget to become a subscriber and be entered to win some marbled fabrics. Check the box at the top right.