I was hoping, when I started a regular pattern of blog writings, that I could do some marketing on Saturdays – hence the "Saturday Special." This has not been my most successful day because I can't keep up with changing images, especially since Cafe Press isn't as "intuitive" as I would like it. I did set up a friend's store – The Edge of the Sea of Cortez – and you will see some really cool sea creatures, many of whom are endangered. Betty Hupp is the co-author of "The Edge of the Sea of Cortez," a book about the sea creatures you will find tide-walking. Check out the store for an indication of some of her products, with more to come.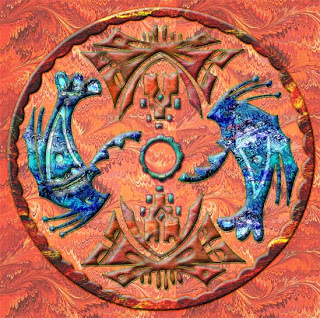 I really like this image, created a few months ago, and part of the "Indigenous Images" series I am working on. I put this on a t-shirt for this week – limited time only! I also have this image on a small ornament – looks really cool.
Digital Marbling (TN) is unique – I take a piece of marbled fabric – or two – and manipulate it to other intriguing images. Loads of fun to do. I am learning a lot about photo manipulation – what an amazing field. Were I younger, I think graphic design would have been my career field.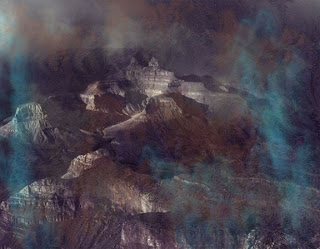 About a year ago I created a great background, and my digital partner Suzan used a shot she had taken of the Grand Canyon – makes for a very dramatic image. You can find this on notecards this week. The image is also available on a small magnet.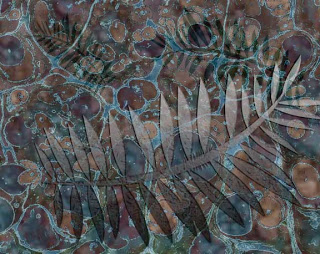 Also over a year ago I started my "Fossil" series, again from a traditional marbled stone pattern on fabric. The background has loads of possibilities! It's available as a small poster this week and as a small mug.
Have fun exploring! If you are interested in Betty's book on the Sea of Cortez, here's the Amazon link.