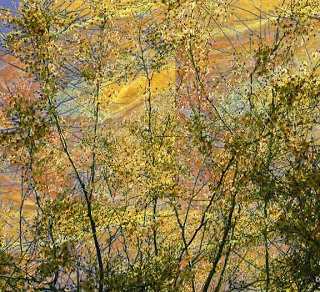 I worked with Photoshop for a while this afternoon, and NOTHING clicked – no tutorials, no playing with filters, nothing. The photo at the left is one from a while ago – I was working with blending modes, and added a background of marbled fabric for an interestng sunset effect. Rather than push it and get more frustrated, I put the work away (saved, of course – ya never know…), and started getting caught up with some favorites on Twitter. What an amazing source of great articles and ideas!!
Katydid Designs is offering an e-course starting September 7: Multiple Streams of Income. I've taken a couple of Photoshop classes on line and had a great time. I took a blogging class on line (31 Days through Problogger)) and learned a huge amount – so much so, that I have spent the summer really working on some marketing ideas, getting a support groups together, and of course creating some new art (marbling tomorrow and doing more paper – yay!).
My art is my stress-reliever, since I am still teaching full time, but this year, with Arizona ranking 50th in the nation for support of education, everything about the job, paycheck, hours, and class sizes is up in the air. After being able to spend the summer creating art, I am really concerned with the lack of time come next week Wednesday. I still have a number of years before I can retire and work at my art all the time. So I am looking for other opportunities, and I learn really well on line!
If you answer "yes" to any of the following, you might want to consider checking out this course.
* Are you struggling to make a living doing what you love?
* Do you feel like you are working all the time and getting nowhere?
* Do you feel overwhelmed and confused about all the ways artists and crafters can make money?
* Are you always jumping from one idea to the next without following through on anything?
Laura Bray, an artist with an M.B.A., will teach you how to create income by doing what you love. Specifically designed for the creative personality, this online course will teach you how to develop a successful business and how to have fun while you do it.
* Learn that creating multiple streams of income is the fastest way to reach your financial goals while making a living a doing what you love.
That has been my goal all along, but I just can't seem to get it together. I am interested in hearing from those of you who are having good luck with this.
* Learn how to leverage your artwork and projects to make money for you over and over.
I have an idea about this, and that's how I got into digital marbling (TN), as a way of getting more mileage out of a great piece of fabric.
* Learn how to create passive income. You can be independently employed, go on vacation, and still make money!
I am so intrigued by this idea….
* Find out the many ways an artist or crafter can make money from their art. You probably haven't even thought of some of them!
I know eBay has been okay for us – would love to increase weekly sales. Etsy seems stagnant… what else is there?
* Learn from experts in creative income areas such as; online selling, art licensing, children's book illustration and craft shows.
I want ideas!
* Create a personal business plan, outlining your income choices and the steps you need to take to make your plan a reality.
There's got to be more to what I am attempting – and not having any successes!
So think about it…and keep making your art!