Posts Tagged 'works in progress'
…and there are a lot! Four quilts lined up, including the one you'll see pictures of here.
We have a really great friend here in Tucson, and several years ago I made her a lap quilt as a birthday present. Trouble was, she can't get completely covered under it when she wants to take a nap on the couch. So I decided for this year to make her a bigger one…..turns out I processed "66 inches" differently from 5 and a half feet. This is one big quilt! It should easily cover his double bed, which is exactly what she would like.
I am using a pattern I saw from Geta Gamma from Romania – I loved the design, especially the quilting, and am doing it in shades of purples and blues. It's getting quilted to within an inch of its life! Needless to say, I am getting very good at free motion quilting feathers. The stencil work has been interesting – at one point I forgot about the registration marks and turned the pattern, but I am the only one who knows that.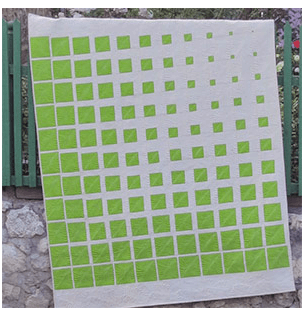 I caused some bleeding with one of the fabrics when I attempted to use a stain remover to get out the rest of the gray chalk marks. I will need to use a little paint to cover that up. I have 8 days to finish – started about three weeks ago, and I should make the Christmas deadline. It is really looking good.
It is a little tough on the shoulders, cramming that quilt around under my trusty Bernina 1008, but I am getting much better at that. Thankfully the remaining three quilts are all much smaller. After this one, though, I am taking a quick break to do some traditional blocks in a Hawaiian theme for a block of the month, making a queen size quilt for my own bed…..then back to the list!
Some progress pics of my version –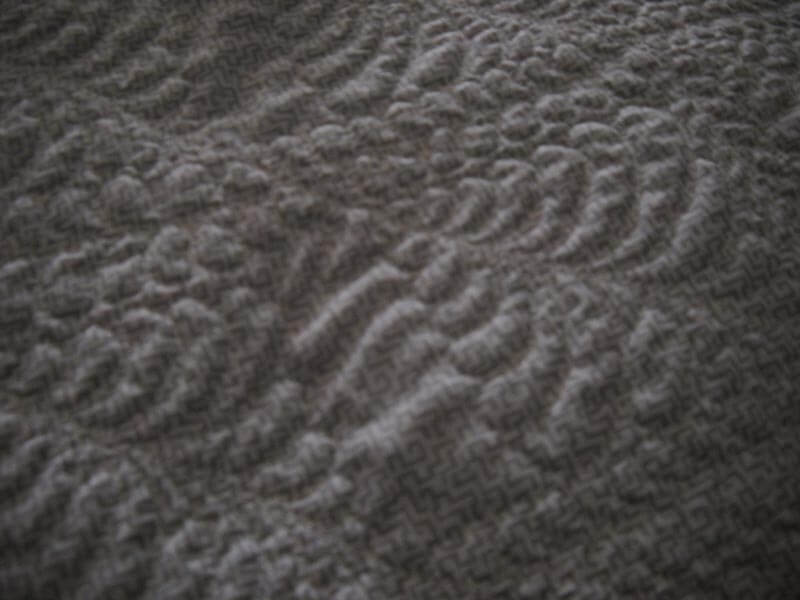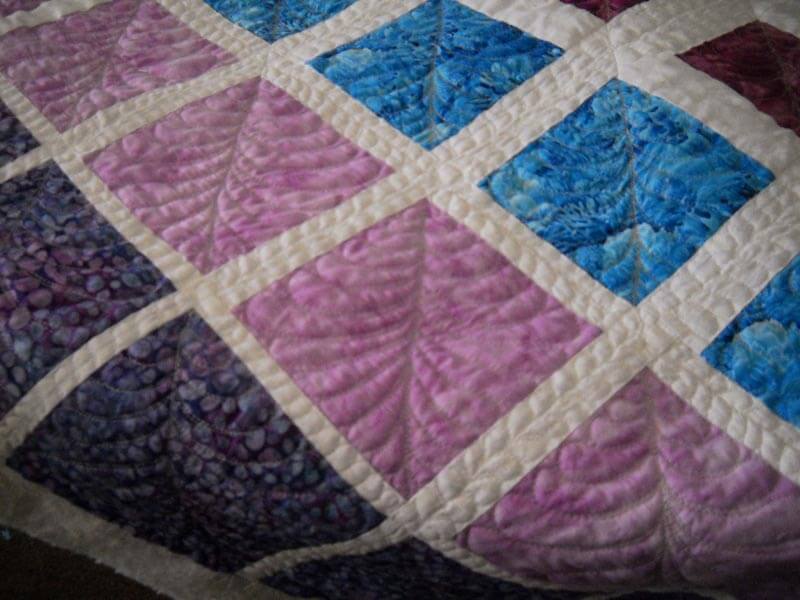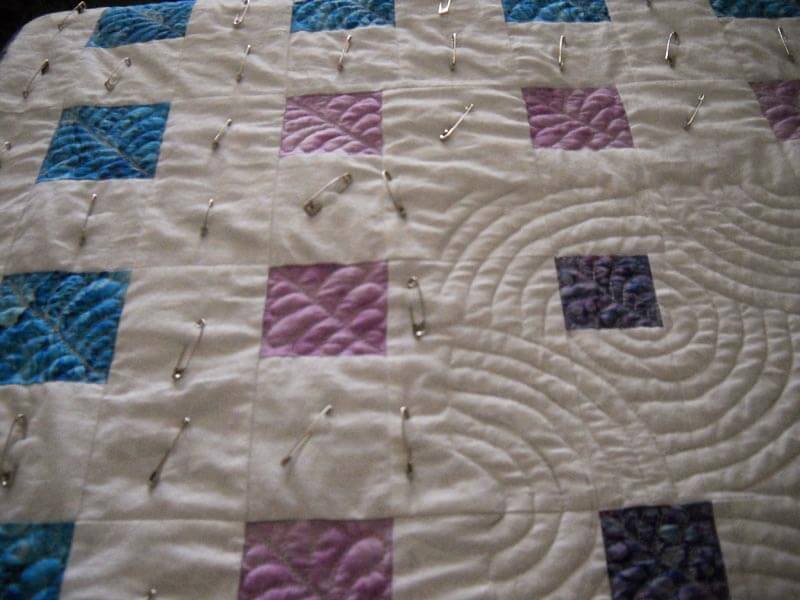 Sweet hubby helped with all the pinning…..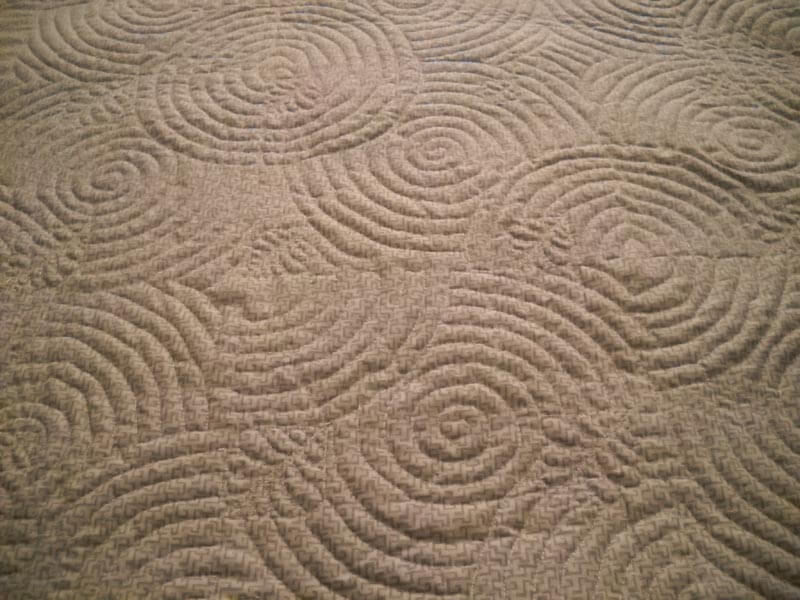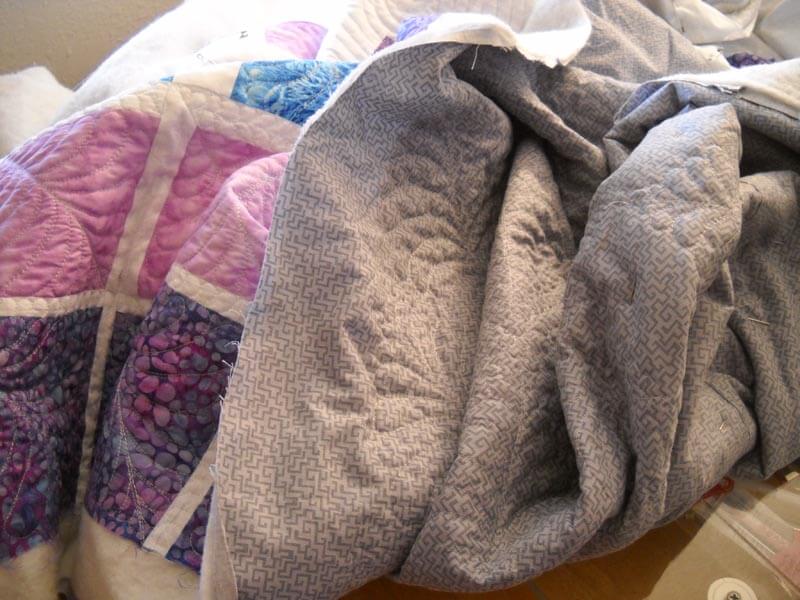 Wrestling it under the machine….it's looking gorgeous!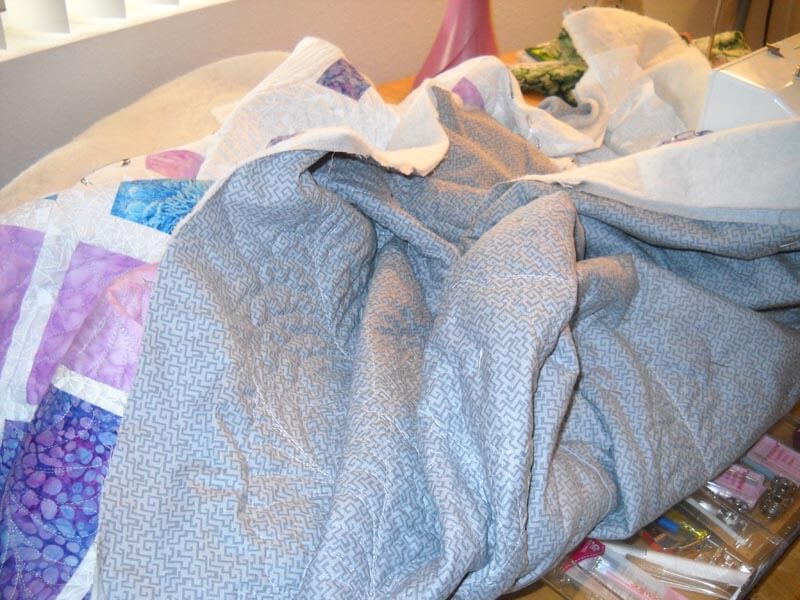 If you remember last week, I was about finished with my little autumn quilt/table runner. You can see the process here. I finished it this weekend, and today we marbled a piece for the winter piece. "Marbled Seasons" will shortly be available as a kit – all the seasons, or just one of them. I am writing the pattern now, and by the end of December should have all the quilts completed. They would also work as table runners. So here it is….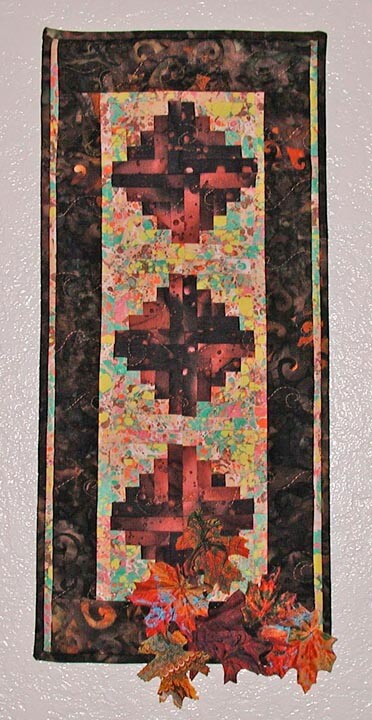 There are plenty of variations in this pattern. "Autumn Marbles" will have hand-marbled silk leaves in the kit, as well as directions for the "windy" free motion quilting. There is enough marbled fabric to add another set of log cabin blocks to make the quilt a little longer. The strips in this block all start out at one inch. the two different browns in this, as well as the backing, were from my stash, so you can "shop" at home for extra fabric.
I have started my next major art piece, from a piece of fabric we marbled over ten years ago. It's time to do something with it. Here you see the marbled unpolished satin with its backing. I was auditioning threads.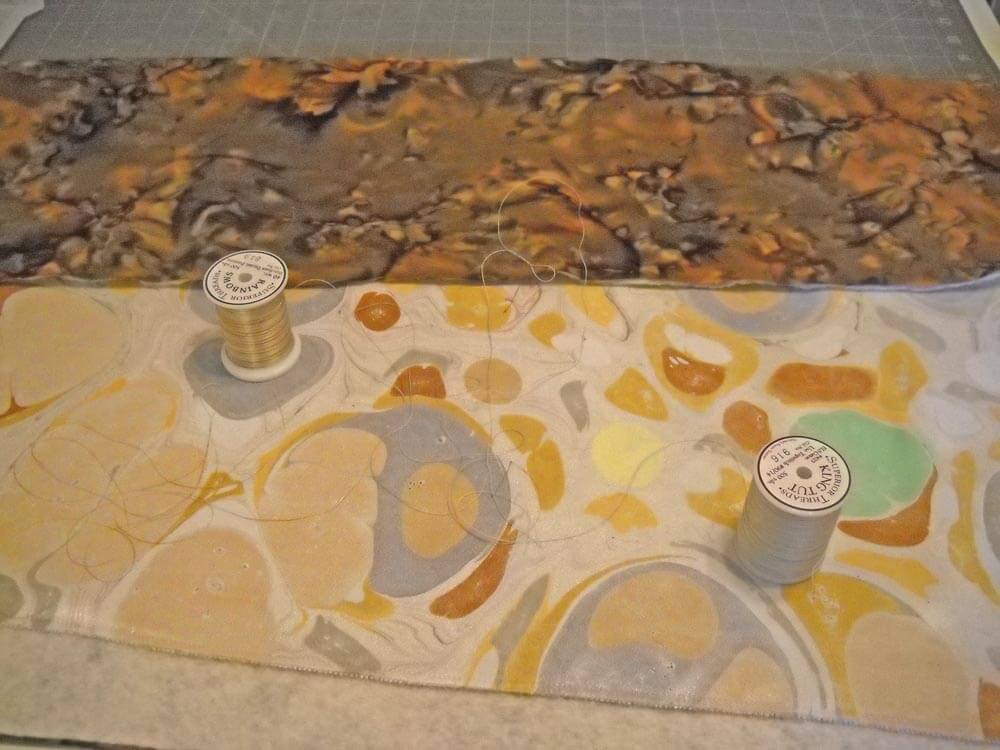 The piece itself looks very flat and pretty uninteresting. It will be a challenge of my new skills to make this do what my mind wants.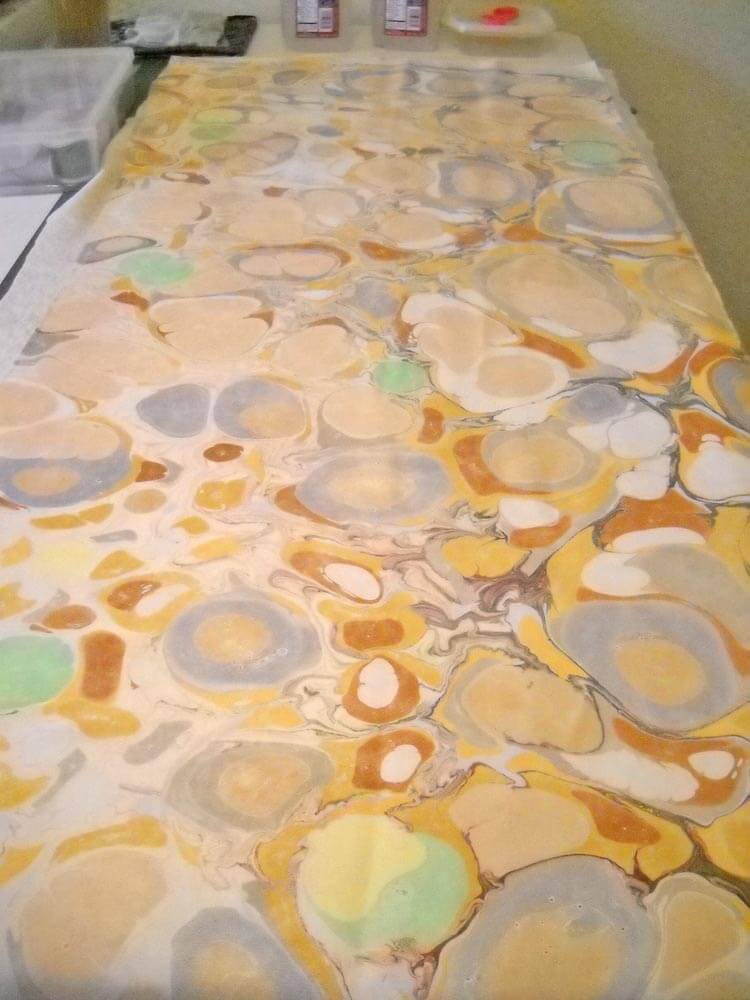 This piece is a little over 18 inches by 54 inches. We did it when we still worked in the big tray. The additional years make it very difficult for us to work longer hours and do larger pieces of fabric. So I am hoarding those pieces I still have.
A closeup showing some very interesting veining within the piece. That needs to become a focus point.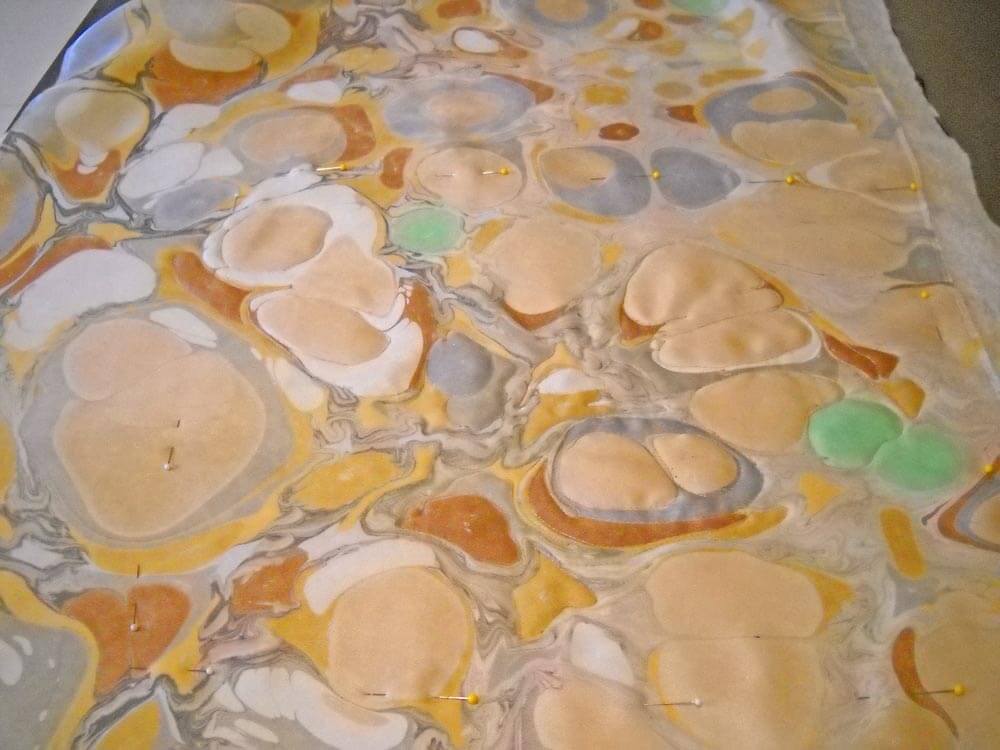 I have started the basic "first level" quilting. All the stones are getting outlines. Already a lot more interest.  Those two upper right beige ovals have been taken out, requilted, and lay a whole lot flatter.  And, you won't see more pictures until finished and entered……..