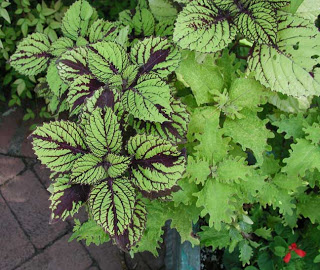 Last fall when we went walking in the Botanical Gardens, there was an absolutely beautiful coleus plant in a pot. I sat and sketched for a bit, trying to get the wonderful purples within the veining, without much luck. That was the picture I pulled up to work on this evening (before I head to bed to nurse this cough). I've tried a few different croppings and realized what I don't like about them. I settled for this one to play with.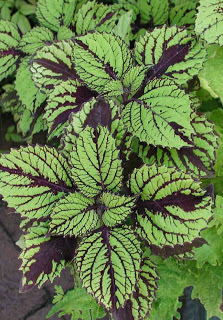 Since I've learned about layers and all the effects, I can try new things and "turn them off" when I want to try something else. It certainly frees the creativity. Then I can also combine some of the layers for even more effects. All of this in preparation for a page on the website of garden photos.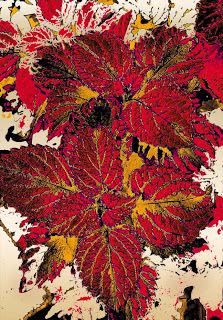 This is a couple of filters combined – ink and accented edges. This is on top of various gradients that I'v already tried. I'm partial to this – I can see it made into fabric – check out spoonflower.com. They'll print custom fabric, and it's pretty reasonable. I've actually seen (and grown) coleus in these colors.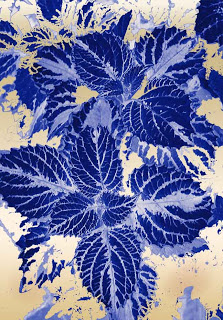 This one reminds me of some of the older fabrics used in Hawaiian shirts. I got quite a few of those effects with the gradients. Also – great possible fabrics. With the bottom one, again very Hawaiian – I can see it in a typical Hawaiian applique. I tried a film grain and cutout filter combined for the effect.