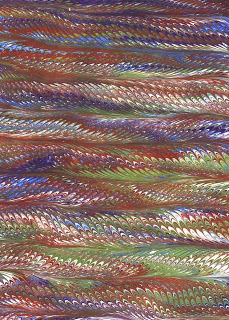 After all these years of being self-taught marblers, we were able to take a workshop with Galen Berry, from whom we get some of our supplies, and who also happens to be self-taught. What a great 6 hours last Saturday!! Even though this was primarily a workshop on marbling paper (and did we ever learn a lot), everything was applicable to us as fabric marblers. We came away with lots of ideas for new patterns, better quality paints, more vibrant colors – and we discovered a number of reasons why some of our sessions aren't working.
This top piece is what we call our horse feather pattern, and we were able to get good vibrant colors on the paper – in cookie trays, no less. The reds are some of the best that we have tried. We stocked up on a bunch of his paints (especially since we didn't have to pay shipping), as well as materials for new brushes, some ox gall (which we've never used before), and a few other goodies. I'm glad we both did the workshop – there were lots of glances between us as we would have an ah-ha moment, and we couldn't stop talking about trying new methods.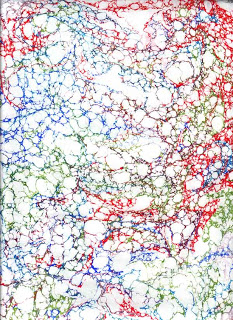 This last is the "Italian vein" pattern, and I used to wonder when I went through marbling patterns, how it was ever done. Well, lay some light layers of paint, and then use a small water sprayer with a little ox gall in it, and it causes the paint to move together into very fine lines. Who knew?