I haven't had much time on Photoshop these days, and I have been missing it, especially since I have some "ideas" to pursue during this year. So I decided to take one of my really scrumptious pieces of marbled paper (see the post below) and play around with it. The pic on the side is the result of a couple of filters – this one is the "conte crayon" with colors picked from within the original piece. I wanted something new for the blog posts, as the headings have been the same for going on two years now.
I also did a rendering of the full sheet of paper in black and white, through the "blur" filter. I had forgotten how to do that, and I really like the "deconstruction" to a basic line. I can see lots of possibilities with this one – I want to look at some gradients the next time. There is such texture and movement within this piece in the black and white – which you know from previous posts I really love. I think I'd like to drop bits of color into this one just to see what would happen. I also did loads of other filters, just to see, but I am quite taken with this one.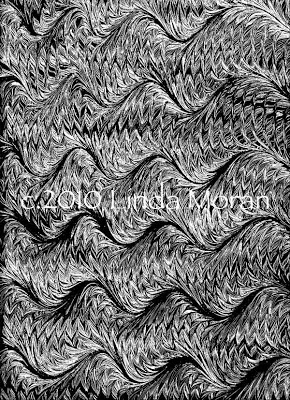 We have a couple of new pieces up on Ebay this week, including this scrumptious piece of linen. You can find us here on Ebay.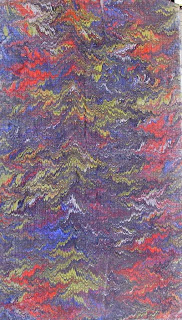 We had an enjoyable day yesterday down in Tubac, a small arts community south of Tucson. Dontcha just love this bird house? And how about winter in the desert? All in all a nice weekend!