It has been a very nice, relaxing few days, even with being sick. Saw Charlie Wilson's War, which was excellent, even though I dozed through some of it. A great historical "if only." Today we saw National Treasure, Book of Secrets – lots of fun, though highly improbable. Been to Mt. Vernon, Mt. Rushmore – always fun to see a few of the places we have been.
Worked last night on a new piece, and again today. Both easily came with titles. The first – Lord of the Rings – the original is a great piece of Japanese silk, marbled in dark greens.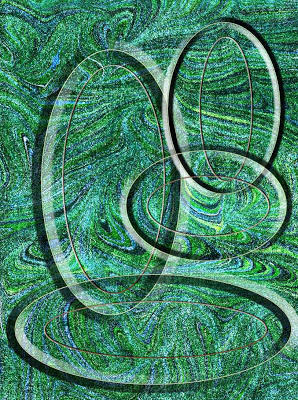 The second – Fossils – from a great stone pattern, marbled on linen. I am finding I like adding shapes to the pieces – need to see about developing my own library of shapes.