We marbled again on Saturday, and lately we have been trying something new…using leftover fabric and marbling on the bottom of the tray. We first tried this about eight years ago, when the bottom of the tray, as we were cleaning it, looked to have a really interesting pattern. We laid a piece of cotton to see what would print, and we got a great "geologic" design. Three weeks ago we tried the same thing on some left-over 16 mm silk and got two great pieces. In fact, one of the pieces became the basis of our first try at serious digital art.
This is the piece we tried a couple of weeks ago: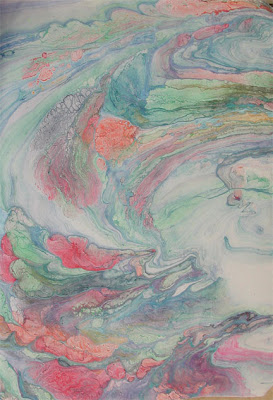 The colors are soft and muted, with just hints of some of the complex patterns and colors – the color comes from scraping the bottom of the tray as we start to bail the liquid and scrub the tray. Lately we have been trying silk, which gives a great feel to the finished product. I still want to try and quilt the finished design, but haven't had any inspiration yet.
And this is it after some serious manipulation with Photoshop (flower by Dean)……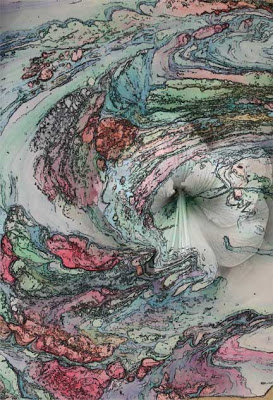 This is not what we submitted for the digital show, but it gives a good idea of what we are after. This is another piece from yesterday's session, left-over camouflage colors, after working on a gift for our great-nephew.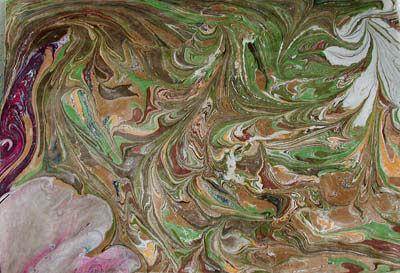 Now on to lesson plans for the week before I can play again…..