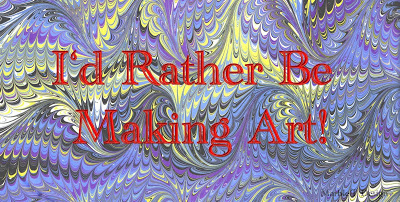 Ever since Anne over at El Milagro Studio posted her extremely cool coffee mug, I have been revisiting the folks at Zazzle. I set up a store there probably four years ago, but could never quite figure out what to do. Fast forward to this weekend – I spent three days reading documents about Zazzle, viewing other sites, and then playing around with some of my marbled patterns – spent yesterday evening scanning our marbled patterns so I would have some really good stuff to work with. Had some quirks in Photoshop – seems like it quit after scanning and manipulating three sheets of paper, so I restarted the program 5 times…checking today to see it never actually saved some of the papers, so I need to rescan them.
Add a few more hours today, a lot of thinking while walking today, and I have a store set up, and my first product completed. Hopefully new products will go a whole lot faster!! The above image is now available on a coffee mug – I have to figure out how to get the pics on the blog, but at least you get the above shot. You can also click here to go to my beginnning efforts.
I think as I approach licensing that this might be a good way to start, as I explore the field. I've been doing lots of reading, as that is usually how I approach something, so stay tuned as I explore and no doubt learn lots more!