I had an Etsy store about two years ago, with a grand total of four items in it. I kinda let it go inactive, since I wasn't doing anything with it. After doing tons of marketing reading last spring and summer, I reopened the store, still not quite sure what I would be selling in it. I started with a few marbled cards from my digital work, put up some marbled remnants, and then I had a bit of an epiphany.
I'm selling art on the website, why not also list some of that cool stuff in my Etsy store? So I did…and then I realized I could list some great art cloth fabrics, and write better descriptions and provide better pictures. And…I sold a piece of hand-marbled art cloth that had been listed for maybe an hour.
Cool. It's a gorgeous piece of fabric, and the picture doesn't really do it justice at all.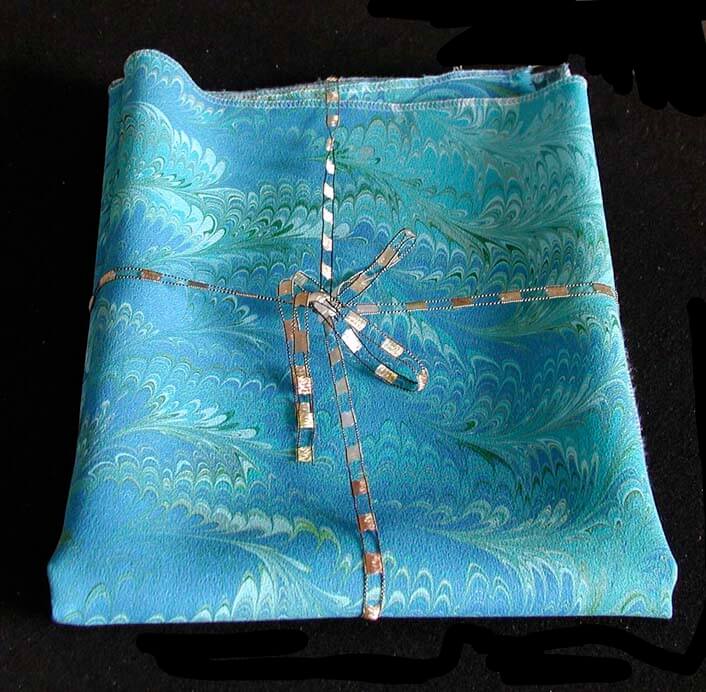 But I had the nicest message from the buyer: I have no idea what I'll do with this shimmer of color, but I will honor your work and its beauty.
Wow. How cool is that? I know this amazing piece of fabric is going to a good home, because I always wonder about my babies and where they end up.
I will say there are other great piece in my Etsy – pieces I've held on to because they're so gorgeous, but I also know the reality is I will probably never get to make anything with them. As it is, I put three pieces back in the drawer for me and "someday"…and I'll be listing a few more tomorrow.
Ebay continues to be slow but somewhat steady. I'm sure the economy isn't really helping us, but hopefully the holiday season will be better to us. Cafe Press – well, it takes time to rotate items and create the graphics for them, and time is one thing I don't have a lot of these days. Plus, I gather from all that I have read on Cafe Press that you have good luck with sales if you have an active store – not something we can budget for at this time.
I would love to hear from all of you out there who are running your businesses on the proverbial shoestring. How do you decide where your dollars go? What have been good outlets for you? And how do you maximize every dollar spent?
PS – Newsletter will go out sometime this week. If you're not a subscriber, you won't be entered for a chance to win some marbled fabrics. Check the box at the top for more information!