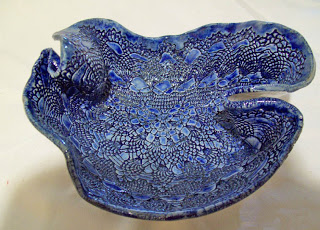 The work in progress this week is my friend Yvonna, who has rediscovered her artistic side – and wow! Her clay work is absolutely amazing!! I first saw some of her work when we were still teaching together. She brought a salad to our school potluck in this gorgeous bowl that she had made. I tend to find pottery somewhat boring, but this bowl was truly amazing! She has been taking pottery classes at Parks and Rec for the last couple of years and just now bought her own kiln.
She started focusing in on texture in the clay – lots of natural textures: pine cones, cactus spines, leaves…and now she's using old laces. I am having severe pot envy…..
I know one other clay artist, my digital partner Suzan, and her bowls are perfect, wonderful glazing and shapes – a wonderful serenity to her work. Yvonna is at the other end of the spectrum – her work shouts "Look at me!" I'm trying to get her to start writing her blog – Talking Clay – but we'll have to push her….she just doesn't think her work is that good. Au contraire!
So here's some eye candy for the day – enjoy her work!