My thread arrived yesterday!! Lots of new greens, so I want to start in on the bamboo leaves tomorrow. Expect an update next Wednesday – and maybe even finished….
I wrote a while ago about using some dvd's for professional instruction and how much I am enjoying this new manner of learning. One of the dvds was by Carol Taylor, about design. She called her method "arc-i-texture," and by the time the video was done, I wanted to try it out. A long-time friend has twin girls whom we got reacquainted with in Vermont, so I am making them housewarming presents. Shelby likes greens, and Brianne likes blues. This started because Shelby gave me lots of small pieces of various silks to try and marble. For whatever reason (I think too much sizing) they didn't marble well, so I decided to use them for this project.
While I finished Shelby's, except for the facing, here's Brianne's to show you how I started out.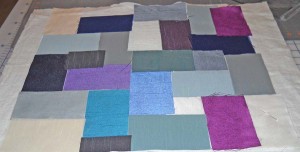 All I did was arrange some rectangles into a fairly pleasing design. At this point, ho hum – doesn't look like anything. The next step will be to anchor each of the pieces, which I will do using a satin stitch on each of the edges. That will provide another layer of interest. Once that is done, I will couch down a variety of threads for a third layer of interest. What I found with this project is that as I attacked each new layer, the piece not only became more and more complex, but also more interesting. Here's Shelby's, so you can see what the final piece will look like: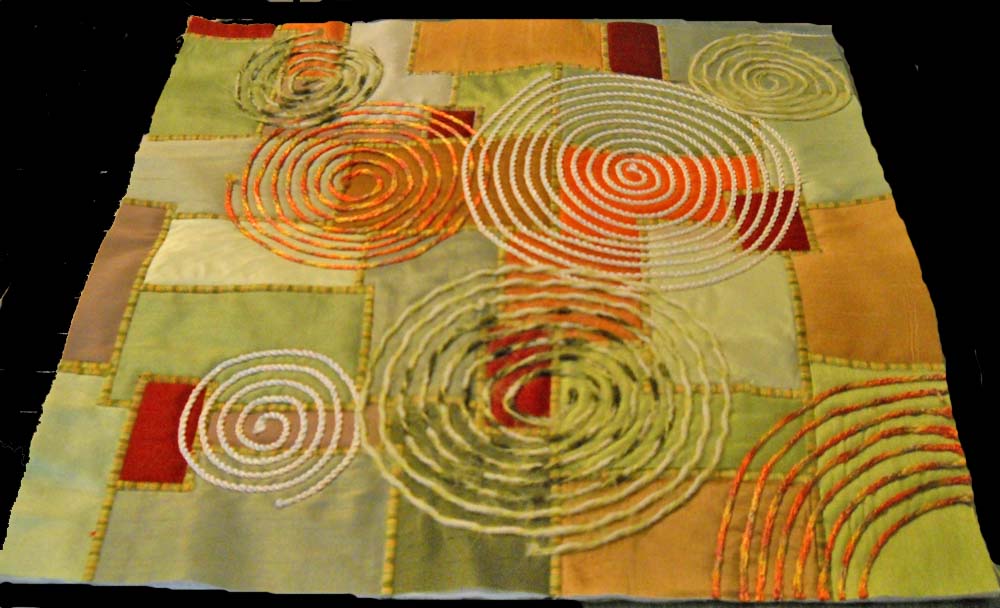 Way more interesting! While I have a couching foot, I haven't used it before this, and I do like how it works. I learned to give the yarns some play and let the machine and the foot do the work. Next piece shouldn't have the drawing up of the fabric from my pulling the yarns. I will say for the blue one I tried a whole bunch of stores trying to find some interesting yarns and trims.
Carol mentions in her video that she's made something like 400-plus of these, and I can see getting addicted. I like the sheen and play of the silk, especially since the "nap" is going in different directions and takes the light differently, but I want to play with some lights, mediums, and darks from my stash for the next couple.
I want to know what videos and dvds you've watched for instruction and inspiration!
2 Responses to "Work-in-Progress Wednesday"