One of the things I did last year at the start of the calendar year was to try and do some sketching every day. I succeeded for about three months, and I learned quite a bit. First, I don't do well trying to do large background scenes. Too much to concentrate on, and I would have trouble with proportions. Second, if I started with one particular line and worked from there, I could get a piece I was happy with. Third, my inner critic really liked the eraser. Fourth, people are still a long way away for me. And fifth, I could experiment with different pencils and edges – not all pencils are number twos, and pencils do some really cool things.
I used to do a lot of work as an adolescent with India ink and pens – the old-fashioned kind that you would need to load each time you did some strokes. Quite an unforgiving medium, yet one I really enjoyed – until I was told I didn't have the talent to make it as an artist in New York. At 12, who knows what that really means?
So I was tentative with the pencils, and by the end of the three months, I was choosing subjects more easily, and erasing a lot less – and using the edge of the pencils for interesting effects. But mst of all I proved to myself that I really could "draw." That was probably the point of the exercise for me, and I could see how much freer I got as I practiced. Could I have done a sketchbook any earlier? Maybe not, for I was still so bound by the image "having to look like something good." Now that I'm older, I do it for myself. Maybe though the discipline of sketching every day would have helped me get to that spot earlier. I don't know – I think I would have turned off to art even more.
Here is a rose in bloom, the basic with some shading. It occurred to me as I was beginning my Photoshop work that I could use my own sketches and add color, rather than actually working with colored pencils – which still put me off, unless I am doing something "poster-like."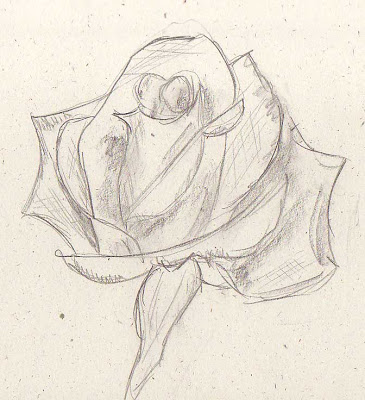 I worked with a small brush and some pink – kind of like the effect.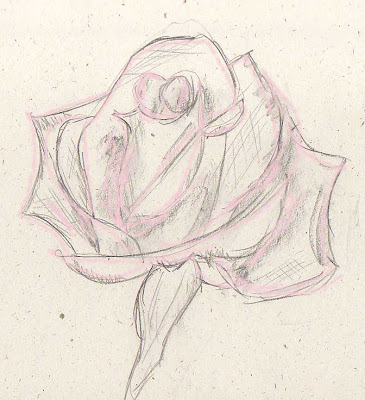 Added two more pinks to the mix. You can see just how tentative I am – this could use some practice, and I think I could get much better at applying color.