Archive for the 'Textile and Fiber Art List' Category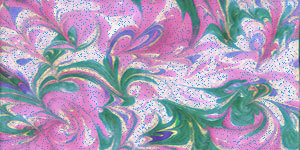 Linked In has been giving me lots of new connections and interesting articles and websites to follow. One of the articles was on ten online sites to sell your work. I'm planning on combing through each of them over the next month or so, but here is the list, with some preliminary thoughts. Also, cost is an issue – at this point almost everything we do is based on free stores, with commissions off sold pieces or listing fees.
Ebay – obviously. For many of us, it's the first place we started selling. You can see a sample of what we have for sale at the link. We've done very well selling remnants and some larger pieces of fabric – but definitely no larger fiber art pieces. I don't think Ebay is the place to sell fiber and textile artwork. That said, we do have a pretty good following of repeat customers. We've been selling since 2004 – the first time we listed two items it took us 2 hours…..there was a steep learning curve at the time, but once Paypal resolved its issues, and we figured out how to title the items, we began to build our base. It does take time.
Etsy – slow going here, but part of it is learning how to build up the shop. Three years ago I started a shop and it had maybe five things in it….and I did nothing to promote the shop. A year ago I revisited the shop, had ten things in it, and still had no idea what was going on. With still teaching full time, I wasn't able to get the marketing going to get it known. Along come the Textiles and Fiber Arts List with an emphasis on getting publicity for our Etsy shops. I started looking around, and besides art pieces, I am stocking more pieces of marbled art cloth, at a higher price than what goes on Ebay. That seems to be working, as our sales have started to pick up, and pieces from each week's marbling sessions are finding their way into the store.
TAFA – The Textiles and Fiber Arts List just completed their fund raising for a new marketplace site for all things fiber and textile. The goal is "markets for members," and the group is aiming to become a major hub on the web in this area. What I particularly like about TAFA is that all artists are juried in and pay  a membership fee (extremely reasonable). This keeps the quality high and the artwork definitely unusual. This site is also all about networking for artists, so there is definite community being built at this site. I joined nearly a year ago, and now that I have some time, I am becoming active in the site. If you are an artist working in fiber and/or some form of textiles, you need to be a member. Another plus – you don't lose anything in "commissions" – all dealings are between you and the buyer.
1000 Markets – looks like it has become Bonanza. Under the Art category was "art from the artist," which I should browse more. There are some possibilities under the Crafts section, but I don't like listing my work in a craft section (me, I guess….). Searching "fiber art" brought up mostly ATC's and fiber magazines…..at first glance doesn't look like something I will spend a lot of time on now.
Fine Art America – I have been really impressed with this site so far, even though it seems "too good to be true." I want a site to sell my digital work, and this looks to be it – print on demand, with framing and shipping included. I have been hearing some good things from folks in my increasing business network, so I will definitely pursue this one.
Three Sisters Marketplace – I've heard a couple of good things about this group, and it will be one I investigate further later this fall. It sounds much more like a community, and artists are juried into this site also. I think for me personally that is a plus to the sites I decide to join.
Artfire – I'm thinking this is in competition with Etsy, as it advertises "handmade," but for some reason I just can't get into the site – the home page just seems extremely jumbled, and it looks like a lot of work….
Made It Myself – looks like a lot of other sites, and this says it's geared to the hobbyist whose friends say "you can sell that." Don't think I'll pursue that further.
Cafe Press – slowly in the works – this is one where I need to have my artwork settled before I seriously work on marketing my (again) free store.
Now – let's hear from you as to your experiences. This is just a snapshot, I'm sure, of what's available to sell your work on line. But let's get some dialogue going with ideas, feedback, more sites – just leave a comment!

I've been lucky enough for nearly a year now to belong to what is rapidly becoming THE place to find textiles and fiber arts on line: TAFA, or the Textiles and Fiber Arts List. I joined last fall, and one immediate benefit was increased traffic to my blog, website, and Etsy store. Plus, lately I just go looking at the various designers – the artwork available through this site is absolutely amazing!
"TAFA's Mission:
TAFA: The Textile and Fiber Art List is a membership based organization that seeks to access larger markets for its members by using social media and other web based opportunities.  Members include working artists, textile businesses, galleries, suppliers and other fiber/textile people who have an established web presence. All artists are juried in to TAFA to maintain the quality of the work available.
Our common connection weaves us together: a love for textiles and fiber art. New and old, traditional and contemporary, TAFA embraces inclusiveness of the world market.  Members are selected based on quality of work, having a professional web presence and value added to the group.
It is a web site that brings together  fiber art and those interested in fiber art. The talent, the beautiful fiber art,  and the quality products of its members is quite extraordinary. Currently there is a  drive to raise money for a new web site, an improved site both for those browsing, shopping or connecting. Connect  those who work with handmade fiber arts and the artists and those who are selling handmade fiber art.  The  new site will provide  such an improved experience, convenient, easy to use and beautiful to look at. Want a mini preview?  Here's the link you'll want to read.
Also, now is the perfect time to join & become a TAFA member. The cost is minimal and benefits great. That info is also on TAFA's site. Beware – the cost of membership will go up once the new site is active.
Do this – you'll be glad you did!

It's Monday, week four into retirement, and I've been getting lots of loose ends accomplished on the home front. But the biggest is starting to attack what I want to do in marketing the business. It's probably a good thing I have been thinking on this, as I need to answer a very big question first – just what do I want to accomplish for Marble-T Design, as well as my personal art goals? I can't really start marketing successfully and fruitfully until I make some of these decisions.
I have started a list of some potential galleries and shows I would like to enter, but I find myself asking "is that really the route I want to go?" I probably should have looked seriously at this a long time ago, but, hey, school got in the way. And since Marble-T Design is 17 years old and in a new phase, I should probably also consider what we've done in the past and what was successful.
We've actually been on line with our website since 1997. We were some of the earliest in e-commerce, without even realizing it. I went through a bunch of computer programs to get the original site up, starting with Pagemill. Eventually I realized I needed to turn the design over to a professional, and Saltwater Systems has handled that beautifully over the last seven years. And we had a much wider line of products available – close to 12 sampler packages. we did a lot more marbling in our large tray, as well as a lot more custom work.
So that's part of the "thinking" I need to do. More large trays? More shows? More product? Classes and workshops again? Just where are we taking this business? I need to be honest in my thinking about the future. Marbling in the large tray is very tiring as we have gotten older, and with the price of cotton and carrageenan going up, prices will have to go up.
Whew…..that's a lot of questions to answer. Once again, starting to write is helping me focus on the bigger picture. So I need to start….
What do I really want to do with my art and my business? I want to make art, no question about it. I would like to sell my art, whether it be on line or actually in some galleries. I think  I am realizing I don't want to do a lot of shows. I do have enough on my resume to show the work has been accepted, but I will probably only look at two or three a year. As for the actual business, I want to be able to bring in a certain amount of money each month to help with traveling during retirement. I'm starting with the idea of $500 additional a month, and moving from there.
That means looking seriously at outlets. Ebay has been steady, but I would like it to do more. So we need to marble more pieces and packages. I have sold a few pieces of fabric on Etsy, but this needs to be seriously marketed. We've been selling on Ebay for probably 7 years and we have a good steady family of customers, but I want it to generate more sales.
I haven't really looked seriously at marketing my work on Etsy, and I think with the TAFA List, I can make a good start. So I think at this point a goal for this week is to list potential products for Etsy and read everything I can about Etsy and The Textile and Fiber Arts List.
The other big thing is we are a sponsor for The Sketchbook Challenge for July, and probably for a few months after that. This will drive more traffic to our website, The Art of Fabric. This means getting the site updated and ready for additional traffic in July. So also this week is spending time learning Dreamweaver to take care of a lot of small changes that will update the site.
THIS WEEK:
Finish Dreamweaver class for making changes to my website
Make the changes to the website
Etsy products, increased Ebay ideas
Reading about Etsy selling and developing strategies

Reading through everything on The Textile and Fiber Arts List and developing concrete plans

I'm interested in the thoughts of those of you selling on line – favorite sites? Suggestions? Pitfalls?