Archive for the 'Etsy' Category

Another good week for making progress with marketing. Again, though, the thought about what's enough, what's too much, and what is just a time-sucker. Last week's goals are here.
* I finished the LinkedIn course from lynda.com, and I got my LinkedIn profile set up, as well as joining a couple of groups to network. It was interesting developing the profile to work for both tutoring clients and building an art business. I still need to set up the visual portfolio for the site, but I joined a round robin of new people looking at each other's Facebook fan pages, and as a result received some more "Likes." Took time, but it's done, and now I think just some weekly maintenance.
* I am part-way through the course on Twitter and Facebook, again through lynda.com, and I learned some interesting things. I read the Terms of Agreement (interesting…), checked all my privacy settings, changed the Twitter background, made some lists to make it easier to let people know about happenings. I still need to figure out my strategies for both the Fan Page and Twitter, so that's on the list for this week.
One thing that is interesting in the way I work is that I can't seem to finish one complete thing at a time. Maybe it's the nature of the marketing process that you flit around, fixing/doing what you can at the time. I've gotten lots done on a bunch of things, but nothing really "completed." Maybe it's also because of the not-so-static nature of internet marketing.
* Defining my marketing goals: well, I have made progress on this, actually. I am carrying around a small notebook with the idea of jotting down some of the marketing ideas as they occur to me. I have about eight different headings at this point, and a bunch of ideas under them. But in keeping with trying to define what will be productive for me, a couple have "Goals?" as the only thing under the heading. I find I really do need to think through what I want to do, if I truly want to do it, and the best way to do it – something I've not done before.
* Figured out how to add Google Adsense to the WP blog…managed that okay – and I still have some money coming to me from Google……Now I gotta figure out why an ad is appearing in the middle of this blog post……
* Marketing the Etsy store through circles and additional contacts. And…sold some things on Etsy this week!
* I got new pictures taken for some of the items on the website. I need to work some Photoshop magic on them and then get them in place (which I think I can do on my own).
So it's time for my goals for this week:
*Finish Twitter class and implement any changes and decide on a schedule.
* Start the HTML newsletter class.
*Check out Mail Chimp for newsletters. I'm very happy with my experience with Constant Contact – the company doesn't have the money at this point to continue with their newsletters – but I LOVED the design they did.
* Set a plan and an update for the FB fan page, and start a schedule for it.
* Goals for the marketing plan in the following categories: newsletters, classes, and writing.
I also plan to finish the commission I wrote about on Saturday and do two table runners for my second mom – part of a larger commission I need to finish. I've got a list of projects to keep me busy through the summer!

I had an Etsy store about two years ago, with a grand total of four items in it. I kinda let it go inactive, since I wasn't doing anything with it. After doing tons of marketing reading last spring and summer, I reopened the store, still not quite sure what I would be selling in it. I started with a few marbled cards from my digital work, put up some marbled remnants, and then I had a bit of an epiphany.
I'm selling art on the website, why not also list some of that cool stuff in my Etsy store? So I did…and then I realized I could list some great art cloth fabrics, and write better descriptions and provide better pictures. And…I sold a piece of hand-marbled art cloth that had been listed for maybe an hour.
Cool. It's a gorgeous piece of fabric, and the picture doesn't really do it justice at all.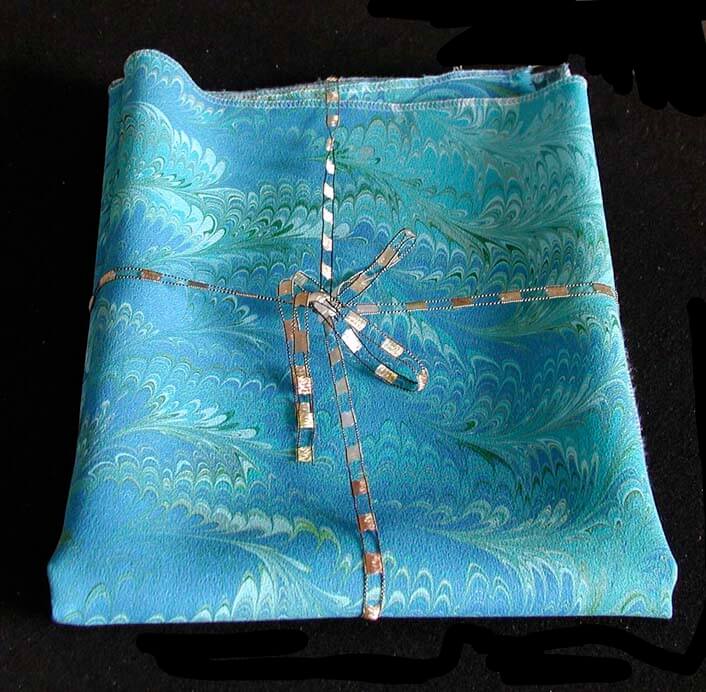 But I had the nicest message from the buyer: I have no idea what I'll do with this shimmer of color, but I will honor your work and its beauty.
Wow. How cool is that? I know this amazing piece of fabric is going to a good home, because I always wonder about my babies and where they end up.
I will say there are other great piece in my Etsy – pieces I've held on to because they're so gorgeous, but I also know the reality is I will probably never get to make anything with them. As it is, I put three pieces back in the drawer for me and "someday"…and I'll be listing a few more tomorrow.
Ebay continues to be slow but somewhat steady. I'm sure the economy isn't really helping us, but hopefully the holiday season will be better to us. Cafe Press – well, it takes time to rotate items and create the graphics for them, and time is one thing I don't have a lot of these days. Plus, I gather from all that I have read on Cafe Press that you have good luck with sales if you have an active store – not something we can budget for at this time.
I would love to hear from all of you out there who are running your businesses on the proverbial shoestring. How do you decide where your dollars go? What have been good outlets for you? And how do you maximize every dollar spent?
PS – Newsletter will go out sometime this week. If you're not a subscriber, you won't be entered for a chance to win some marbled fabrics. Check the box at the top for more information!

It has been an interesting activity, pulling together your social media efforts. Between Facebook and Twitter, a lot of time is involved in getting your brand and business out to the public. and I haven't even started with LinkedIn and any other social outlets.
Then factor in an Etsy store, Cafe Press, and Zazzle…and then there's Artwire and several other outlets. In fact, the Sunday NY Times had an article about artists using social media and online outlets to get their work before the public. Lots more places out there to explore.
Also you have your newsletter development and subscription list. You need to develop a customer base. Readers of this blog know we had some difficulties for two years with our marbling. During that time we let go of all the things we had been doing on line to market our fabric. It took us a while to realize that everything the marketing experts are saying you should be doing – well, we were doing that, and now we've gone back to it.
All of this takes time, and it takes a concentrated strategy. If you are planning to go in this direction, you will have a lot of work to do initially…and then you have to plan for all your follow-up.
Case in point: I have my personal Facebook page, as well as a Fan page for Marble-T Design. I carefully read and respond on my Facebook page each day as I see interesting things. That's not a problem. To keep a concentrated message on the Fan page takes more time. I'm listing what I want to have for each day, so I've already thought through the week.
Twitter takes a lot of time. I'm still trying to read a portion of messages every day, but with being in school, that's going to be very difficult. Thanks to TweetDeck I can schedule business messages for the week, but that takes away from the "conversation" that is Twitter. However, that's what I will need to do while I'm still teaching. And it is driving traffic: last week I scheduled tweets about various items for sale in Ebay and Etsy. I certainly had more traffic to both of those sites, and I can see the difference in visitors to the items I tweeted…but nothing is converting to sales yet, so i need to process that.
Then there are blog posts…you want to stay timely. While I can schedule my blog posts ahead of time, I enjoy writing, and since I have a schedule of topics, I want to be able to write each day when I geet home from school. And I love reading and responding to comments. My problem with the blogs is going to be staying up with Google Reader and the blogs I follow. I always find great articles and amazing eye candy…but you have to find the time. Staying up with your blog reading I think is critical; I enjoy the people I follow, they are helpful, and I learn a lot – well worth the time for your business.
I had started a business class last January, and there was some gret information there. But to do everything that was suggested made me realize within a couple of weeks that I couldn't do it all and still maintain my teaching responsibilities. That is what has been so wonderful about the concentrated time this summer: time to do all the set up and learning. Some of these things are not easy to do…like my first newsletter with Constant Contact. There was a steeper learning curve than I would have liked, but I mastered it, and now my newsletters won't take nearly as long to do.
And don't forget – we still need to create our art.
Speaking of newsletters, you should subscribe to ours (upper right corner). We do a drawing for a free sampler pack of marbled fabrics, but you can't win if you don't subscribe!


I'm working on week 2 of being sick…it's the usual viral thing that settles in my chest and makes me miserable. DH has already had it, and I'm hoping it doesn't go on beyond this week, as the record for this bug has been two months. So for 4 days no blog entries – and did I ever miss recording my thoughts and progress. There wasn't much except for the commission, which was due yesterday for the 80th birthday party, and it was half done – lost four whole days, and it would have been completely finished. I'm quilting as I go, and then piecing the quilted sections together. It's really looking wonderful, but I'll save photos until more is done.
Marketing Monday – Two weeks ago I posted marketing plans, and now it's time to check and see how I did. The main one was to set a calendar for the blog and continue postings….which I did – sort of….
Marketing Monday – this is my second posting, and I think it's going to keep me on track.
Top Ten Tuesday – did two posts – should be interesting, staying on topic.

Work-In-Progress Wednesday – two posts, this week I should have pics of the commissioned quilt.
Thoughts for Thursday – missed last week – too sick to move…
Photo Friday – made one of the posts, should have new pics this week.
Saturday Special – nothing yet, but I have plans…

Sunday Sampler – again, nothing yet, but there are plans….
Another accomplishment – get entry ready to mail to Alaska – went in the mail last week. And – last Friday I heard that one of the two pieces submitted made it into Ft. Collins Fabric of Legacies show, so that will go in the mail beginning of next week – and I think we will be able to make it to the artist' reception.
Nothing on the tutorials, as I've been sewing so much – nice to know I can get as much done in a short period of time – bodes well for new pieces this summer.
Haven't ordered anything from Vista Print, but that's on the agenda for this week.
In terms of Etsy and Cafe Press, nothing yet, but Kimberly Baxter Packwood had a lot of suggestions on her blog and Facebook about successful Etsy stores, so I am pondering that. I think I can have my Cafe Press up for this week's Saturday Special, with some of the digital work.
So – goals for this week:
* entries each day on the blog
* Cafe Press set up and ready to go
* Low Tide mailed to Colorado
* commission just about finished
* check for some new shows to enter for Fall
First time visiting the blog? Check out this overview.


Two more days of school, and then summer vacation starts, which isn't always as productive as I would like. I usually get really ambitious right before school starts again. But this spring and summer look to be a "new leaf." Since I started in March, and then took the blogging course in April, I have been extremely productive. Let's go back to March….and then this post.
Website has been mostly updated – still need to get the new pages up and the links checked (which I've done on my school page…)
CafePress and Etsy? Way more thinking than doing, but I am getting a lot closer….
Shutterfly and iBook – not there yet.
Art shows – entered (and was accepted) at one, awaiting the results on another.
Garden Fantasy work is coming along nicely, as is general digital marbling – at least three new good pieces.
Trade name finally done and OURS!
And…we took a marbling class and have improved our production techniques. So overall these two months have been excellent. Now for my goals for next week:
Get Etsy shop operating.
Set a calendar of blog topics.
Order tote bag from Vista Print to see what it's like.
Watch at least three tutorials from Photoshop (NAPP) on blending and masking – a really weak area.
Get entry ready to be mailed to Alaska.