Archive for the 'Cafe Press' Category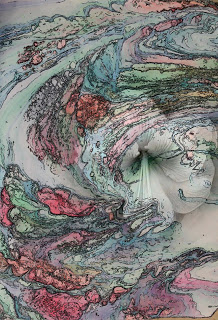 This is a variation of one of our earlier images, with just a different gradient. I really like the way this image works, and there are so many cool variations of this. The background is a piece of marbled fabric, "deconstructed" – which I take to mean being brought to a basic line drawing, and then manipulating from there. This is a new item available this week in Cafe Press.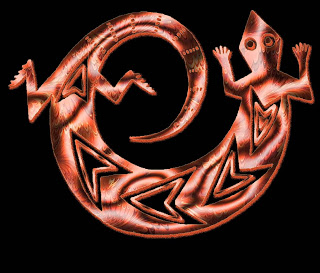 I love my gecko. You can read here about its development. I am ordering one of these bags – I want to carry this image with me, as I am quite fond of it!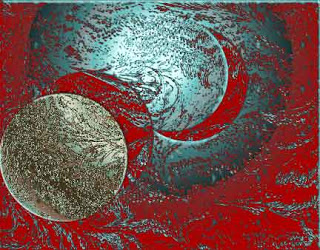 You've seen the moon images before. Once again, I took a piece of fabric and deconstructed it in Photoshop until I had a line drawing. Then it was gradient after gradient, cutting some shapes and moving them. I learned a lot created this image. I've added it as a magnet.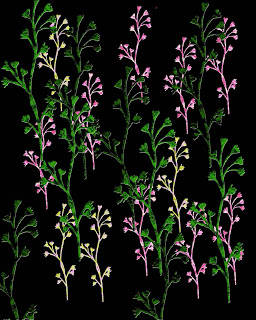 I want to try some posters, because I think some of these images would be fabulous "living room" art. This is another example of marbled fabric being used within the plant shapes themselves.
Thinking about these? Think of all your friends and relatives who don't "need" anything, but would enjoy something totally different.


Even with being sick for three weeks, I still feel like I am accomplishing more this summer – in fact since March – than in a very long time. Two shows entered, accepted, sent out, and I'm going to attend the opening reception for Fabric of Legacies in Ft. Collins, Colorado on July 10. This will be the first time for attending a reception for my work, so I am excited. IF you know of something to see from Denver north, especially if fiber-related (like who's at the Rocky Mountain Quilt Museum), please let me know.
For this week, I am concentrating on San Diego and art galleries in the area. This has really become an enjoyable "artist date" with hubby – finding new galleries and just enjoying the art. I love seeing unusual art, especially if it involves fiber and embellishment.
I did get the Cafe Press store started as part of Saturday Specials, with the first entry over the weekend. I am slowly exploring options for selling digital work, and perhaps fiber on down the road, as I get more done with revamping the website. In fact, that should probably be a goal for the next two weeks – website needs.
* slide show for the opening page of selected works
* garden fantasy page set up with options for ordering
* digital marbling [age set up with options for ordering
* check all existing links and respond to requests for new links (I am very late on that!)
I do have a lot of new work to get up on the site, so there's the big goal for the next two weeks. Pics of San Diego to follow!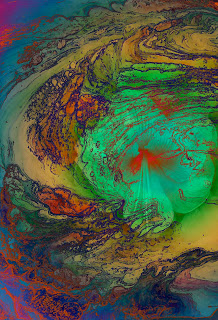 This is absolutely, positively one of my most favorite digital marbling (TN) pieces. Suzan and I stumbled on this as we were laying with a deconstructed piece of marbled fabric. Here's the process: I take a pic or scan a piece of marbled fabric and then play around in Photoshop until I'm happy with the result. With this piece, we took it down to a basic line drawing and then started playing around with gradients. We got a great background, but we knew it needed something more.
So we went through the photo library and found a great pic of a flower hubby had taken from our yard. Voila! That was exactly the focal point we needed.
This brings me to my Saturday Special. In an attempt to market myself and my art more strongly, I am investigating a variety of venues over the internet. This Saturday you can take a look at a few gifts available from Cafe Press. My "store" is quite small, and I look to change a few items on a regular basis. I've tried to price items so they would make great gifts for those who either have everything or need nothing! This photo graces a personal journal, making it somewhat mystical for your writings.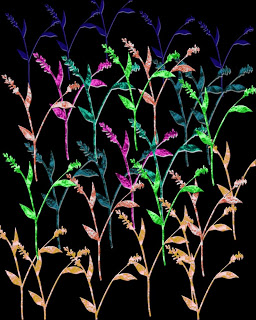 This flower image graces a small tile, a perfect gift for a housewarming. The basis of the design again is marbled fabric, this time inserted into flower images. I really like the "neon" effect of the flowers. This image will show up in a larger print down the road, because the detail in the flowers is intense.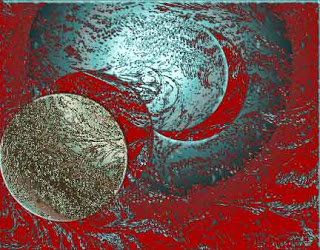 I had so much fun creating this image, one of the first I successfully completed on my own. This is part of a "moon" series, and it also started as a piece of marbled fabric, deconstructed to a basic line drawing, with a series of gradients applied. I don't think I could achieve the detail in this any other way. The piece just glows! This is available as a set of note cards, a nice way to maintain a unique social communication.
I am very interested in hearing from those of you who sell on line. Any tips or hints to share?
First time visiting Marbled Musings? Get an overview.


I'm working on week 2 of being sick…it's the usual viral thing that settles in my chest and makes me miserable. DH has already had it, and I'm hoping it doesn't go on beyond this week, as the record for this bug has been two months. So for 4 days no blog entries – and did I ever miss recording my thoughts and progress. There wasn't much except for the commission, which was due yesterday for the 80th birthday party, and it was half done – lost four whole days, and it would have been completely finished. I'm quilting as I go, and then piecing the quilted sections together. It's really looking wonderful, but I'll save photos until more is done.
Marketing Monday – Two weeks ago I posted marketing plans, and now it's time to check and see how I did. The main one was to set a calendar for the blog and continue postings….which I did – sort of….
Marketing Monday – this is my second posting, and I think it's going to keep me on track.
Top Ten Tuesday – did two posts – should be interesting, staying on topic.

Work-In-Progress Wednesday – two posts, this week I should have pics of the commissioned quilt.
Thoughts for Thursday – missed last week – too sick to move…
Photo Friday – made one of the posts, should have new pics this week.
Saturday Special – nothing yet, but I have plans…

Sunday Sampler – again, nothing yet, but there are plans….
Another accomplishment – get entry ready to mail to Alaska – went in the mail last week. And – last Friday I heard that one of the two pieces submitted made it into Ft. Collins Fabric of Legacies show, so that will go in the mail beginning of next week – and I think we will be able to make it to the artist' reception.
Nothing on the tutorials, as I've been sewing so much – nice to know I can get as much done in a short period of time – bodes well for new pieces this summer.
Haven't ordered anything from Vista Print, but that's on the agenda for this week.
In terms of Etsy and Cafe Press, nothing yet, but Kimberly Baxter Packwood had a lot of suggestions on her blog and Facebook about successful Etsy stores, so I am pondering that. I think I can have my Cafe Press up for this week's Saturday Special, with some of the digital work.
So – goals for this week:
* entries each day on the blog
* Cafe Press set up and ready to go
* Low Tide mailed to Colorado
* commission just about finished
* check for some new shows to enter for Fall
First time visiting the blog? Check out this overview.