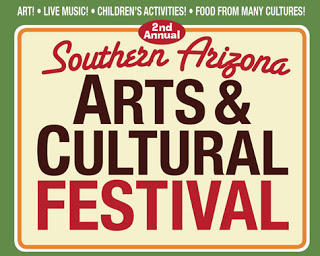 Next weekend is the arts and craft show for Arts and Cultural Alliance down here. It used to be the Greater Oro Valley Arts Council, but that kept out everyone south of River Road; with their successes over the past few years, they changed their name to include all of Southern Arizona. So our small group is participating next weekend.
This weekend was all kinds of loose ends: bagging fabrics, labeling, pricing, writing up inventory, checking to be sure we hadn't forgotten anything, and getting school work done ahead of time, since by the end of the week there won't be any spare time left. Plus I am getting ready for tomorrow night's meeting, to be sure all of us are ready, and we can answer any last minute questions from the group.
I still need to create the agenda for tomorrow night, make up the sign-up sheets for the weekend, and maybe finish up beading just one more piece to take. Everything arrived on time – here's our banner: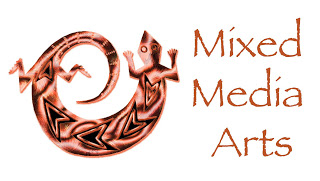 This is so different from the one other show we did, way back about 14 years ago. We didn't have a clue – just put out art pieces and wondered why no one bought anything. Much more thought went into next weekend: types of items (lots of little, impulse buys), some small fabric pieces, stationery, larger fiber pieces, digital art, clay pots, water colors, semi-precious jewelry, and books. Really do have something for everyone. We've got change worked out, schedules worked out, displays worked out…I do think we are ready.
Pima Cimmunity College Northwest (7600 North Shannon, Tucson), Saturday and Sunday if you can make it!
And from the email this past week, a few tips on marketing….
• Set aside a specific day and time each week for marketing.
• Create a quiet office space for your business.
• Start collecting names for your mailing list.
• Call five to 10 art world professionals each week.
• Spend one day visiting local galleries.
• Subscribe to an art publication for one year and read it.
• Enter a competition.
• Sponsor a community event.
• Host a studio party.
• Donate time to some charity. Let people know you are an artist.
• Barter your art for services.
• Support your statewide arts organization by buying an art license plate with your art-business name on it.
• Try to get an interview on your local radio station.
• What interior designer could you take to lunch?
• To what local business could you lease your artwork?
• In what cafe could you hang your paintings?
• Give out coupons with a Valentine's Day e-mail blast.
• What special offer could you make on a postcard to your clients?
• What storyline can you create for the local art writer?
• What previous client would be able to give you a useful referral?

• What sign could you put on your car to advertise your work?
• What bumper sticker could you create to give to your clients?

• Create an e-mail newsletter to send to clients.
• How much would it cost to put up a billboard at the entrance to town?

• Create an unusual, catchy name for your new group of paintings.

• Apply to the next local art fair.
• Start saying, "I am an artist."

• Provide a specialized service that no other artist provides.
• Get a phone number that spells out something (or figure out what your current one spells).
.
• Be friendly with a competitor.
• Place your artwork in model home displays.

• Work with a local chapter of American Society of Interior Designers—give a talk at one of their meetings.
• Contact your local International Furnishings and Design Association chapter affiliation.

• Place a display of your work at the local library, associated with a talk you will give.
• Find a Realtor's office that will let you exhibit. Offer agents a commission on sales.
• Create a gift certificate form.
• Check out your local doctor, veterinarian, optometrist, emergency room, hospital, medical facilities office. These venues often do have a budget for "decoration." If they are not in the position to buy, offer a lease option.
• Smile at everyone today.
This is from artmarketing.com, with their book Art Marketing 101. I need to review this list on a regular basis, as I try to build my business. But at the same time, I have to remind myself that I already have a full-time jub teaching, so I have to be judicious in my time. I'm interested in hearing from you – which ones have you tried that really work?
5 Responses to "Getting Ready for a Show"