Posts Tagged 'threadwork'
Thanks for joining me here, as I move everything over from Blogspot and Blogger. I have learned that I don't own my content on Blogger, and I want to protect my work and images, so now I have my own new home, thanks to Suzan at Saltwater Systems and WordPress. Please follow along on these adventures. I have LOADS of art-related posts coming as a result of a busy March and April.
Suzan and I decided in November to treat ourselves to the School of Threadology, hosted by Superior Threads. We spent the next few months in anticipation, never realizing what an absolutely AMAZING time we would have. These three days in April are the BEST education I have had in my art career, and by far the best educational conference I've attended (and there have been many!).
There were so many wonderful moments, and I will just do a lot of blog posts with wonderful art quilts, and lots of Japanese philosophy (kaizen – continuous improvement) which permeates everything Bob and Heather Purcell do at Superior Threads.
I'll start with the first morning, and a tour of the warehouse, where we had our own labeled boxes for easy shopping (better than a candy store!).
Cindy Needham was our first instructor, and does she do amazingly beautiful work. She quilts on silk (yummy), as well as on antique linens. I'll let her work speak for itself. Be sure to click on the pic and see some of her incredible detailed quilting.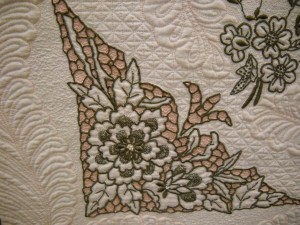 This doesn't even begin to scratch the beauty we were exposed to. Many, many more quilts and closeups of thread work to come. Truly an amazing experience!